Icelandic feast- what dishes to try when in Iceland?
Foodie lovers this blog is for you. Put on your food-to-try bucketlist those delicious Icelandic dishes and try them when you come here.
Life in Iceland was and still is pretty simple but Icelanders know how to make simplicity the most sophisticated thing. So they do with the food.
In Iceland, the soil is not fertile which means they can not grow plants for food so the only option they had was the meat from the animals they grow or hunt. You will see across Iceland many fields where sheep are roaming free as well as many fields with horses. Icelanders also grow cows but there are not so many farms like this.
Icelanders eat a lot of lamb meat and the way they cook it is just mouth-watering. Here are some dishes with lamb meat that you have to try once in Iceland.
Smoked lamb or Hangikjöt
Icelanders are mastering "the art" of smoking meat and the smoked lamb is so tasty. Smoked Icelandic lamb is dry-salted or pickled lamb meat that is cold-smoked and the fire that smokes the meat is fueled by dry sheep dung. Don't worry the taste is different and is delicious, trust me I am very selective when it comes to food.
Smoked lamb is a traditional dish for Christmas and it is served with boiled potatoes, peas and white sauce. Icelanders are crazy about sauces. Also, the smoked lamb is served at lunch with rye bread and butter or with flatbread and butter.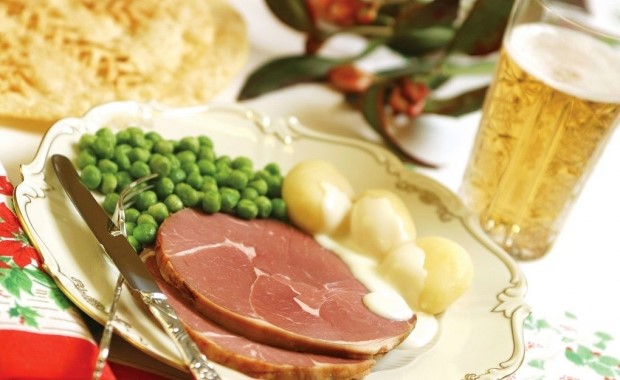 Smoking the lamb meat is also a way to preserve the meat over the year. This process is done all over the year so it is not a certain period when people are smoking lamb meat.
Even though it is a popular dish in Iceland, local statistics say that over the past years the consumption of smoked lamb and lamb meat, in general, decreased in favour of consumption of poultry meat.
Many if not all restaurants in Iceland are serving lamb meat and if you want to have a local food experience smoked lamb is a good start.
Lamb soup or Kjötsúpa
Another delicious dish with lamb meat is lamb soup. It is perfect after exploring Iceland on a cold day. The lamb soup is made out of lamb meat with bones that are boiled to create the stock then root vegetables are added to complete the dish.
The vegetables are giving a nice sweet flavour that goes very well with the meat. It is a classic but delicious dish to try if you are in Iceland.
Icelandic hot dog or Pylsur 
This one is my favourite of them all. The Icelandic hot dog is so delicious that you will miss it when you go back home. The origins of the Icelandic hot dog comes from the necessity of preserving the meat and the only form they could do that was by making sausages.
The sausage for Pylsur is made from equal parts of pork, beef and lamb meat mixed together.
It is a famous snack all over Iceland and you can find them at food stands or even in gas stations. You have to try it!
Iceland is a nation with a tradition of sailing and fishing. Thus fish was and still is a major part of Icelandic food. There are many types of dishes that contain fish and many different species of fish that are consumed in Iceland.
Atlantic cod
The Atlantic cod is one of the most common in Iceland and is also versatile to different cooking techniques. It is also the most abundant fish species that can be found in Icelandic waters.
The taste of the Atlantic cod is sweeter than the Pacific code and Icelanders are cooking it in many tasty ways and serving it with vegetables or mashed potatoes.
Arctic char
The arctic char is another fish species that are fished in Iceland and consumed on a large scale. Being a freshwater fish that lives in the cold waters, the arctic char can be found all over Iceland in rivers and lakes. As a species and taste, the arctic char is between trout and salmon.
Perfectly cooked with crispy skin and served with vegetables the arctic char will pamper your taste buds with its unmistakable taste.
Salmon
Eighty of all 250 rivers in Iceland are salmon rivers. Salmon can be found in rivers in  Western parts of Iceland, in East and North and also in some rivers in South (Skoga river that feeds the famous Skogafoss waterfall being one of them). Salmon can not be fished any time of the year, but you will find it in restaurants and shops.
Icelanders are eating salmon mostly smoked on a piece of rye bread with butter but they are also eating it as a whole dish.
Dried fish or Harðfiskur
Dried fish is a traditional snack in Iceland and it is literally dried fish cod, haddock and wolffish. Icelanders are hanging the fish outside in the cold air and let it dry until it becomes cured of bacteria. The process is similar to the maturing cheese. When the fish is dry it becomes white-yellow in colour. You will see all over Iceland fish hanging to dry and you can find it also in stores.
When is dried the fish has a woody texture and is always served with butter which softens it but you can chew it without butter. Icelanders say that Harðfiskur has a high percentage of proteins and is like an "energy snack".
Fish stew or Plokkfiskur
Fish stew is another popular Icelandic fish dish. It is made from fish, potatoes, onions and bechamel sauce. It has a thick consistency and it is served together with rye bread and butter.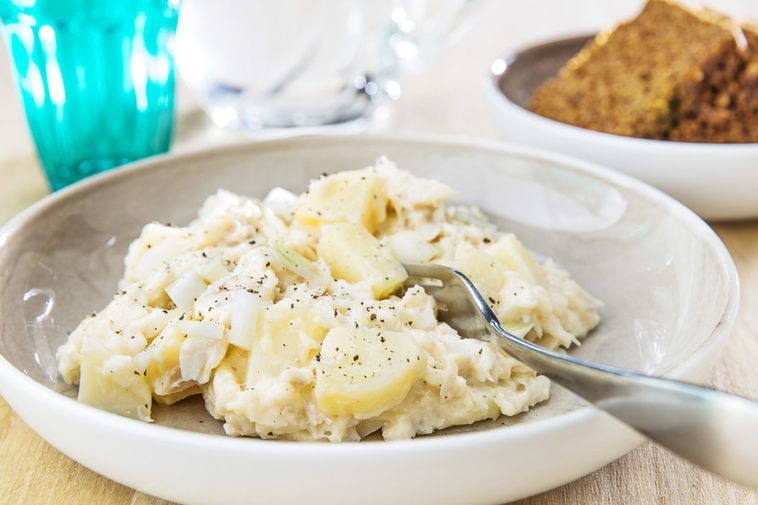 For making the Plokkfiskur is usually used white fish such as cod or haddock.
Lobster
Iceland is not famous only for lamb and fish but also for lobster. Höfn is a small town in South-East Iceland that is considered the lobster capital in the whole country. You will find across the town drawings of lobster and even at the local pool the signs you find at changing rooms and inside the building are designed with a lobster on them.
I am not a fan of fish and seafood but the way they cook it here in Iceland makes people like me love it.
In Höfn you will find some of the most delicious dishes with lobster, from sandwiches to whole meals you will be spoiled with rich flavours. They are making also lobster soup with chunks of lobster in it and you have to try it! You will love it.
Rye bread or rugbrauð
I have mentioned above about rye bread which is a type of bread specific to Scandinavian countries but Iceland has its unique way to cook it.
Rye bread has a sweet taste and is being steamed instead of being baked. Icelanders are steaming the rye bread by putting it in a pot then burying it in the ground in a geothermal area where the heat bakes the bread. It takes almost 24 hours for the bread to be cooked this way. Of course, the bread can be steamed/baked also in the oven.
Rye bread is consumed usually with butter and different salty meats on top (lamb, fish). More than that, Icelanders are making ice cream from rye bread. There are a few spots in Reykjavik where you will find rye bread ice cream from which Loki Cafe Reykjavik is the most famous.
Icelandic dairy products
Ice cream
Speaking of ice cream, Icelanders can't have enough ice and they are producing some of the most delicious ice creams made in different ways than the classic ice creams we know. Icelanders prefer their ice cream to be soft, not hard like the classic ice cream. You can say they have enough hard ice :))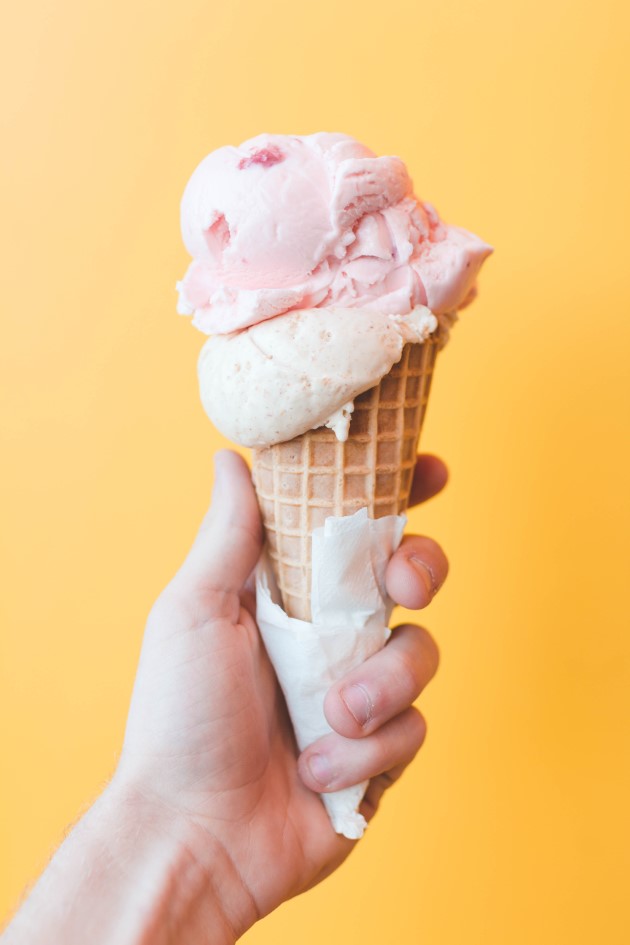 Beyond the joke, Icelandic ice cream is different and is worth a try. Across Iceland, you will find many ice cream shops as well as farms that are selling homemade ice cream which honestly is tastier than the other types.
Icelandic ice cream has a lower fat percentage and is made from milk, sugar and flavours.
Skyr
Skyr is a traditional dairy product in Iceland and even if it has a consistency of thick yoghurt, Icelanders are considering it to be cheese. Skyr is another favourite of mine from Icelandic cuisine. It is a low-fat cheese that in other countries would be named yoghurt and is so smooth and tasty that you will fall in love on the first try. Skyr can be found also in stores and it has many different fruity and chocolatey flavours as well as plain skyr without any flavours.
There is no surprise that Icelanders are using skyr to make ice cream or skyr cake and my mouth waters only by writing these lines because both products are so delicious.
Try them if you are in Iceland you will love them.
Icelandic cuisine is also famous for some traditional dishes that are made from some unusual types of meat for the rest of the world. You have probably heard about Icelanders eating reindeer meat, horse meat, whale meat, puffin meat or rotten shark. Those are meat from the hunted animals (excepting the horse meat). But here I have to mention that not anyone in Iceland can hunt wild animals for eating their meat, more than that there are special conditions and periods of the year when hunters can go hunting for meat.
Regarding the horse meat, Icelanders are sacrificing only the weak horses or the ones that don't have a long time ahead to live.
There are many concerns about hunting whales, sharks or puffins for eating their meat but as I mentioned every hunt is controlled.
Many restaurants across Iceland are serving those types of meat and you can try them just for your curiosity. I can not guarantee that you will like or hate the taste but if you have the chance to try it go ahead.
Also, the rotten shark is something that is not eaten like a whole meal but most as a taste sample. You can find it in certain places such as Bjarnarhöfn Shark Museum and even in stores.
If you tried those Icelandic dishes tell us in the comments which one was your favourite or which one you would like to try.
5 activities to do in Iceland during winter
How safe is Iceland for women?
Wander if Iceland is safe for solo female travellers or
for moving there as a single woman?
Blue Ice Cave vs Langjökull Ice Cave
How to be safe while travelling in Iceland?
If there is any way you can not be safe in Iceland is
when you put yourself against nature
Hornstrandir Nature Reserve
Luxurious Iceland-5 luxurious hotels to stay in Iceland
The land of Fire and Ice provides luxurious hotels
for the ones who want a glamorous stay
Puffin watching from Ingólfshöfði
Nammi-what Icelandic candies do you have to try?
And I am always checking the local sweets and snacks,
not the local dishes