The highlands of Iceland have been the source of awe and wonder for many, locals and tourists alike.
The Fimmvörðuháls trail is probably one of the most popular hiking trails on the south coast. This blog will go into the details of the Fimmvörðuháls trail.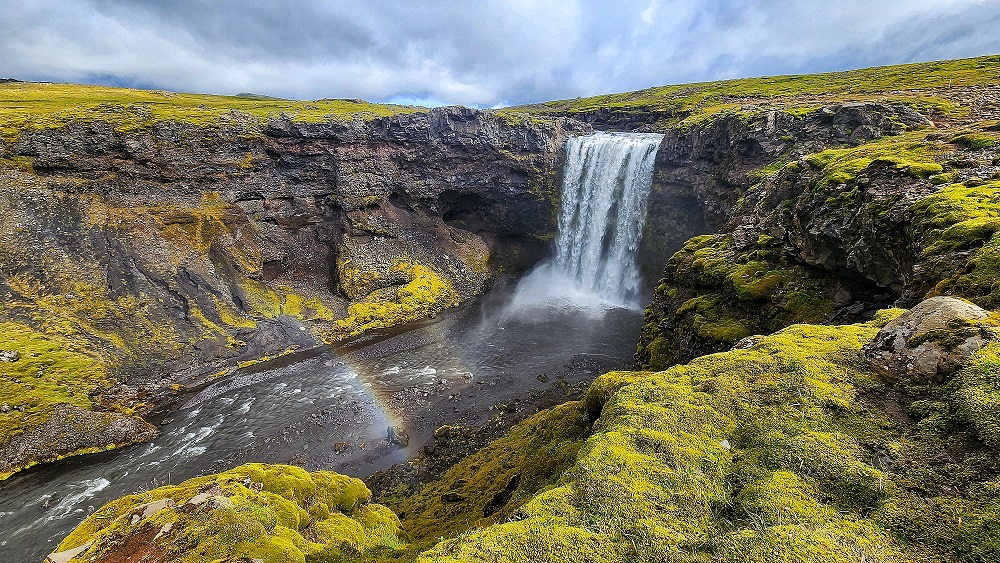 The Fimmvörðuháls trail, also known as the trail of many waterfalls, is one of the most popular hiking trails on the south coast. It is easily accessible from Skogafoss and the trail ends at Þórsmörk. The entire trail is 27km in distance and up to 1100m in elevation. As the name suggests, there are many waterfalls all along the way, big and small.
If you choose to start from Skogafoss, you will go up the flight of stairs beside the waterfall and there you will find the start of the trail at the top of the waterfall.
The trail is marked so follow the trail and you will not get lost.
It will take about 8 – 9 hours to hike to Básar if you don't stop too much for pictures. The ascend is gradual from Skogafoss taking you across so many varied landscapes. From rivers and canyons to lava fields and Mars-like landscapes. After passing Baldvinsskáli, the trail starts to get more interesting. You will come to a crossroads where you have to choose between white and blue. Choose white if you prefer slow and steady. Choose blue if you have 7 to 9 lives. The white trail takes a little longer detours to a cottage before joining the blue trail again at the other side of the ridge. The blue trail takes you across some glaciers and up steep loose soil slopes. At the top of the ridge, these 2 trails meet again to go down to no man's land. You will be walking over the lava field created during the 2010 eruption. After no man's land, things start to get greener. As you start your descent into Þórsmörk, there are parts when the descent is a little tricky but otherwise, I did not pay too much attention to the trail since the scenery is getting too much of my attention.
The descent to Básar is very scenic. The landscape opens up to mountains, valleys, rivers, and more. Many times I find myself reluctant to move, being totally captivated and mesmerised by the beauty of nature.
Accommodations in the highland is scarce. On the Fimmvörðuháls trail, there are 2 mountain huts with sleeping bag arrangments. You can also camp around the huts. You can find more information here. Otherwise, you can camp in most places in the highlands so long as you take your trash with you.
At Þórsmörk, there are several options for accommodation. Check out our blog for Þórsmörk for more information.
Akranes lighthouse and Dolphin shipwreck
Akranes lighthouse and Dolphin shipwreck
The leitmotifs of Icelandic photographs are lighthouses
Experiencing Iceland in a Motorhome
Experiencing Iceland in a Motorhome
Experiencing Iceland in a Motorhome, pros and cons, and recommendations
Kirkjufell-"the arrowhead mountain"
Kirkjufell-"the arrowhead mountain"
Kirkjufell Mountain the most photographed place in Iceland
Skógafoss-the mighty waterfall in South Iceland
Skógafoss-the mighty waterfall in South Iceland
Skógafoss-the majestic waterfall in South Iceland