When you say Glymúr every Icelandic will think about the highest waterfall in Iceland. And even if in 2007 scientists discovered another higher waterfall in Vatnajokull National Park, Glymúr will still wear the name of the highest waterfall.
Glymúr is located in West Iceland in the Hvalfjörður fjord and has a drop of about 198m. You will find it on the rear side of the fjord so when you will drive there you don't have to cross the tunnel under the fjord but follow the signs that will guide you to the hiking start point.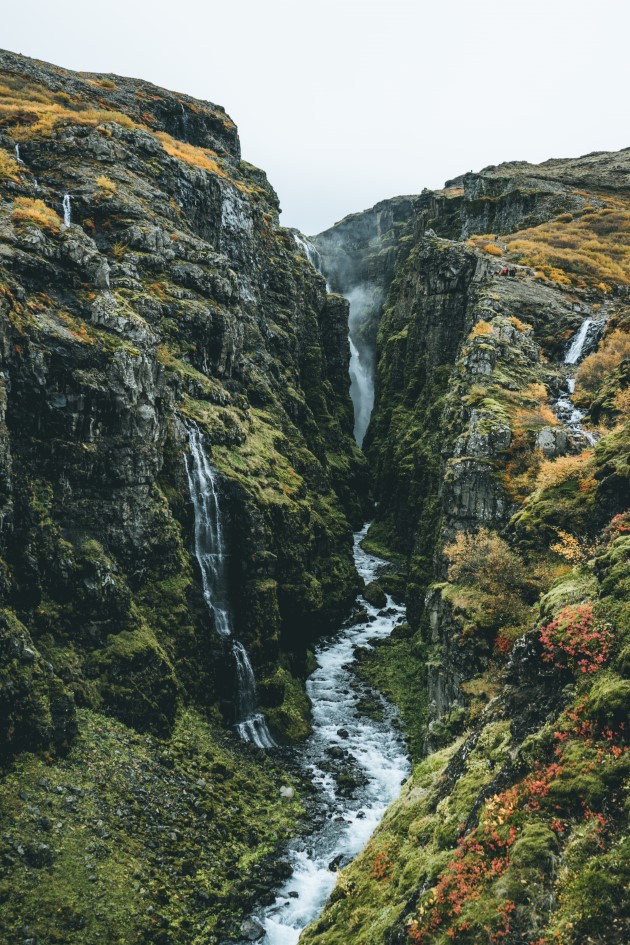 To get to the waterfall you have to hike and the difficulty of the hike is medium to hard, depending on your physical condition. The hike will involve steep and rocky paths, cave crossing, and river crossing but all these will be worth it because the views along the hiking path will be breathtaking and at the top, you will have the most beautiful reward. 
To hike to the waterfall will take you 3,5 hours and you will need sturdy hiking boots, water and food some hiking poles would be helpful if you usually use them when hiking. Right at the top of the waterfall, you will have to cross the river to get to the south part where the best views are. But you can also hike to the north part and see the waterfall from a different angle.
When you will be at the top, an enormous mossy-green deep gorge will open up in front of your eyes and the sound of the water falling will delight your ears, that's the reward for the challenging hike.
To get to the base of the hiking trail you have to take the right on Road 47 from Road 1 before the tunnel under  Hvalfjörður fjord. The waterfall is located one hour's driving from Reykjavik
Fill up with adrenaline and go venture on an amazing hike in the West of Iceland. Share with us your adventures on social media. 
5 activities to do in Iceland during winter
How safe is Iceland for women?
Wander if Iceland is safe for solo female travellers or
for moving there as a single woman?
Blue Ice Cave vs Langjökull Ice Cave
How to be safe while travelling in Iceland?
If there is any way you can not be safe in Iceland is
when you put yourself against nature
Hornstrandir Nature Reserve
Luxurious Iceland-5 luxurious hotels to stay in Iceland
The land of Fire and Ice provides luxurious hotels
for the ones who want a glamorous stay
Puffin watching from Ingólfshöfði
Nammi-what Icelandic candies do you have to try?
And I am always checking the local sweets and snacks,
not the local dishes