Explore Iceland while doing some unique activities
Summer is one of the best times to visit Iceland. From colorful landscape, warm weather, and endless sunny days, to watching unique species of animals and hiking in the highlands, you will be amazed about how beautiful is Iceland during the summertime. You can do a lot of exciting and unique activities and also you can experience the polar day when the sun sets only for two or three hours after midnight.
In this blog, you will find details about:
Boat tours at Jökulsárlón Glacier Lagoon and Fjallsárlón lagoon
Experiencing Iceland from above on a helicopter tour
Experiencing Iceland in a Motorhome
Enjoying a bath in a geothermal spa
---
If you are a wildlife lover, Iceland is the perfect place to see unique animals. From marine life to the avifauna you will find some unique species of animals in some breathtaking places.
Horseback riding 
When you come to Iceland one of the first animals you will see is the Icelandic horse. The Icelandic horse breed is known as being a pure breed of horses. They are unique because of their height which is around 140 cm. While worldwide most horses bred under 147 cm height are considered as being ponies, in Iceland they are horses. And also they are unique because of the tough weather conditions that they are used to.
In the past times, Icelandic horses were wild animals but nowadays they are almost all domesticated. That is why they are so friendly and calm around people. They are raised for riding and also for meat.
The Icelandic horses are unique because they are the only breed that can perform five gaits (ways of walking) while other breeds can perform only three or four.
To keep the Icelandic breed pure, horse imports are forbidden in Iceland and also if an Icelandic horse leaves the country it is forbidden to bring it back. This is to preserve the breed and also to don't take any diseases. In this way, there are also very strict rules about bringing riding equipment with you in Iceland. It will be a special experience to ride on an Icelandic horse so book a tour and enjoy the ride.
---
Whale watching
The summer season is great for whale watching, as the wildlife in the bay is at its highest peak. This is the time when the minke whales are at their most abundant, along with the white-beaked dolphins, harbor porpoises, and humpback whales, giving us the chance to enjoy and understand them in their natural environment.
The best areas to see whales in Iceland are the area near Reykjavik and the area near Akureyri in north Iceland.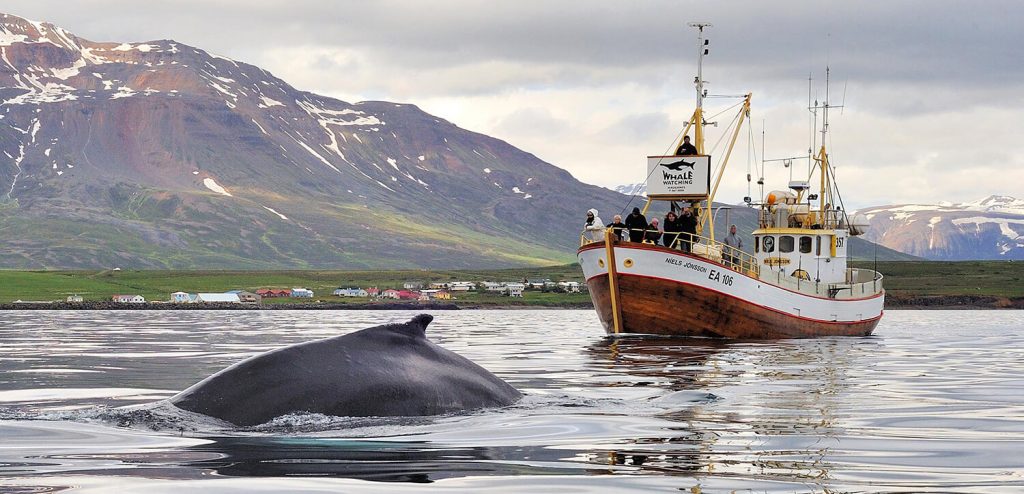 The most common cetacean in the area of Reykjavik is the Minke whales, White-beaked dolphins, Harbour porpoises, Humpback whales and occasionally Killer Whales/Orcas and even Fin whales.
In North Iceland, the best area to see whales is Eyjafjord which is home to many Humpback whales, that year after year return to the fjord for its plentiful food.
Check out one of our whale watching tours.
---
Puffin watching
If you want to see puffins in Iceland, the summer season is the best as they come nesting in Iceland from June until August. The best places to see puffins are in South Iceland, in the Reykjavik area, in Westfjords, and in North Iceland.
The summer is the best time to experience the birds and wildlife of the bay and islands just outside Reykjavík city. Puffins, Auks, Gannets, and an incredible variety of other sea birds dominate the skies and sea cliffs just a few minutes sailing from the Old Harbour in Reykjavik.
Within the majestic mountains and in the picturesque landscape of Eyjafjordur in North Iceland, you can see one of the largest colonies of puffins in Iceland.
If you want to see puffins in Iceland, check out one of our Puffin Watching tours.
For the adventurers, there are also some tours full of adrenaline and excitement.
---
ATV tour
Icelandic rough relief makes it look like you are on another planet. The stunning landscape made by past volcanic activity arouses the curiosity of the explorers. The best way to explore the Icelandic volcanic relief and black beaches is by ATV. Those ATV tours take place on black beaches in South Iceland or on the volcanic relief near Katla volcano.
ATV tour is an unforgettable experience of conflicting landscapes where nature envelops the traveler in its warm embrace.
Book an ATV tour and go explore the Icelandic relief.
---
Snorkeling in Silfra
This activity is unique worldwide. Diving between two continental plates is possible only in Iceland.
Snorkeling in Silfra is a transcontinental once-in-a-lifetime experience. The trolls will show you what National Geographic has described as one of the top dive sites in the world in the historically rich Thingvellir National Park – part of the famous Golden Circle route.
You'll find out for yourself as you glide between tectonic plates floating on pure, filtered glacial meltwater and tick off your bucket list the ultimate tour on breathtaking underwater views and only available in Iceland in the world's clearest waters.
Keep in mind that this activity may require some special conditions. You can check the snorkeling tour and requirements here.
---
Exploring a lava cave
As you come to the well-known land of fire and ice, you have to go explore a lava cave. It is a very interesting experience because you have an opportunity to witness the inside of a volcano and to learn how it works.
Near Reykjavik, there is a lava tunnel called Raufarhólshellir and is easily accessible. The tunnel was formed on the place that lava flowed during the Leitahraun eruption in the east part of the Bláfjöll mountains about 5200 years ago. The tunnel has a total length of 1360m (4500 ft) and the access tunnel is 900m (3000 ft) long. The tunnel is 30m wide and 10m high.
The cave was full of stalactites until the 1950s when people started to explore the cave. Nowadays there are no stalactites left. Raufarhólshellir is one of the largest lava caves in Iceland.
If you want to explore a lava cave you can book a tour here.
---
Boat tours at Jökulsárlón Glacier Lagoon and Fjallsárlón lagoon
During the summertime, the glacier lagoon is not frozen so there are almost everyday boat trips on the lagoon. There are two options for boat tours on the Jökulsárlón glacier lagoon during summer.
Amphibian boat tour. This trip takes about 30-40. During the excursion, you sail among the huge icebergs in the picturesque scenery of Jökulsárlón. On the boat, you get to taste the 1000-year-old ice and if you are lucky you might even see some seals. There is also a guide on the boat who will explain to you the geology of the glacier lagoon. More details and prices for this tour you will find here.
Zodiac Tour. For this boat tour, you have to check in 30 minutes before departure and the whole tour duration is 1 hour. During this trip, you sail among the huge icebergs in the picturesque scenery of Jökulsárlón.
On the Zodiac tour, we can cover large areas of the lagoon and get closer to the icebergs than on the amphibian. When possible the Zodiac goes almost all the way up to the glacier (as close as safe).
As this tour approach more to the icebergs, all passengers are provided with flotation suits and a life jacket. If this tour aroused your curiosity already, check our zodiac tour for more details.
Not far away from Jökulsárlón glacier lagoon is Fjallsárlón lagoon.  And there can also be done two types of boat tours.
Fjallsárlón is an isolated glacial lagoon in the realm of Vatnajökull. Iceland's tallest volcano, the Öræfajökull glacier looms above the lagoon and reaches down to the water where icebergs break off into the lake and drift serenely around before melting.
Photography Private Boat Tours. Even if you are a pro or an amateur photographer you can choose a photography private boat tour on the Fjallsárlón lagoon. Take all your camera gear since you have a lot of space in the boat, you will be able to take the best shots here.
There are two options for this tour: the classic tour or the luxury tour.
The classic tour takes about one hour and thirty minutes and you will be taken all the way to the edge of the glacier while your guide explains the formation of the glacier, the surrounding landscape, and the community of people that was formed around it.
The luxury tour takes about two hours, and a picnic follows it in Fjallsey. The island is right by the edge of the glacier, making it perfect for a picnic. So after you take your best shots you can relax and enjoy some champagne and the food you will found in the picnic basket. Have you decided which one you choose? Take a look here for more details.
Fjallsárlón – Iceberg boat tour. This tour takes one hour and thirty minutes and you will be sailing to the edge of the glacier. During this tour, you will find out more information about how the local farmers were struggling with the forces of nature back in the day and how they created a communion with nature. Take a look at our boat tours and join us in this adventure.
---
Experiencing Iceland from above on a helicopter tour
Iceland is an amazingly beautiful country. Its landscape is out-of-the-world and everyone wants to come and see and experience this awesome land. Especially during summer, when all the colors appear at the same time, this is when I will say that I totally won't mind living in the sky. Perhaps this might be the reason so many birds flock to Iceland during summer. They are attracted by the beautiful landscape they see from above.
A helicopter tour embraces the highlights of Icelandic nature in an unforgettable journey across Thingvellir, Geysir, the spectacular Gullfoss waterfall, geothermal power plants, Mt. Hekla, and the rhyolite mountains of Landmannalaugar. From the geothermal area Hrafntinnusker, we overfly volcanic sand beaches, Myrdalsjokull glacier, Thorsmork, and Eyjafjallajokull glacier volcano.
If you are interested in seeing Iceland from above, check out this blog and book a tour.
---
Camping
Camping is one of the most popular summer activities in Iceland. Be it pitching tents or sleeping in RVs, there is no shortage of variety display regardless of which campsite you are at.
It is also one of the best and cheap ways to explore Iceland and to live in the middle of nature. You will find campsites near the most beautiful waterfalls or some of the most known touristic places.
Be careful, you can camp only in campsites. More information about camping in Iceland you can find on our blog.
---
Experiencing Iceland in a motorhome
Long roads, breathtaking landscapes, and unique experiences. That is how Iceland can be described in a few words. Motorhomes are perfect for discovering such a beautiful country like Iceland without being concerned to come back to the same place every night.
Traveling with a motorhome saves you time since you do not have to come back to your accommodation every night and you can just stop at a campsite and continue your trip the next morning. Also, this gives you mobility and you can check as many places you have on your bucket list.
In Iceland, motorhomes can be rent only between mid-May and the end of September. During this period the weather is perfect most of the time, and it is easier to drive. For more details about Experiencing Iceland in a motorhome visit our blog. If this kind of experience is arousing your curiosity check out our motorhome tours.
---
Enjoying a bath in a geothermal spa
Icelandic summer is not hotter than 20° C (68° F) so a bath in a geothermal spa is the best way to relax after a full day of exploring Iceland. There are six well-known places in Iceland where you can enjoy a geothermal bath.
From south-west to north-east Iceland you will find the famous Blue Lagoon, Secret Lagoon, Krauma Geothermal Baths & Spa, Bjórböðin (Beer Spa), Mývatn Natural Baths, and Vök Baths.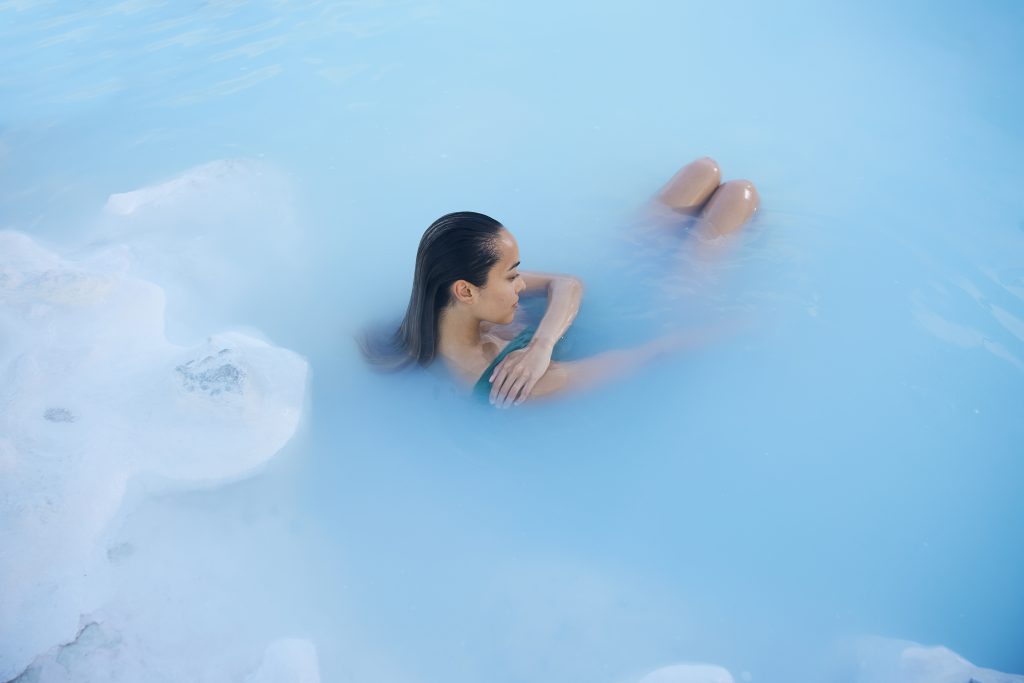 The Blue Lagoon is a popular spa destination featuring an outdoor lagoon with mineral-rich waters in a lava field. Let the warm and mineral-rich water warm you up and recharge you for your exciting trip in Iceland. Find more about Blue Lagoon on our blog.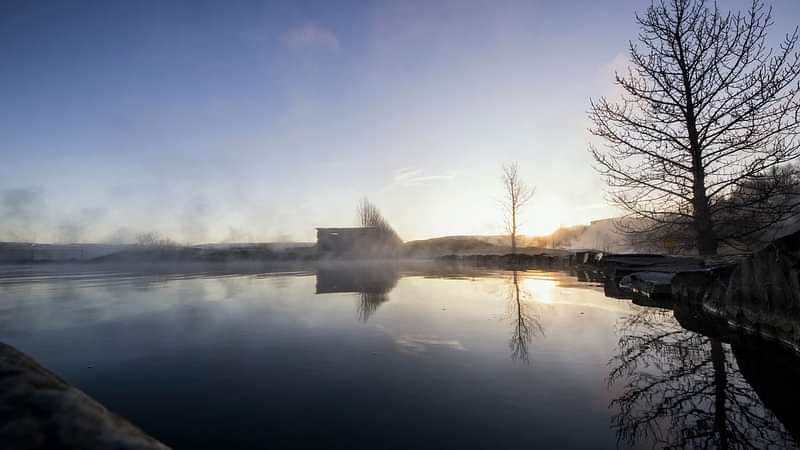 Secret Lagoon natural hot springs are located in the small village called Fludir and are in the Golden Circle area. The pool's natural surroundings and steam rising into the air gives the place a magical feeling.
The warm water stays at 38-40 Celsius all year. In the whole area, there are several geothermal spots and a little Geysir which erupts every 5 minutes, showing off for the guests relaxing in the hot spring. On our blog, you will find more about Secret Lagoon.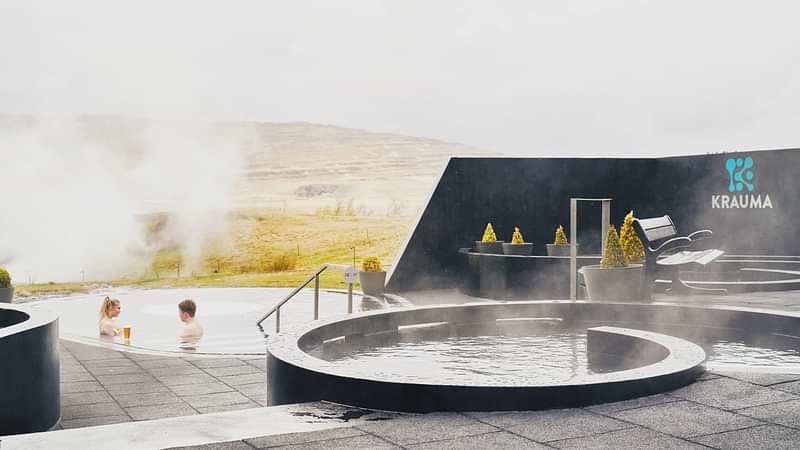 Experience nature from its core by bathing in the geothermal baths at Krauma. The hot water originates in Europe's most powerful hot spring Deildartunguhver, at a temperature of 100°C (212°F). To achieve the perfect bathing temperature, the hot water is mixed with cold water from Rauðsgil, which originates in the glacier Ok, the smallest glacier in Iceland. Book your tour to Krauma geothermal baths.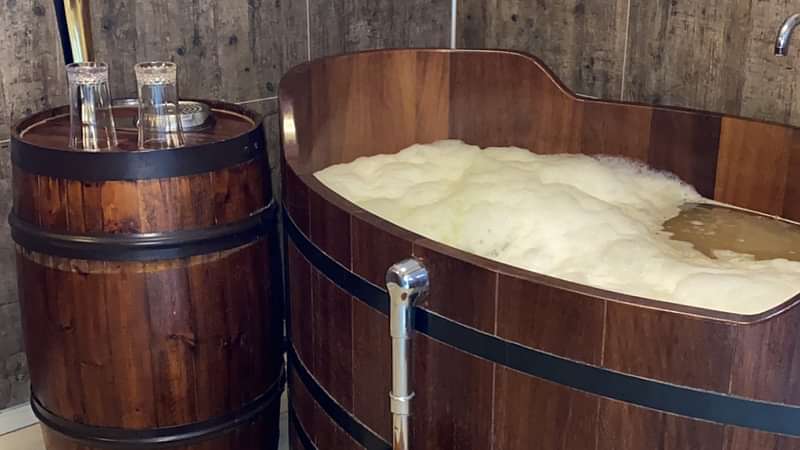 Bjórböðin SPA is located in Árskógssandur in the north of Iceland.  There you will soak away the stress of modern life by relaxing in a bath of warm beer. Beer yeast is used in various ways, the most common is a tablet form where the effects of the yeast are very benefitting.
A beer bath, where you bathe in both young beer and live beer yeast, without showering it off until some hours later, has an extremely powerful effect on the body and skin. This treatment is both cleansings for the skin and has a very positive effect on health. You cannot miss such an experience so book a tour to Bjórböðin SPA.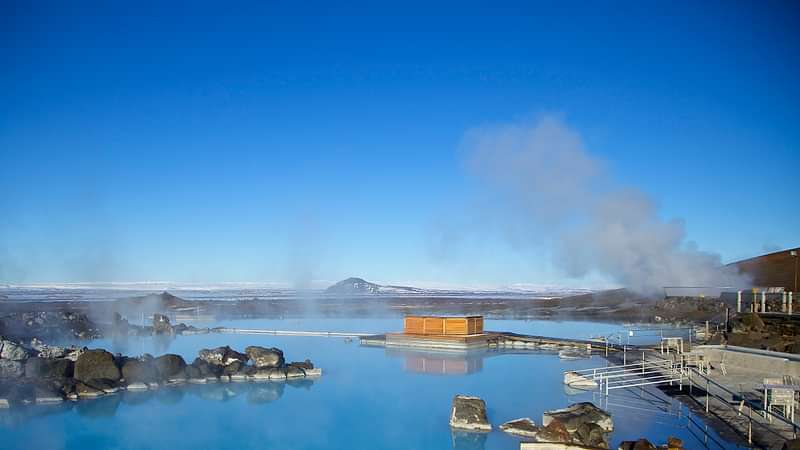 Mývatn Nature Baths is a traditional and tastefully designed complex offering a completely natural experience that you can enjoy with your day admission ticket. The 2 steam baths are built on top of a geothermal area and the sulfur steam rises through holes in the floor. The water of the Mývatn Nature Baths is drawn from a borehole that goes 2,500 meters into the ground. The water has a high concentration of minerals, is basic in nature, and well suited for bathing. Some people prefer Mývatn Nature Baths instead of Blue Lagoon but you better book a tour and try it.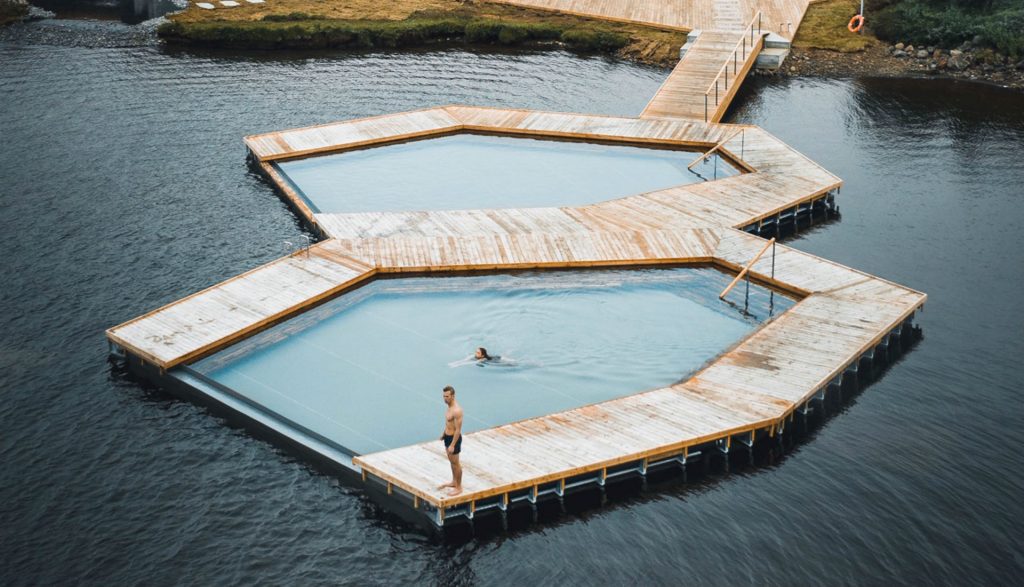 Vök Baths is a new destination opened in summer 2019 by lake Urriðavatn, just northwest of Egilsstaðir, in Eastern Iceland. The water at Vök streams from hot springs deep under the lake. Years ago, during the long arctic winters, the locals noticed that the lake ice always melted in the same place. The hot spring water is so clean you can drink it, making it the only certified drinkable hot spring water in Iceland. Book a tour and relax in the hot spring water at Vök Baths.
---
Fishing
Connect with Icelandic nature and people by going on a fishing tour with a local guide. Depending on the weather and tides, the guide will bring you to a secret and natural river or lake to try out fishing in nature.
Along the way, you might need to drive across some rivers before you arrive at the fishing spot. Try a different experience in Iceland and book your fishing tour.
---
Picking wild berries
It is in the local culture to pick wild berries and make jam.  This tradition has been kept since the time of the Vikings. Due to the lack of land for plantation, the Vikings and residents of Iceland have been using these wild berries as their source of vitamins and nutrients.
These wild berries can only be found in the wild as they cannot be farmed. They grow on moss that can only be found on volcanic rocks. Book a tour and experience an authentic Viking tradition. This tour is offering also the opportunity to make jam from the wild berries you have picked and keep the jam as a delicious souvenir from Iceland.
---
Visit our website to find the best summer activities for you to do in Iceland.