Experiencing a whale watching tour from Akureyri
Try some unforgettable experiences in the Capital of the North
Akureyri is the largest town in Iceland, known also as the capital of the North. Located in North Iceland in Eyjafjörður, Akureyri is a popular harbour and fishing centre. Besides that, the town has a fantastic culture with numerous museums, exhibitions and green spaces. The town is surrounded by mountains where during the summer numerous birds are taking over the sky. Also during the summer, marine life is active in the calm waters of the fjord. That is the perfect period when you can see birds and whales near Akureyri and there are many tours you can book for that.
For the whale watching tours, we recommend our friends from Elding who are collaborating with Akureyri Whale Watching. They have some captivating whale watching tours and combo-tours that combine together some true Icelandic activities like horse riding and bird watching.
The meeting point for the Classic Whale Watching and for The Akureyri Express Whales & Eyjafjord Tour is the floating pier Oddeyrarbót 2, next to the cultural centre HOF in Akureyri and you should be there at least 15 min. prior to departure.
The Classic Whale Watching tour offers you the chance to see the Eyjafjord Humpbacks Whales in their natural habitat. The warmth of the summer sun brings vibrant life and plentitude of food to the fjord and following it, in a feeding frenzy, come the larger-than-life Humpbacks.
The ship is the only high speed, specially modified, whale watching ship in Iceland. Capable of carrying 200 persons with spectacular views from its "cinema styled" viewing platforms. Being a speed boat, the captain can sail as far as needed to cover a bigger area to be able to see the whales.
The tour is three hours long and includes the use of warm overalls; Excellent guidance on board; Wireless internet on board; Return for free in Reykjavík or Akureyri if no whale or dolphins are seen.
Check the prices for this tour here, for kids under 6 years, the tour is free.
Akureyri Express Whales & Eyjafjord
This is a two-hour tour that combines whale watching and bird watching on a small boat (12-person maximum) in an intimate tour along the Eyjafjord. The RIB boats are fast and small boats that will also get you quicker to the whales and cover a bigger area while in search of the wildlife. This means a bigger chance of spotting whales, dolphins and birdlife without disturbing them in their natural habitat. The tour with the RIB boat is a unique experience because you can have a chance to touch the whales.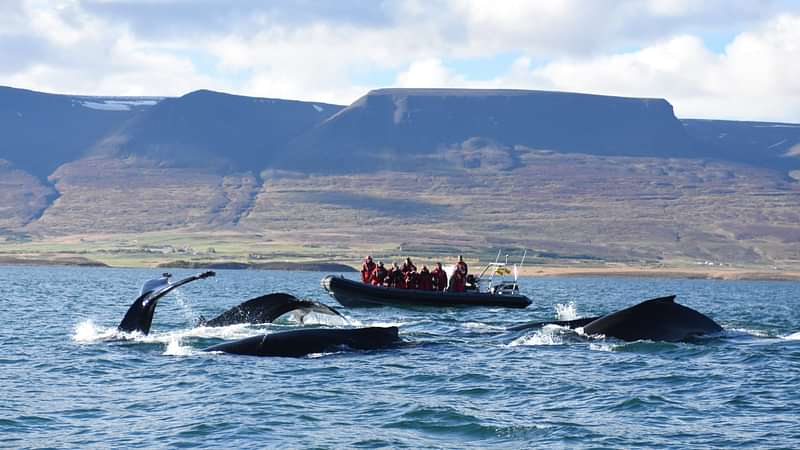 Because this tour is using a speed boat, this tour is not suitable for pregnant women and those with a history of back injuries. Passengers need to be 10 years old or at least 145 cm or taller to participate in this tour. Also, for this tour you need to dress warmly for the northern ocean and bring sturdy shoes are recommended.
This is a two-hour tour and you can check the prices for this tour here. This tour includes excellent guidance; overalls; neoprene gloves; goggles; life vests and necessary safety equipment. There are no indoor areas or toilets on the RIB boat.
What's more Icelandic than starting your day riding a horse while admiring the northern Icelandic landscape? This Whale & Horses tour gives you a complete Icelandic experience starting from Akureyri, a picturesque town along the Eyjafjord.
The 1,5 hr. horse riding tour commences at the stables at 10:00 in the morning, however, we recommend booking the free pickup service (30 min. prior to tour departure) or arrive on your own at least 15 min. before the tour starts.
If you never ride a horse this is the perfect place to try this as Icelandic horses are friendly and used to humans. There is a good variety of horses to choose from depending on your needs and skills. For horse riding, helmets are standard safety equipment and everyone is required to wear one for the duration of the tour. If there's enough time after the riding tour, you may even get to enjoy a relaxing soak in the hot tub! The minimum age for this tour is 12 years.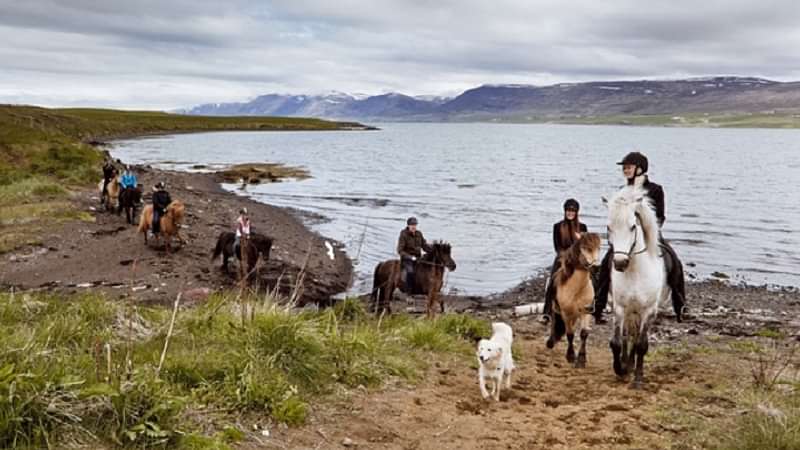 Depending on whether you made arrangements with our free pickup or not you will either be dropped off or need to drive to our location in the harbour before the whale watching tour departs at 13:00. The 3-hour whale watching tour takes you towards the middle of the Eyjafjord, close to where you went horse riding just minutes before.
This tour includes pickup to your hotel; excellent guidance; helmets; riding gear; relaxing in a hot tub at stables; free WiFi onboard boat. You can choose to be dropped off at your accommodation for 1 100 isk for adults and 500 isk for kids.
The prices for this tour can be checked here.
Try a unique experience while in Akureyri and go whale watching in the northern waters of the Atlantic Ocean. You will learn many interesting facts about Akureyri, whales, birds and horses and also about the Icelandic life in the north.
If this blog was helpful for you, you can visit our website to find more interesting subjects and travel guides.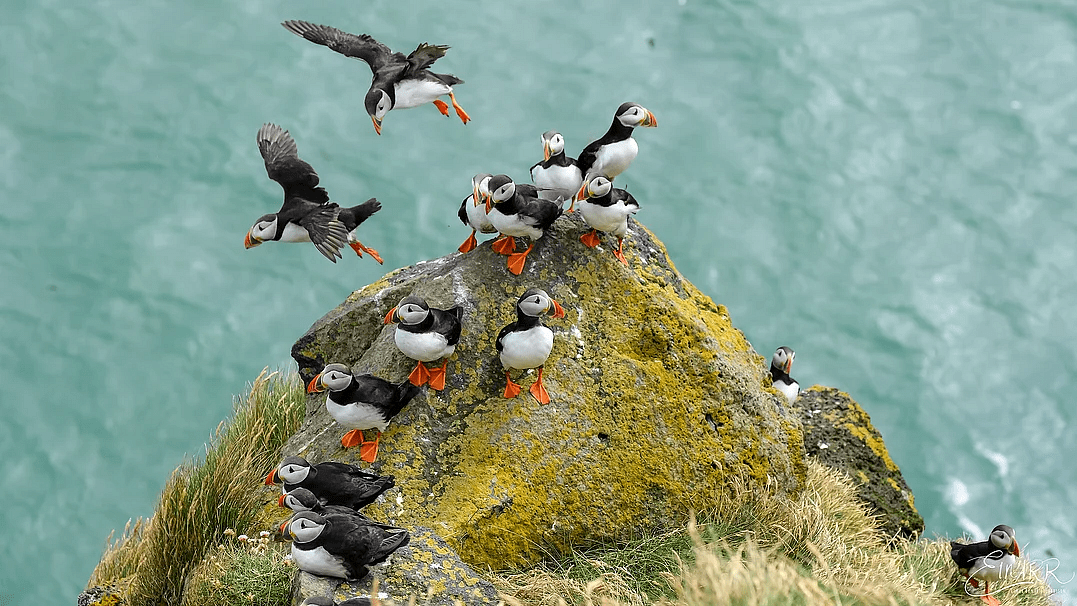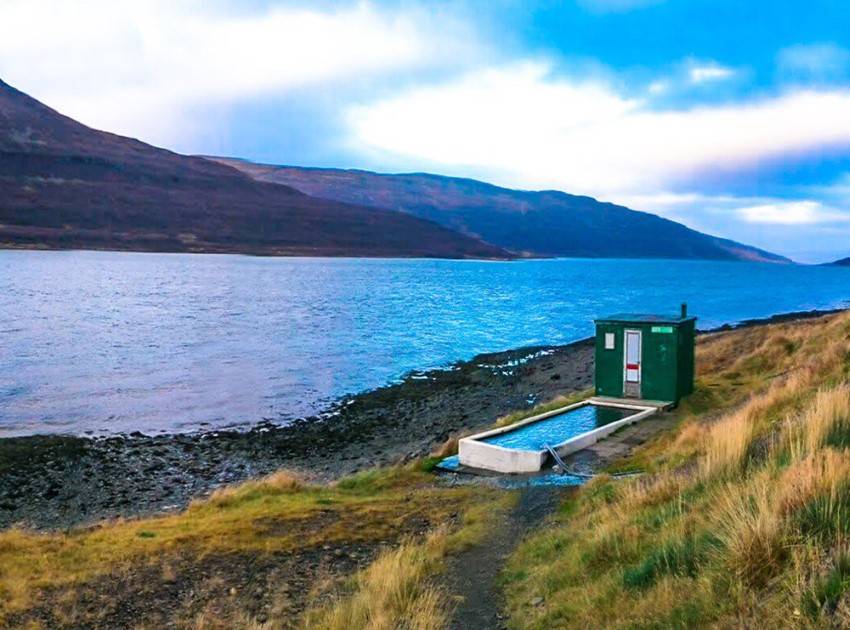 Puffin watching from Ingólfshöfði
Puffin watching from Ingólfshöfði
An unforgettable experience
Boat tours on glacier lagoons of Vatnajökull
Boat tours on glacier lagoons of Vatnajökull
The best boat tours on glacier lagoons
Hörgshlíðarlaug hot spring
Hörgshlíðarlaug hot spring
A oasis of relaxation in the Westfjords
The ultimate guide for camping in Iceland
The ultimate guide for camping in Iceland
Everything that you need to know about camping in Iceland.