40 things that you need to know about driving in Iceland
Driving is one of the best ways to explore Iceland. Being a photographer's paradise, driving allows you to explore at your own pace, go to the less known/less popular places, explore the not so accessible areas, or simply go where you want to go without having to follow some pre-decided schedule.
This land of ice and fire offers breathtaking scenery at every turn. What you will get to see behind each mountain is way beyond the imagination. I know how frustrating it can be when the tour bus cannot stop for you, but the moment is just so perfect.


It is not rocket science to drive in Iceland. You simply need to have a driving license, some understanding of the local road signs, some understanding of the local road conditions and weather, know where you are going, and you are good to go. Easy, right? Yes and no.
Here are some tips about driving in Iceland + some of my own experiences having driven in Iceland during summer, winter, and everything in between.
#1 – Is it safe to drive in Iceland?
Iceland is one of the safest countries in the world. Crime rates are shockingly low, and hitch-hiking is like everyday life. It is definitely safe to drive around, even alone, so long as you know where you are going and what you are doing.
Beautiful as it might be, the weather in Iceland is unpredictable, sometimes even mean. There have been many life-threatening incidents over the years when tourists get themselves into dangerous situations simply because they belittled the weather.
The Iceland weather forecast website is the official source for weather warnings. Safe Travel is another website that you should check out for road and safety information when driving in Iceland.
A word of advice – heed the warnings. If a road is closed, there is a good reason why it is. Speak with the locals if you are not sure how the conditions are, the locals are very friendly and will not hesitate to offer some help.
---
#2 – Do I need an international driving license to drive in Iceland?
No, you do not need an international driving license if you have a valid driving license with a license number, a photograph, a valid date, and in Latin letters. All driving licenses from the US, UK, Canada, EU, EEA, Australia, China, India are valid. If you are not sure, just check with the car rental company and they will be able to advise you.
One other thing that you might like to take note of is that you need to have had the license for a minimum of one year to drive on Iceland's roads. Also, to rent a car you need to be at least 20 years of age for a passenger vehicle, or 23 years of age to rent a 4WD or all-wheel-drive vehicle.
---
#3 – Drive on the right side
Cars drive on the right side of the road, meaning that the steering wheel is on the left side of the car. So, if you do not have it the same way in your country, then you have some getting used to doing it because everything will be on the opposite side.
---
#4 – Road signs in Iceland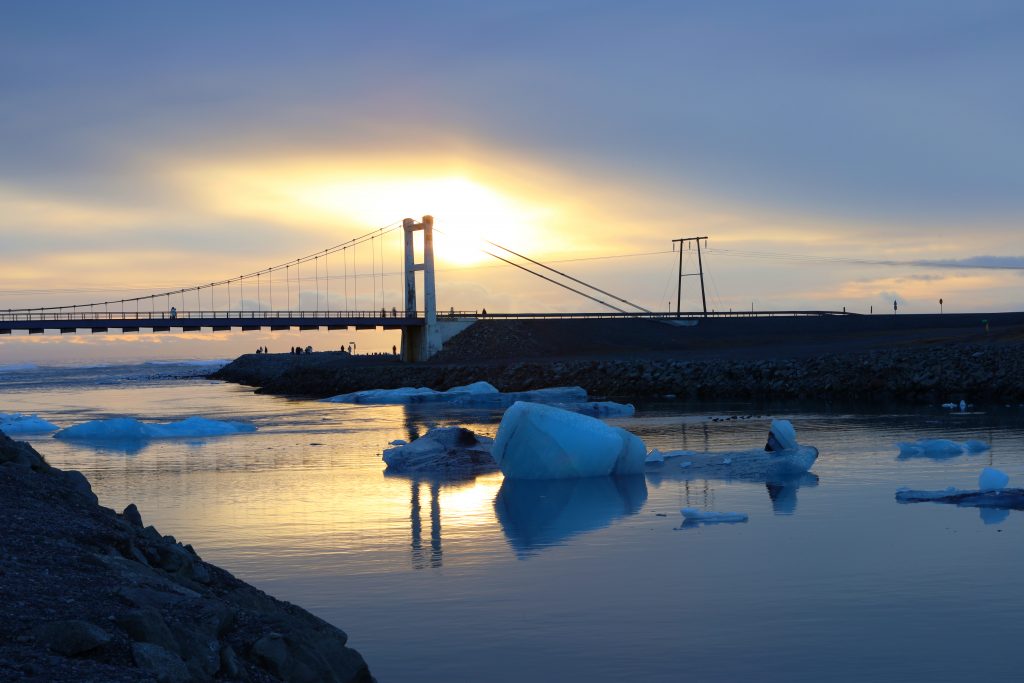 Most of the road signs are very similar to those everywhere else in the world with a few unique ones. You can find a list here. Be sure to study them before hitting the road just to be sure that you know what to do or prepare for when you see them.
---
#5 – Speed limits
50 km/h in towns, 80km/h on gravel country roads, 90km/h on hard surface roads, and any other speed limits according to the road signs. Most of the roads outside of Reykjavik are single lanes so following the speed limits is ideal and necessary.
---
#6 – The Icelandic Weather
The weather in Iceland is awesome, sometimes, not all the time. Without air pollution, the sunrises and sunsets in Iceland are amazing. The clouds and landscapes are perfect for all kinds of landscape photography. But they are not so calm and peaceful all the time.
Iceland is known for its unpredictable and extreme weather. There is a saying among the locals "If you do not like the weather, just wait 5 minutes".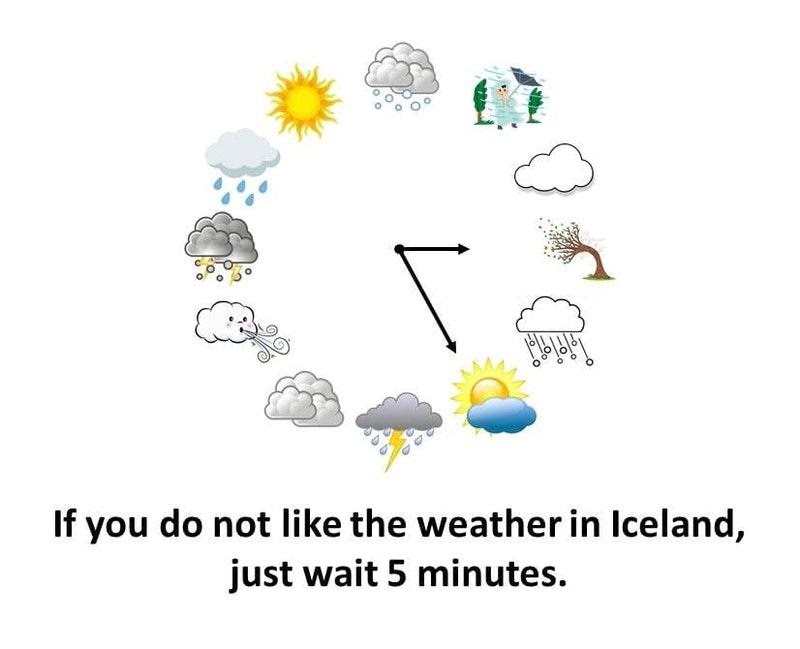 The weather can change so quickly that if you are not prepared for it, you might find yourself in a life-threatening situation that you absolutely do not want to be in. Being prepared is the key. Always have a jacket with you, even during the summer. Check the weather forecast before heading out. If you are really not sure what to expect, check with the locals. They are very friendly and will definitely offer some help when needed.
You can read more in Weather in Iceland. 
---
#7 – Hold the door!
Iceland has some seriously strong winds. Number 3 in the world, following closely behind the North pole and Antarctica. Hold on to your door when boarding or alighting from the car. If the door gets blown off by the wind, you are on your own. It is not covered by insurance. And I am not joking.
---
#8 – How are the roads in Iceland?
The roads in Reykjavik are just the same as all other city roads. Even during the winter, they are salted and cleared often enough so driving will not be a problem. But the roads outside of Reykjavik are another story. The roads are stilted. This is to reduce the cumulation of water during winter which causes icing problems (slippery roads). So hands-free driving is totally not recommended.
Sometimes the roads can be "holey". Literally, filled with holes, many holes. This problem is more significant during peak tourism periods when there are many cars on the roads. Since many of the roads are single lanes, avoiding the holes might not be an option. The best way is to slow down and drive over the holes gently. You can read more about driving on F-roads in the later section.
Road number one is the main road. The road number is numbered according to their usage. Most roads are paved and can be driven by all vehicles. The mountain roads are gravel roads and can only be driven by 4×4 vehicles. You can check live road conditions on a map here. You can also find more information at www.road.is.
---
#9 – Driving during the winter
This is when you get the best and the worst. Driving in winter is really cool, literally and figuratively. You get a totally different scenery; you get a lot more beauty to yourself as tourism is low and many parts of the country are still accessible during the coldest months.
The downside is that you get icy roads (that is really slippery), snow, and snowstorms (which can mean a complete white-out and you cannot even see what is right in front of you), and crazy winds (mid-December to mid-January is usually when the craziest winds are).
Always check the weather forecast and check the road conditions before heading out. You can always ask a local for any tips or advice for your trip.
---
#10 – Rent from the airport
What is the difference between renting from the airport and renting from Reykjavik? All rentals from the airport include an airport surcharge that is about EUR30 per rental. Okay, so it should be cheaper to get the rental car from Reykjavik, right? Not really. There is no public transport from the airport to Reykjavik. You can either take the airport transfers (EUR25 per person) or a taxi (EUR100 per way). Of course, you can try your luck at hitchhiking (free) but no guarantee that you can get a ride within 24 hours. So, the conclusion is that it is still cheaper to rent directly from the airport.
---
#11 – Car or camper?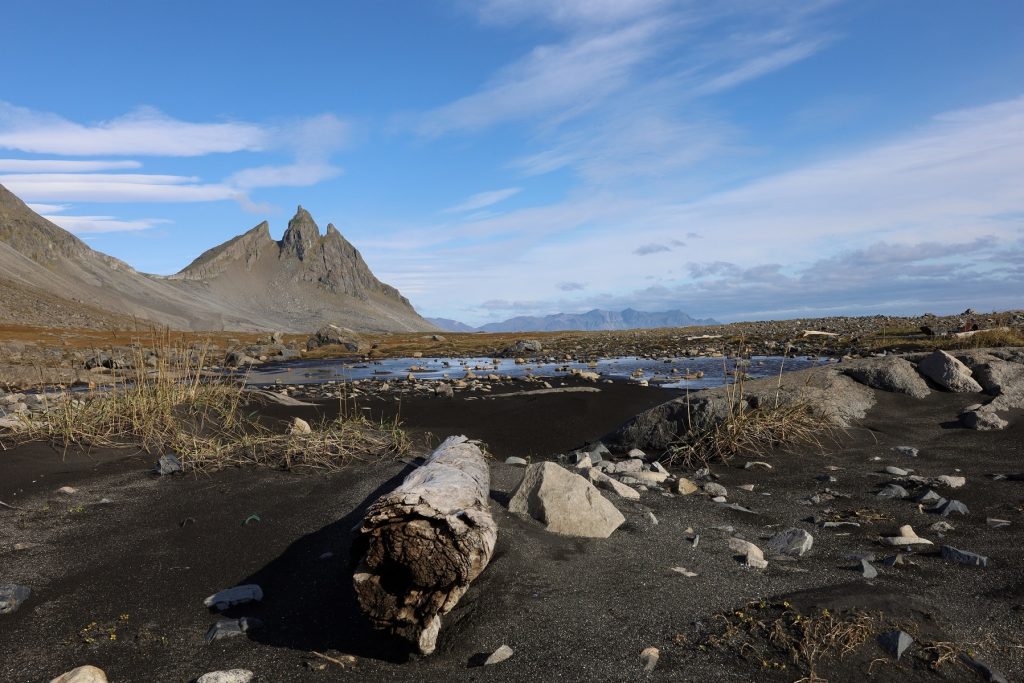 There are a few factors that need to be considered here.

1) Budget
Camper will definitely be cheaper than car plus accommodation as the accommodations in Iceland are expensive.

2) Season
A camper might not be doable during winter as most of the camping grounds are closed so you will have no place to camp. Furthermore, it is cold during the winter. To be burning so much fuel to keep warm, getting a bed in a hostel might be cheaper. So, renting a car during the winter will be more practical.

3) Route
Most campers are not allowed on the highlands and on the F-roads. So, depending on where you are planning to go and what you are planning to see, a camper might or might not be feasible.

---
#12 – Is 4×4 necessary?
It depends on where you want to go and what you want to see. A 4×4 is a must if you are going into the highlands or if you are going onto any F-roads. But, if you are only planning to stick to road one or do the ring road, then a 4×4 is not necessary.
On a side note, if you are driving during the winter, a 4×4 will definitely give you much better handling and control on slippery roads.
---
#13 – Taking the ring road
The ring road goes around Iceland and it is also called road number one. It brings you to the major towns in Iceland. It is 1332km and takes you at least 16 hours to go around with non-stop driving but what is the point right? Ideally, it takes about 8-10 days to go around, stopping at the major attractions. I have gone around several times, stopping at various places, sometimes going off-road to check out some remote locations and you will need to allocate extra time for this.
Facilities and amenities are scarce along this ring road. You will see that the further away from the capital you go, the fewer buildings you will see. Be sure to mark out where the toilets are, gas stations, and café/restaurant. It is common to find nothing for 2-3 hours of driving.
Although the ring road does take you to most of the main attractions, many of the best sites are not on the ring road. You might like to do some research beforehand and save their locations on an offline map as internet service can get sketchy in remote areas.
---
#14 – Driving on F-roads
F-roads are gravel roads mostly in the mountainous regions and are only accessible by 4×4 vehicles. Be sure to check with the car rental company which vehicle types are allowed on F-roads and the insurance required as damages to tires, paint, etc are common on F-roads. Get full coverage or zero excess insurance if possible. Several rental companies in Iceland provide zero excess insurance, be sure to check for that before deciding. 
---
#15 – Driving in the highlands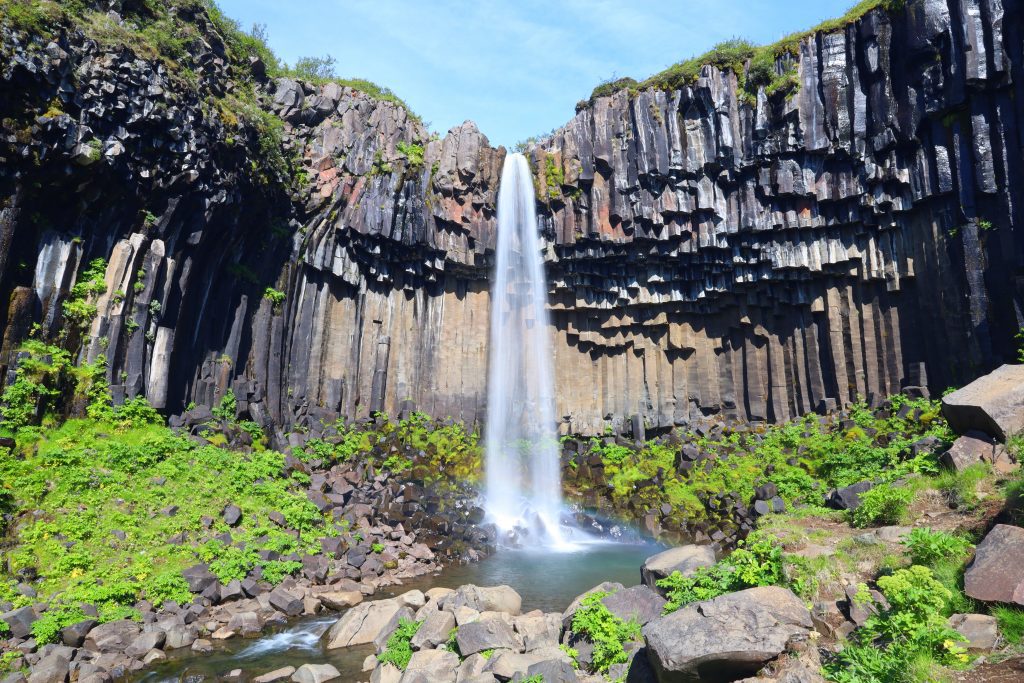 The highland roads are only open during the summer. You can find the list of roads and opening period here. The actual opening of the roads may vary from year to year depending on weather, how fast the snow is melting, etc. Always check road conditions and weather forecasts before heading out.
Safe Travel offers a service where you can leave your travel plan with them just so that someone can check in on you or in the event of an emergency, the search and rescue will be able to locate you quickly. This service is extremely helpful especially if you are traveling alone or planning to stay in the highlands for an extended period of time where communication is minimal or non-existent.
Another factor that you will need to consider is the need to cross any river along your route. Read more in the next section on the river crossing.
---
#16 – River-crossing
First and foremost, not all 4×4 can cross every river. This is a common misconception and has caused many problems (and much money) to tourists when they attempt to cross whatever river just because they are in a 4×4. It is important to understand the kind of vehicle required to cross different rivers and in different conditions. The following sign can be found on almost all river crossing points.
The river crossing is always at your own risk. No insurance will cover any damage caused by crossing the river (damages can cost thousands of euros/dollars). If you are unsure of crossing the river then don't do it, just turn around. The last thing you need is to drown your car in the middle of the river, putting your life (and your passengers) in danger, putting an end to your supposed to be an amazing holiday, and putting a gigantic hole in your pocket paying for the damages that could be avoided.
You can find more information about river-crossing on Safe Travel.
---
#17 – Off-road driving?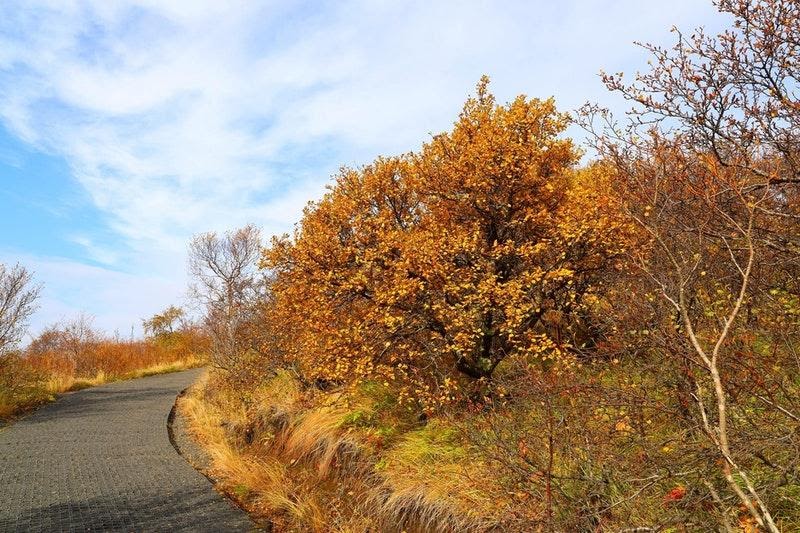 It is forbidden to drive off-road in Iceland. You are not allowed. I cannot emphasize enough. Fines are heavy. Icelanders love their nature (and you should too) and cannot tolerate anyone damaging it. So please do not drive off-road and let's help to keep the untouched nature as it is.
---
#18 – You cannot camp anywhere you want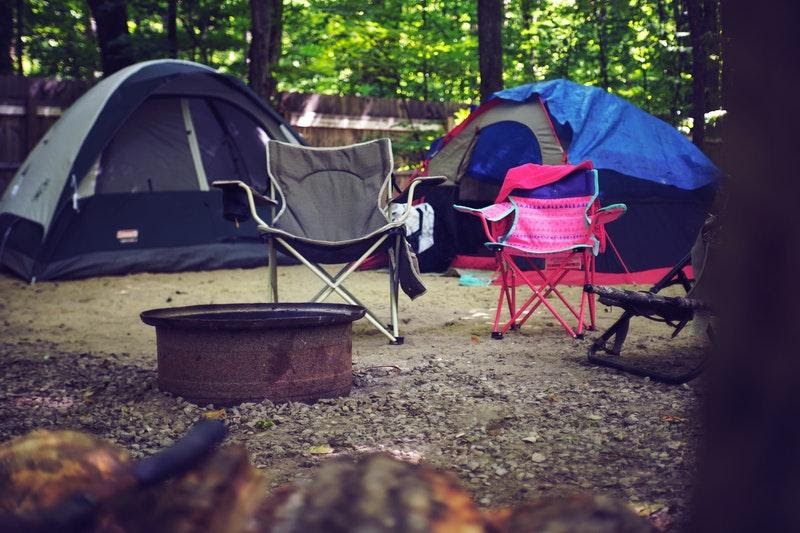 I know it is perfect with camp right beside the waterfall or amazing landscape and fill your Instagram with killer pictures of your camping experience. But you cannot camp just anywhere you like. It is a law that you can only camp at designated campsites unless you have permission (from the landowner or authority) that you can camp elsewhere that is not a campsite. Many attractions have signs explicitly saying "No camping" or "No overnight parking".
So where should you go camping? There is a campsite in almost every town in Iceland (two or more in bigger towns). The campsites charge ISK 1000 – 2000 per person, electricity fee if your camper needs power, and shower fee if you need to use the shower. Some campsites charge by per tent. Most of the campsites provide facilities like toilets and communal areas. The smaller campsites might not have a shower and WIFI. The larger campsites have more facilities like BBQ pits and a kitchen.
If you are traveling during the winter, it is advised to do your research beforehand as many campsites are closed during the winter (October – May). A couple of campsites allow camping for free during winter but without facilities. Might not be ideal at the end of the day. You can find more information on where you can camp here.
You can read more about Camping in Iceland.
---
#19 – The best camping grounds in Iceland
Having camped in almost every campsite in Iceland, here are my personal preferences on the best campsites in Iceland.
Atlavik (on the outskirt of Hallormsstaður Forest – East Iceland) is one of my favorite campsites. Its location is spectacular – by lake Lagarfljót. Huge campsite, plenty of toilets, dishwashing areas, and shared BBQ pits. The only downside of this campsite is the lack of a shower.
Hofsós (North Iceland) is a small campsite but it has its back to the mountain range and its front to the ocean. It cannot get any better than this. It has toilets, a shower, a dishwashing area, and WIFI. It is one of the cheapest campsites as well. There is a huge children's playground around the corner and the public swimming pool is two streets away.
Akranes Campsite (West Iceland) is one of the campsites with the best facilities. It has a washing machine, dryer, kettle, microwave, outdoor cooking space, many toilets, showers (with unlimited hot shower included in the price), and WIFI. The only downside is that it can get pretty windy here as it is by the waterfront with not so many trees around.
Hvolsvöllur Campsite (South Iceland) is a comfortable and convenient campsite. Right beside the ring road, it is spacious and has the necessary facilities like showers, toilets, kitchen and washing machine. It is also very covered – not so windy. N1 gas station and Kronan supermarket are very nearby. The downside is that this campsite can get very crowded during the peak season as the locals love to camp here too.
Of course, these are based on information and experiences up to summer 2020. There might be new facilities and updates on some campsites since then. This information will be updated after summer 2021.
---
#20 – Planning ahead with a flexible plan
I do know of many people who love to travel on the go, deciding where to go and what to do only on the day itself or when they are at the location, depending on the weather, etc. I can be like this sometimes as well, but Iceland can be a little bit tricky when it comes to on-the-go trips.
The reason being the distance between attractions and facilities can be great. Many factors (like weather, closed road, etc) can result in you not making it to the desired destination for the night if you do not plan ahead. Also, many factors (unexpected storms, road works, etc) may cause you to have to change your plan at the last minute. In a way, it is traveling on the go but with a lot of research done beforehand. You will need this information to make an informed decision and know how to change your plan.
Also, having a good understanding of the Icelandic weather, daylight hours, etc can be very helpful when it comes to planning for your trip. Alternatively, you can always get an itinerary planning service where a local travel professional will help you with your planning and help you make any changes (even last minute), if necessary.
---
#21 – Rural road hazards
By rural, it actually means any road outside of towns or cities. This is when most of the road signs come into play. Be it sheep (or other animals) on the road, gravel road, blind cres, or single-lane bridge, they all require you to slow down and/or give way.
The trickiest ones I would say would be the single-lane tunnels (mostly in north Iceland). You have to pull into the turnouts (or 'passing places') at certain intervals to allow oncoming traffic to pass.
So, who has the right of way? If the turnout is on your side, you are obligated to give way. If you are further away from the bridge, you should give way to the vehicle which is approaching first. If you are a smaller vehicle, you should give way to a larger vehicle as they take a much longer time to stop.
---
#22 – "I need a picture of this" – don't kill yourself for it
The landscape along the road in Iceland is to die for but I do not mean that you should die for it. If you really need to stop for pictures, do so safely. There have been too many unnecessary accidents involving tourists stopping in the middle of the road to take pictures or trying to dig for their cameras while driving.
Iceland is a photographer's heaven. I have been taking plenty of pictures while on the road but please do so safely. Pull over in a safe spot or find one of the ten thousand parking spots along road one and hike back a little for your picture. 
---
#23 – Is GPS necessary?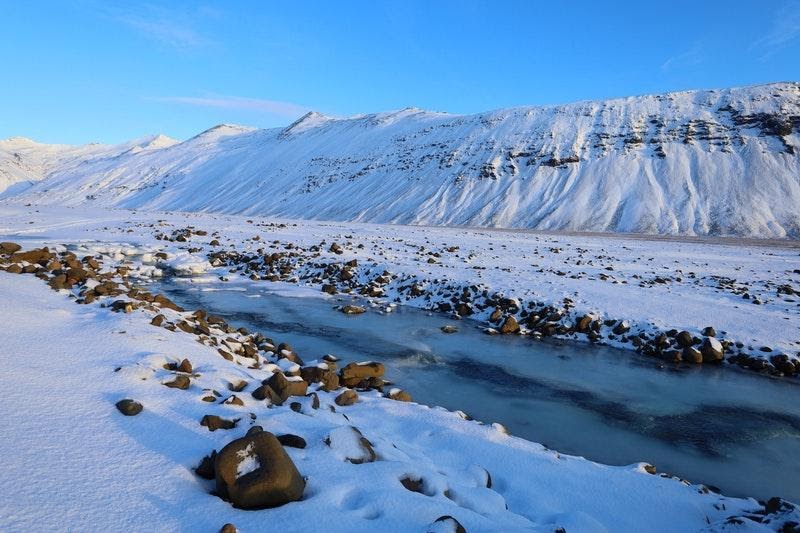 Yes. Get an offline one if possible (especially if you are planning to go into the highlands). All the road signs are in Icelandic so unless you can read Icelandic, you probably won't know where you are going. Furthermore, not all the signs to attractions are on the main road. Without a GPS, you probably won't even know where to turn to get to the attraction. Car rental companies rent out GPS systems for about EUR8 per day, you can also use data on your phone for Google Maps. Mark out important locations and make them visible offline as cellular services can be sketchy in rural/mountainous areas.
---
#24 – How much does diesel/petrol cost?
Gasoline is EUR1.36 – EUR1.59 per liter (at time of writing) which works out to EUR5 – EUR6 per gallon. Just one year ago, the average gasoline price was EUR1.70 per liter (EUR6.50 per gallon). It is quite expensive compared to everywhere else on earth. Be prepared to spend a lot on gas. (Prices can be different in time, make sure you check for updates). 
One way to save a little on gas is to use an electric radiator in the camper instead of burning gas throughout the night. Another way is to choose diesel vehicle over petrol vehicle. From experience, diesel vehicle does save us quite an amount over time.
Check with the car rental company if they provide a fuel card. Many of them have some contract with fuel company and you get some small discount by using the fuel card. It will add up to some significant amount if you are going to be driving a bit.
---
#25 – Mark out your gas stations beforehand
Gas stations are scattered around Iceland. Depending on which brand you are going with, there might not be one in every town. There might also be a gas station in the middle of nowhere or the next gas station might be 300km away from the one you passed, and you are down to the last bar.
All of the gas stations in Iceland are self-service and many of them are unmanned. American Express and some American credit cards do not work at the pump. You will need to either ask the attendant to unlock the pump and pay inside or get a travel credit card.
---
#26 – Do I need to pay for parking everywhere I go?
No, outside of Reykjavik most of the parking is free with the exception of certain attractions like Seljalandsfoss, Thingvellir National Park, Kerid volcano crater, just to name a few. Otherwise, parking at grocery stores, restaurants, hotel are all free.
Of course, parking is not free at the airport but most tourists won't need to pay for parking at the airport since they are simply picking up and dropping off the vehicles.
---
#27 – There are not so many public toilets 
Public toilet in the rural areas is a rarity. Especially in areas away from the popular attractions, and in the highlands, the public toilet is almost non-existent. Do your business before you leave for the day and make good use of whichever gas station and/or restaurant along the way. Otherwise, you will just have to do it the "natural" way (please clean up after yourself though). Or if you are really urgent and cannot hold anymore, go knock on the door of any farmhouse or residential along the road. The locals usually don't mind borrowing their bathroom during such emergencies.
---
#28 – What is the recommended driving distance each day?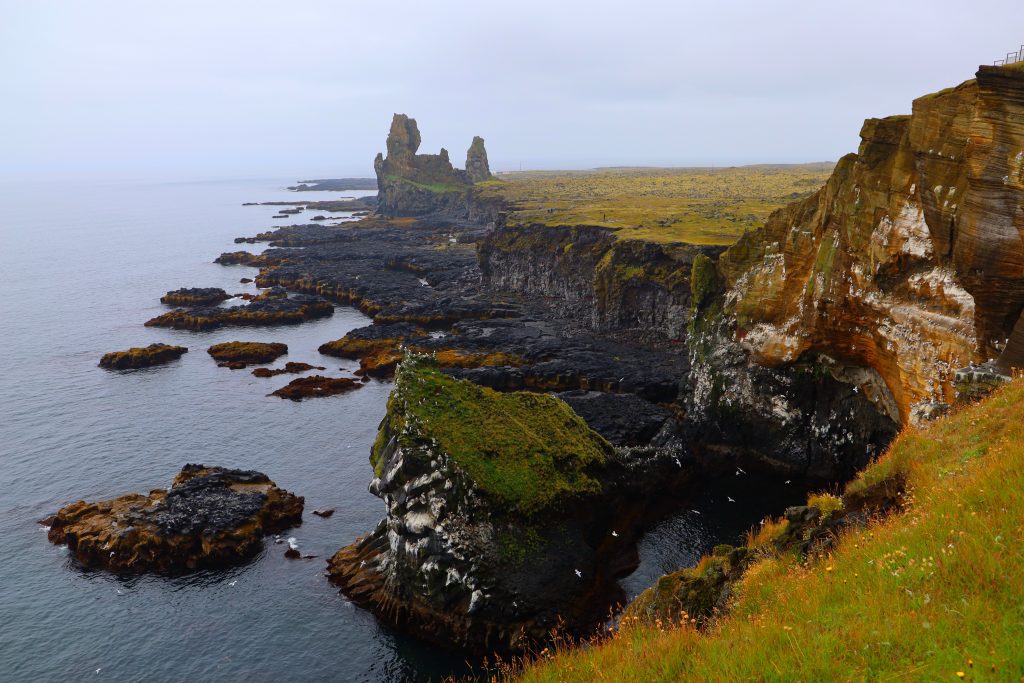 I typically do 100km – 300km a day if I am not stopping at every parking spot along the way. But this very much depends on what you want to see, what you want to do and what you want to experience. There was once I was at the Vatnajokull National Park for three days as there were so many beautiful places to see and photograph. If you end up in Landmannalaugar or Þórsmörk, you might end up doing a lot more hiking than driving. Each location is easily a 3-4 days trip. More importantly, it is what your plan is. It is not advisable to plan a day of extensive driving as it will greatly reduce the flexibility of your plan and if some bad weather comes up, you will be very stuck.
You can always get an itinerary planning service where a local travel professional will help you with your planning and give you the necessary advice on what is doable and what is not.
---
#29 – Where to go for not-so-expensive food?
Food in Iceland is expensive. An average meal in a restaurant costs EUR40. Fast food cost EUR12. If you can cook, it will definitely save you a lot of money. Bonus (is the name of a grocery store with a pink pig as the logo) has the cheapest food items. Netto and Kronan are a little more expensive in general. Grocery stores outside of major towns have limited options of food items.
The most grocery store sells marinated meat that you can put straight onto the grill or into the oven. One packet of marinated pork ribs which can feed 2-3 people costs about EUR16-20, just for example. There are also marinated beef, chicken, and lamb. Definitely much cheaper than to eat similar items at the restaurant. The only downside to it is that you will have to do the cooking on your own.
If you cannot cook or have no access to cooking facilities, most gas stations sell box wraps and sandwiches that cost about EUR4 and they make decent meals. The Icelandic meat soup which you can find almost everywhere is really quite filling and makes a meal on its own. Bonus sells this soup inbox that you can simply heat up in a microwave or a pot of hot water.
The meals at gas stations like N1 and Olis are also considerably less expensive than those in restaurants. N1 sells hot meals like grilled chicken and burgers. Olis sells sandwiches that are similar to Subway.
---
#30 – Get a travel credit card
Iceland is a credit card nation. I have been in Iceland for several years and other than certain flea markets and small second-hand stores, I have been using credit cards everywhere, including toilets (yes, you need to pay for toilets at some attractions). Get a credit card that gives you good rewards, miles, points and there is your next flight to your next destination. American Express and certain credit cards from the US are not as widely accepted in Iceland compared to VISA and Mastercard.
On a side note, at certain guesthouses, farmstay, cottages, if you pay cash, you can actually get a small discount. The owner said that they would have to pay a certain percentage to the credit card company anyway so they did not mind passing on that benefit to the guests. Ask the owner, you might save yourself some money.
---
31 – Must I get travel insurance or car insurance?
Most people think that they don't need one until they need one but do not have one. Having been traveling plenty, travel insurance is already not a good to have, it is a must-have, as the flight ticket. Good travel insurance covers more than just medical and evacuation. It takes care of the missed flight, trip cancellation, damaged luggage, and more. 
On top of travel insurance, the other insurance that you will need to think about is car insurance. Most car rental companies in Iceland cover for CDW (collision damage waiver), which is the most basic coverage but based on personal experience and having spoken with many tourists who got into trouble with car rentals, insurance coverage was the main issue. CDW covers damage caused by collision and it always comes with excess (EUR1200 – EUR2500). This is the part that most people are not happy about especially if the accident is not exactly caused by you. If the car rental company offers coverage with zero excess, take it. It will save you a lot of unnecessary headaches, high blood pressure, and whatever.
SADW (Sand & Ash Damage Waiver), this coverage is usually sold as an add-on. It covers for damages caused by sand & ash storm. This sounded totally unnecessary to me at first but wait till you drive past some "sandur" and the wind starts blowing at your car and the next thing you know, some paint had come off the vehicle and you will need to pay for it. It is like sending your car for sand-blasting just not by your choice. This SADW always comes with excess so if there is a zero excess option, take it.
GP (Gravel Protection), this will be necessary if you are planning to drive on the F-roads and in the highlands. GP covers for broken windows and lights caused by gravel/stones which are very many on the F-roads and in the highlands. It does not just cover damages that are directly caused by the driver. It also covers damages caused by someone driving past you and some rock flies towards your car and smashed the window or light.
---
#32 – What do I do in an emergency?
The emergency number in Iceland is 112.
This will be the number to call but hopefully, you will never need to. Safe Travel puts up warnings and alerts, and you should check regularly for road conditions and such.
Most importantly, stay calm. Do not panic or do something that might make the situation worse. Icelanders are super nice and helpful people. If any passerby sees you in trouble, they will stop to help. We have helped a couple of cars out of the snow ourselves so call 112, stay warm and safe, help is on the way.
---
#33 – Must I drive to experience Iceland?
No. There are plenty of tour operators running day tours, multiple-day tours, and private tours that will bring you to almost everywhere in Iceland.
If you are on a budget, you can always use Straeto, the public bus service to go around. The only thing about the public bus service is that it stops only at certain places and it is on a schedule. Outside of Reykjavik, the schedule is like once a day so a little effort in planning is required to travel with public transport.
---
#34 – Any other alternative if I am not comfortable driving?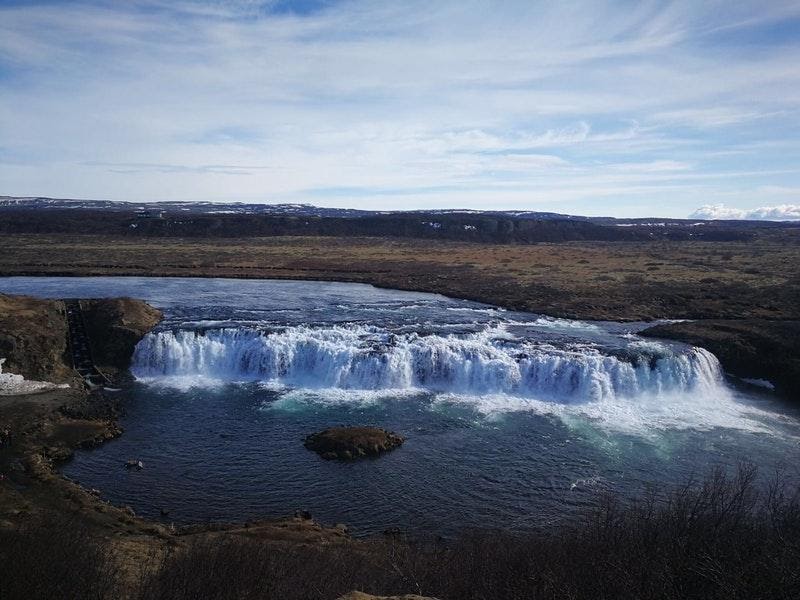 What other options do you have if you are not comfortable driving but do not have the budget to join tours? On top of join the local tours or using public transport, of course, you can try your luck with hitchhiking. I have been at both ends of it and I have spoken with people who have gone around solely by hitchhiking so, might be feasible. Just not advisable to do this during the harsh winter as you might need to wait for hours for a ride.
We have also seen people who cycle around Iceland and last year, a girl hiked around Iceland in 48 days, so yes, there are other options, just which you prefer.
---
#35 – When is the best time to visit Iceland?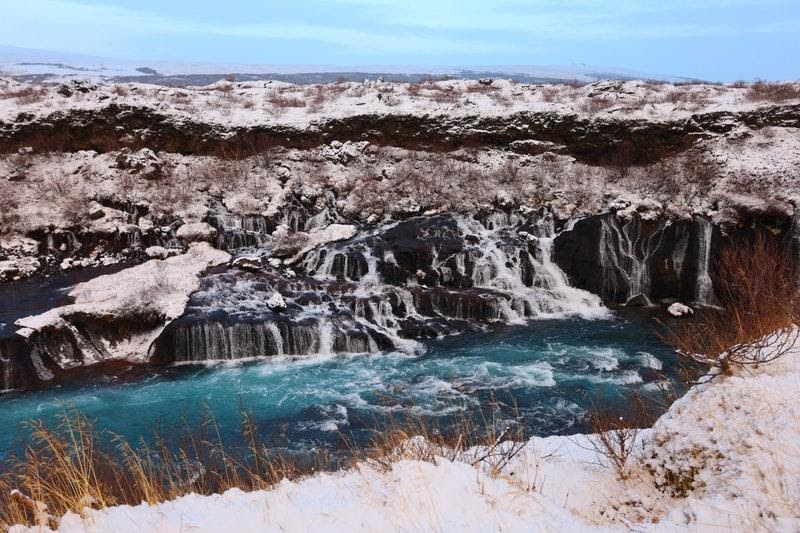 Iceland is a year-round destination. The summer is the peak tourism season and with the long daylight, you can be exploring all day (literally since it does not get dark). Watching the midnight sun is very popular during the summer. With the endless daylight, you can take your time to enjoy every scenery and landscape.
Summer is from May to September. Like this, the peak tourist season, car rental, and accommodations are more expensive.
Winter is extremely popular for aurora. Iceland is at such a location where it does not get super freezing cold like Russia, Norway, and Finland. The winters are about -5oC to -10oC which is amazingly comfortable for aurora hunting without having to endure the freezing cold. To top that, the landscape makes the aurora photographs totally unreal. People who have been to Iceland in different seasons will tell you that Iceland looks totally different during summer and during winter. It is like two different places altogether. This is something that I totally agree with. The landscape covered in snow and ice is beautiful beyond description. It is a totally different experience on its own.
Winter is from October to March. Harsh winter is from mid-December to mid-January (this is when the craziest wind is).
Aurora season is from September to March. There is a chance to see the aurora during end-August and early April but that is dependent on your luck. Read more in the next section – When is the best time to see aurora?
---
#36 – When is the best time to see aurora?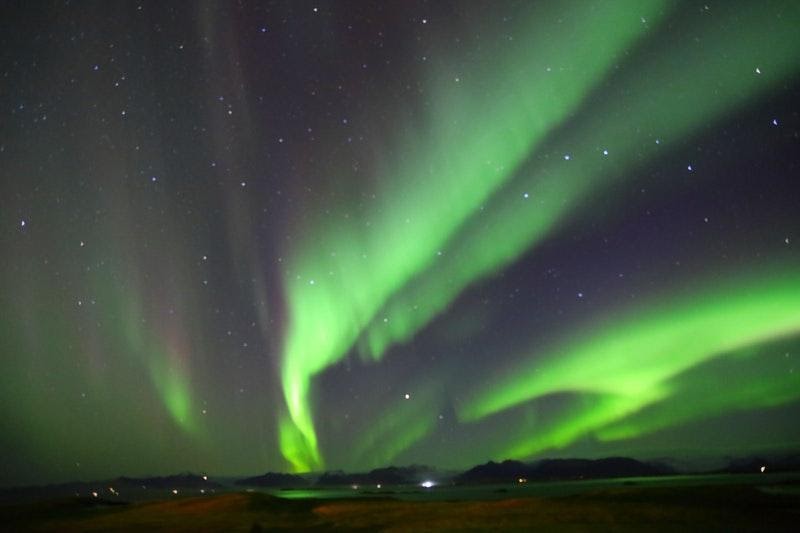 You can start to see aurora so long as there is darkness and a clear sky. The conditions are usually better between September to March. There is sufficient darkness and all you will need is aurora activity and a clear sky.
According to past statistics, the aurora is sighted in Iceland between 8 pm to 3 am. This varies from day to day and is dependent on solar activities. A good way to get some "feel" as to when the aurora will be in Iceland is to check the NOAA auroral oval and forecast. It shows how the aurora oval is moving around the pole.
The next thing that you need to check is the cloud coverage. If the sky is covered with clouds, it doesn't matter how bright or colorful the aurora is, you probably won't see much, maybe just green clouds.
Having done all your homework, the next thing is to stay outside and wait. Aurora comes and goes. Sometimes it stays for a couple of minutes, sometimes it stays for hours. Nobody can say for sure what is going to happen. What you can be sure of is that you are there when it happens.
Read more on Aurora Hunting 101.
---
#37 – Where is the best place to see aurora?
Anywhere that is dark really. Light pollution damages the beauty of the northern lights so anywhere outside of towns and cities is a good place to see the aurora. Having some understanding of aurora hunting will help or you can just ask a local and they will be more than happy to tell you where to go or where to look.
If you know that the location that you are at will be covered with clouds, maybe you might like to drive a little to where the cloud is not to get a better chance. Otherwise, you can always wait for the clouds to move, hopefully away.
---
#38 – What do I need to bring on a self-drive in Iceland?
A high-quality camera is necessary for all the amazing pictures that you are going to take. I travel with my Canon RP, several lenses, DJI Mavic, and some other accessories. There are some restrictions about flying drones in Iceland that you might like to check out and be sure that you are in a flying zone before taking out your drone.
On top of equipment, daily necessity are as follow:-
– packable jacket (windproof & waterproof is recommended)
– reusable shopping bag (plastic bags are not provided in shops, you need to pay for it)
– in-vehicle phone holder (holding a phone while driving is illegal)
– water bottle (Iceland has the nicest glacier water in the world)
– earmuff/beanie and gloves (you will need these during winter)
– hiking shoes (the Icelandic terrain is not exactly heels friendly)
– sunglasses (you will need these during winter to protect you from snow blindness)
– thermal long-john and sweater (you will need these during winter)
– lip balm and hand cream (the humidity is very low so lips and hands tend to crack during winter)
– thick socks (you will need these during winter)
Check out our recommended packing list here.
---
#39 – Accommodations in Iceland
Accommodations in Iceland are expensive. In ascending order of price, dormitory, hostel, guesthouse, apartment, hotel.
Hostel and dormitory are used interchangeably as most properties like this are usually both. You are just getting a bed in a room with other travelers. All amenities are shared. Breakfast is usually available for purchase.
Guesthouses and farmhouses are similar kinds of accommodation. You get a room in a house-sharing amenities with other travelers. Breakfast could be an option or included in the price.
Apartment/Cottage is more suitable for people traveling in a group as they are usually able to sleep with four or more people. The most apartment comes with kitchen. Breakfast is usually not an option but for larger properties, breakfast can be purchased.
A hotel is a hotel like any other country. The only thing is that there is no swimming pool in the hotels in Iceland. Breakfast is usually included.
Some accommodations offer facilities like hot tubs and saunas. Some apartments/cottages provide bbq grills.
Some accommodations open summer only so accommodation options during the winter are more limited.
Book your accommodation with a local DMC (Destination Management Company). Their prices might be better than accommodation booking platforms.
---
#40 – Other general information about Iceland
The local currency is the króna (ISK). Euro is accepted in most shops.

Icelanders speak Icelandic but most people in the hospitality and service industry speak English.

Tipping is not customary in Iceland but is greatly appreciated.

Iceland uses the Europlug and wall sockets have a current of 220A.

Plastic bags are not provided in shops. You can either pay for one or bring your own bag.

Cold tap water is drinkable (make sure you turn it to the coldest)
Iceland from above
See a different side of Iceland
11 Instagrammable places in South and East Iceland
11 Instagrammable places in South and East Iceland
The most famous places in Iceland
ATV tour from Reykjavik
Adventure right from the capital city
Búdakirkja the iconic black church in Iceland
The iconic black church in Iceland