Transport options between Keflavik airport and Reykjavik
What options do you have to get from Keflavik airport to Reykjavik?
How to get from Keflavik airport to Reykjavik? What options do I have? These are some of the first questions travelers might have when planning their trip to Iceland. In this blog, we will give you all the options that you have, the prices, time, and other information that you might need to make your decision.
Airport shuttle, taxi, private transfer, public bus – these are some options that you have to get from Keflavik airport to Reykjavik.
Private airport transfer and taxi are essentially similar. Most of the taxi operators in Iceland are also providing private transfer services. The only small difference is that if you are looking for a VIP luxury transfer, that is another thing altogether.
In terms of price, the different kinds of airport transfer in descending order of price are as follow:
1) VIP luxury private transfer (€200 – €500 per way)
2) Private transfer/taxi transfer (€100 – €150 per way)
3) Airport shuttle (€26 – €32 per way)
4) Public bus (€13 – €17 per way)
5) Hitch-hike (free but no guarantee of a ride)
For the time taken to get to Reykjavik, the different kinds of airport transfer are as follow:
1) VIP luxury private transfer (45  minutes)
2) Private transfer/taxi transfer (45 minutes)
3) Airport shuttle (1 – 1.5 hours)
4) Public bus (1.5 – 2 hours)
5) Hitch-hike (45 minutes – never)
For VIP luxury private transfer, private transfer, and pre-booked taxi transfer, the driver will be waiting for you at the arrival hall with your name. You will not need to think about where to go to look for the vehicle etc. This is the most hassle-free mode of transfer. After a comfortable ride, you will be dropped off at the hotel lobby and might even get some help with your luggage. For private transfers, some drivers even go the extra mile to assist you with your check-in. You also will not need to worry about the road restrictions in Reykjavik (I will talk more about this in the next section).
For airport shuttles, there are several operators providing this service at slightly different prices. When booking airport shuttles, be sure to select the option with hotel drop-off. Otherwise, the default drop-off location is BSI Bus Terminal and you will need to find your own way to the accommodation. You can either pre-book the airport shuttle or purchase the ticket at the airport.
There are booths right in front of the arrival hall where you can get the tickets. All airport shuttles are on fixed schedule departures (usually hourly) so depending on your flight arrival time, you should select a departure time at least one hour after flight arrival time.
All the airport shuttles are waiting at the coach bay outside the arrival hall. Upon arrival, you can either go to the booth of the company from which you have bought the tickets to check if the bus has arrived or you can simply go outside and check. There is luggage holding space under the bus. Most airport shuttles provide free wifi onboard.
As the bus needs to drop off passengers along the way, it might take some time for you to get to your accommodation. One other thing that you need to take note of is that, despite having selected the "hotel drop-off" option, some accommodations in Reykjavik do not allow for drop-off by coach/bus as the roads are too small for large vehicles to drive through. This is especially common for the accommodations in downtown Reykjavik, on Laugavegur, the surrounding area, and accommodations that are in residential areas.
Designated pick-up and drop-off points have been set up for this purpose. You will be dropped off at the nearest drop-off point to your accommodation and you can complete the rest of the journey on foot. The problem usually comes when the accommodation is almost 1km away from the drop-off point and it is snowing heavily, windy and you need to drag your almost 30kg luggage through all this snow and wind. It is definitely some kind of experience but might not be so enjoyable for everyone. To know if the accommodation that you are booking falls into this category, you can simply check with the accommodation or you can also check with the airport shuttle provider.
To go to Reykjavik by public bus, the only provider is Strætó. There is only one bus service that goes from Keflavik to Reykjavik. Bus 55. And depending on where your accommodation is, you will need to change to another bus somewhere in Reykjavik and then maybe walk some to your accommodation. There is a route planner on the Strætó website that you can use to help you. There are several scheduled departures a day but they vary on weekdays and weekends. You can find the schedule here.
The cheapest way, of course, is to hitch-hike. There are plenty of people going from Keflavik airport to Reykjavik every day but there is no guarantee that anyone will want to pick you up so good luck trying. You might get there cheap and quick or never at all.
Need help planning your trip to Iceland? Make an appointment to speak with our travel designer.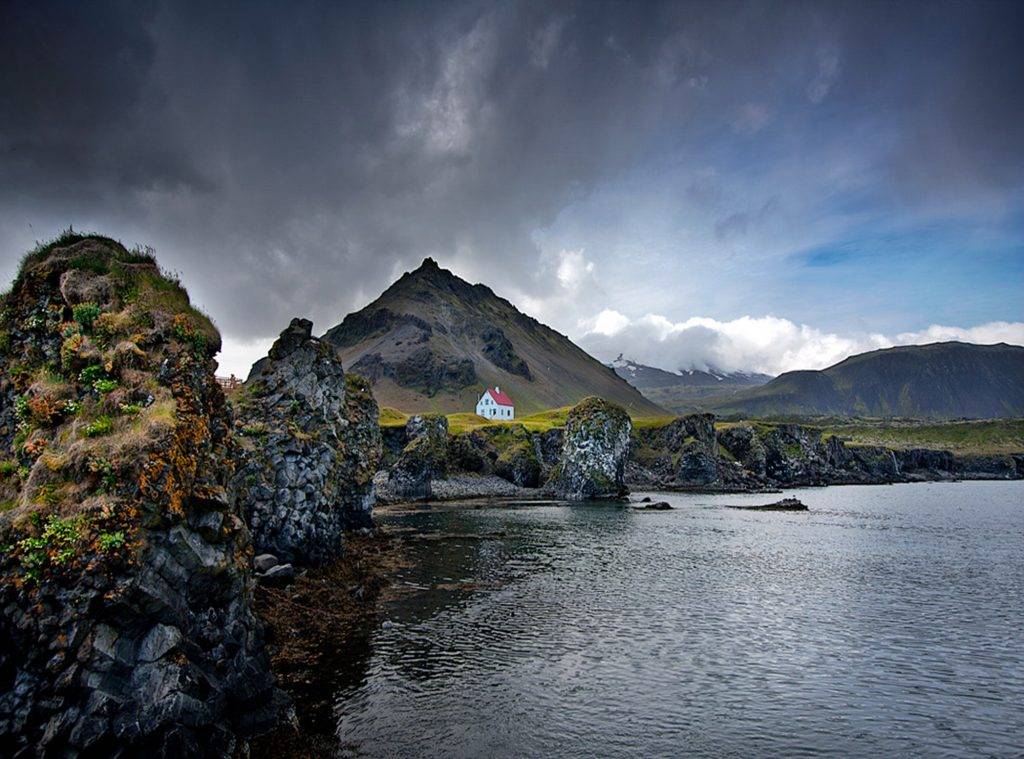 Arnarstapi fishing village
Arnarstapi fishing village
A traditional fishing village in Snæfellsness peninsula
Djúpavogskörin- hot tub with a view
Djúpavogskörin- hot tub with a view
The hot tub was made by some locals for people to stop and enjoy the view over the fjords while bathing in
nice hot water
Snæfellsjökull- one of the most mystical places in the World
Snæfellsjökull- one of the most mystical places in the World
Kirkjufell-"the arrowhead mountain"
Kirkjufell-"the arrowhead mountain"
Kirkjufell Mountain the most photographed place in Iceland