Pollurin blue hot springs
Geothermal energy can be considered a natural wonder and Iceland has the perfect examples for this. It is used for heating the Icelander's homes, for producing energy, for thermal pools, and even for fish farms. In the Westfjords there are many hot springs and local people designed pools to enjoy the benefits of thermal water. So happened at Pollurin, where people designed a space that everyone can use to relax in the warm water.
There are three concrete pools at Pollurin, a parking spot, shower, and changing facilities all for free. In exchange for using the pools, we kindly recommend you to take care of the place and clean the place after you use it, take all the litter and put it in the bins. The size of each pool is: 2 x 2 meters wide and 1-meter depth; 1,35 x 2 meters wide and 50 cm depth and the other one is 2 x 2,8 meters wide and 40 cm depth.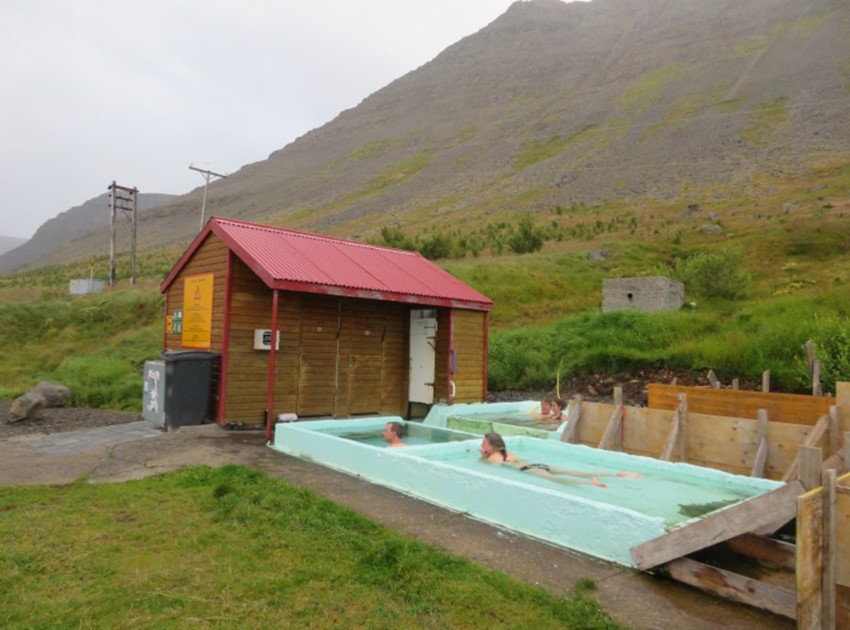 You can enjoy the pools all year round and the views will complete your relaxation experience. During the summer you can enjoy the polar day with its endless light and colorful sunsets while you sit in the pool and let the warm water calm your mind and body. In the winter you can warm yourself in the pool while you enjoy the dancing northern lights. The water in the pools is mostly around the temperature of 40- 45 °C.
Pollurin is located near the village of Tálknafjörður which is in the fjord with the same name. If you are coming from the north of the Westfjords on Route 60, you will see a second road on the right side. That is Road 63 that you have to follow until you will see a sign on the right side for getting to the village of Tálknafjörður. Pollurin is a few kilometers from the village. The road to the village and to the hot spring is a gravel road but is easily accessible. The views over the fjord will be worth the entire journey to Pollurin. You can also follow the GPS coordinates: 65.64908, -23.89486.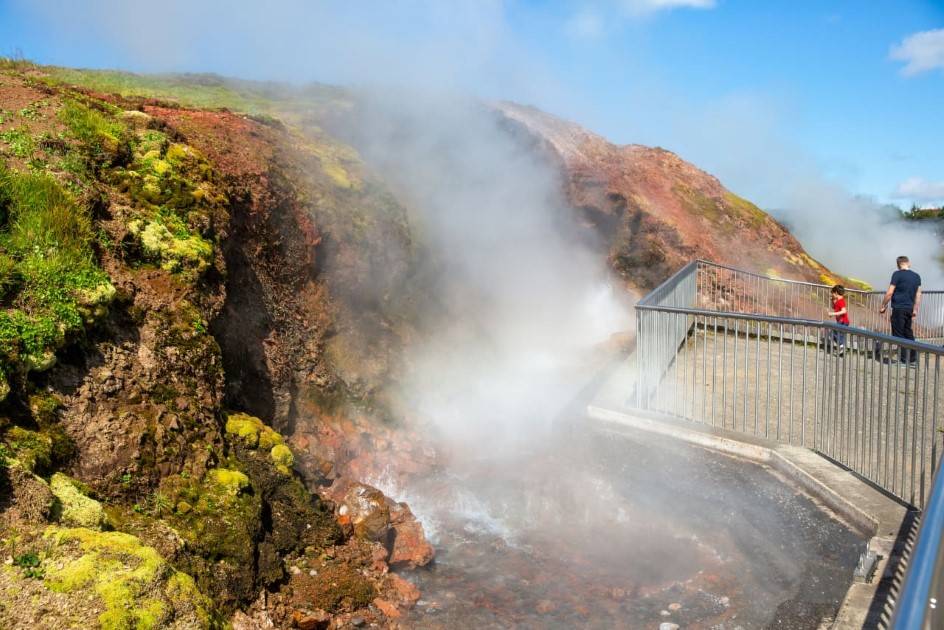 Weather in Iceland
Everything you need to know
Whale watching combo tours from Reykjavik
Whale watching combo tours from Reykjavik
Deildartunguhver a really hot Hotspring
Experiencing a whale watching tour from Akureyri
Experiencing a whale
watching tour from Akureyri
Unforgettable experiences in the Capital of the North