Kvernufoss-little brother of Skogafoss
Kvernufoss is a beautiful waterfall located in South Iceland. The water from river Kverná falls 30 meters into the beautiful Kvernugil gorge. During the summer and early autumn, you can walk behind the waterfall where the view of the gorge is stunning. If you want to visit Kvernufoss during winter, we recommend you not to walk behind because the path will be frozen and there is the risk to injure yourself if you slip on the ice. Also, there is the risk of falling icicles so you better stay safe.
Kvernufoss has located a 30-minute walk from Skogafoss and the path to the waterfall starts near the Skógarsafn Museum and it is clearly visible through the grass field. On your way to Kvernufoss, you will have to cross over a fence that has a stair, so you don't need to worry about this. Once you get closer to the gorge you will see a glimpse of the waterfall hiding behind the gorge walls, but as you go further, the gorge opens up and the beautiful Kvernufoss will delight your eyes.
This waterfall might be similar to Seljalandsfoss because of the fact that you can walk behind the waterfall and also similar to Gljufrabui (which is near Seljalandsfoss) because of the fact that Kvernufoss is near Skogafoss.
You won't hear about Kvernufoss in many places because is not included in South coast tours, but if you are a hidden gems hunter, then you should add this waterfall to your list.
To get to Kvernufoss right from Road 1 you have to turn left when you see the sign for Skogafoss and drive straight until you will see the sign for Skógarsafn Museum which is on the right side. You can park your car in the museum parking for which you have to pay 500 isk.
If you want to visit Kvernufoss after you visit Skogafoss, on your way back from Skogafoss you have to turn left and drive to the Skógarsafn Museum parking lot.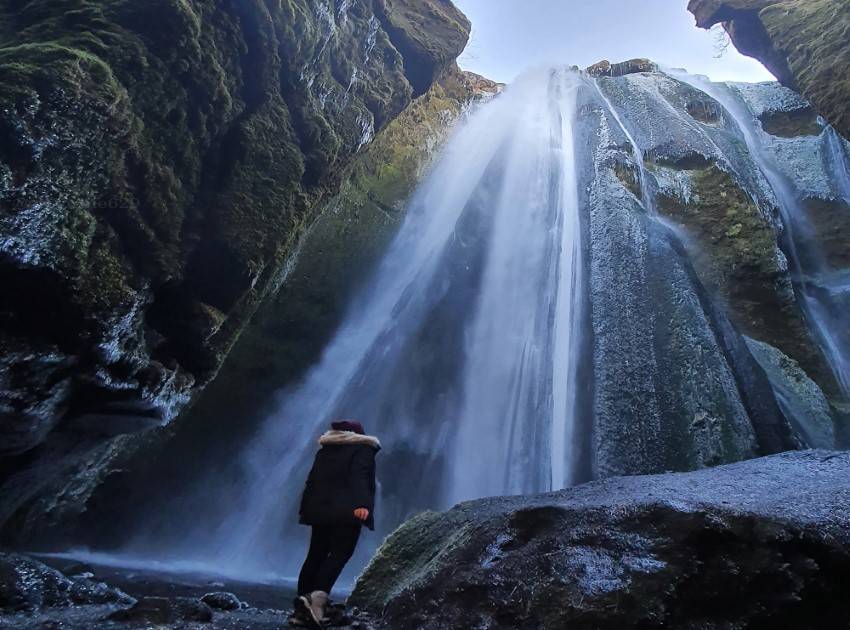 ATV tour from Reykjavik
Adventres right from the capital city
Most famous film locations in Iceland
Most famous film locations in Iceland
Visit the places from your favourite movies
Snowcat adventure on Snæfellsjökull
Snowcat adventure on Snæfellsjökull
An adventure on a special mountain