The highlands of Iceland have been the source of awe and wonder for many, locals and tourists alike.
There have been many discussions regarding the accessibility to the highlands, accommodations and such.
In this blog, I will share more about Kerlingarfjöll, one of the gems of the Icelandic highlands.
Getting to Kerlingarfjöll can range from a piece of cake to a nightmare. Nobody should go to the highlands unprepared. Understanding the weather and road conditions before heading into the highlands is necessary.
Road 35 followed by F347 will take you to Kerlingarfjöll. From Reykjavik, this drive will take you about 3.5 hours. From Akureyri, about 4 hours.
I do not recommend any vehicle smaller than a Dacia Duster. Of course, the bigger the better. Most of the road is gravel road and some parts can be rough.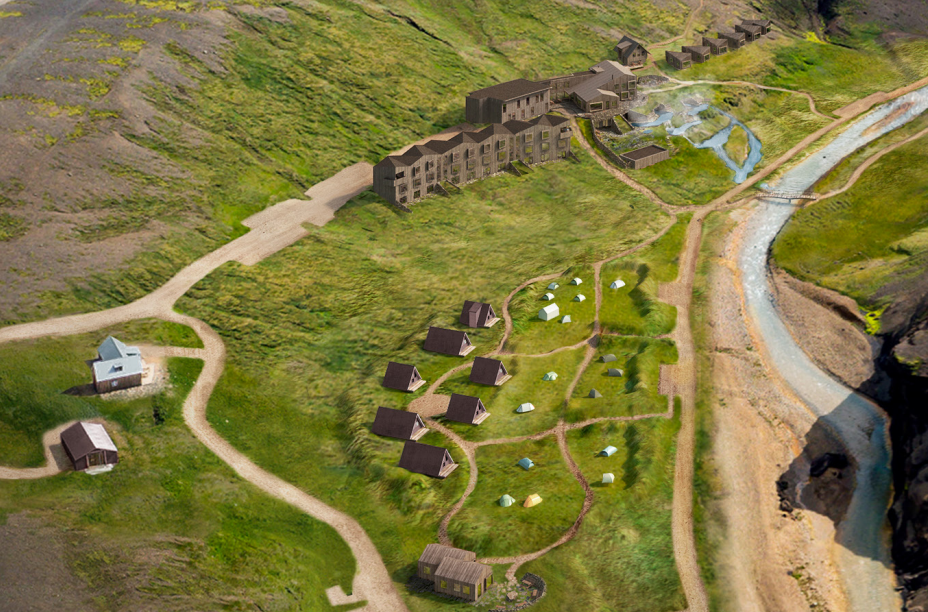 Accommodations in the highland is scarce. At Kerlingarfjöll, the only area for accommodation is at the Highland Base at Kerlingarfjöll. Here, you have several options and categories of accommodations.
During Summer Only
There is an area which is a campsite where you can pitch your own tent or park your camper van. There are shared bathrooms and kitchen facilities. The price is ISK2,500 per person (2023) and payment is done at the Highland Base reception.
If you prefer to have a roof over your head, there is also the option for sleeping bag accommodation in shared huts. These are like dormitories with beds and you use your own sleeping bags. There is also access to a shared bathroom and kitchen facility. The price is ISK9,500 per person (2023). Pre-booking is necessary due to limited availability.
There are also options to rent the entire hut for 3, 8 or 15 people.
The next category is a hut with made-up beds and a private bathroom. This is almost like staying in a cottage. You will have the hut to yourself (2 or 3 people) and you have a private bathroom in the hut and no need to bring a sleeping bag. Breakfast is included in the price.
For more information on price and availability, please contact hello@marinatravel.is
All Year Accommodation
These are some options for accommodations within the main resort at Highland Base.
There is the standard twin room with 2 single beds. Comfortable room with private bathroom. Breakfast is included in the price.
Then there is the family room with a queen-sized bunk bed. Suitable for families with children. These family rooms can accommodate up to 4 people (2 adults + 2 children). Private bathroom and breakfast included.
The next category is the deluxe room. The deluxe rooms (22 sqm) are slightly bigger than the standard rooms (18 sqm) and there is an option for a double bed. The deluxe rooms also come with some views. The rooms on the ground floor have their own terrace. Private bathroom and breakfast included.
Next up is the premium rooms. They are of a good size of 30 sqm. Usually, at the end of the block, you get some peace. Double bed with a sofa bed. So it can accommodate up to 3 people. Private bathroom and breakfast included.
The most luxurious of them all is the highland suites. There are only 2 of them at the top floor. Huge rooms of 44sqm with private hot tub. So you get a nice view and privacy. The highland suite can accommodate 2 people. Private bathroom and breakfast included.
Last but not least, the unique highland lodges. These lodges come with a private entrance, a personal terrace and a lounge area in the room. It can accommodate up to 2 adults + 2 children. Private bathroom and breakfast included.
For more information on price and availability, please contact hello@marinatravel.is
There are many things to do at Kerlingarfjöll.
During the summer, Kerlingarfjöll is a hikers' & photographers' haven. There are so many beautiful hiking trails in the area. The trails range from easy to difficult, from simple 2.5 km hikes to rigorous 20km ones. More information about the hiking trails can be found at the reception of Highland Base.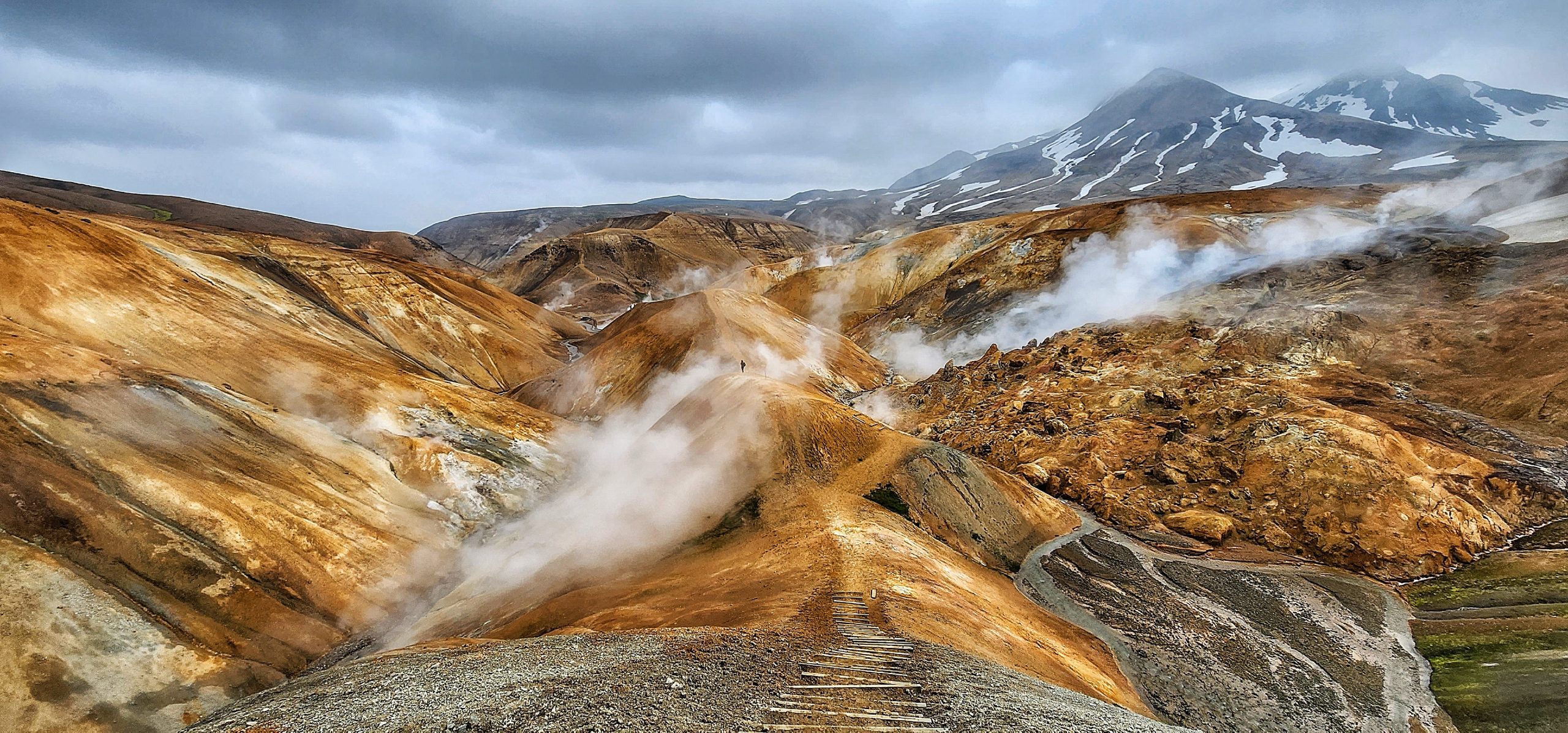 One of my favourite hiking trails is at the Kerlingarfjoll geothermal area. From Highland Base at Kerlingarfjoll, it is a 15-minute drive on gravel road F347 to the parking place. The drive itself is spectacular. The hiking trail in the area is quite easy. If you want to do the entire circle to go around the area, it is a 4km trail, taking about 1-2 hours. Otherwise, you can simply roam around the area near the parking place and it's breath-taking enough.
During the summer, Highland Base at Kerlingarfjöll also organises daily guided hikes to various places in the area. You can find more information about these daily hikes here.
During the winter, Kerlingarfjöll becomes your perfect winter wonderland. The winter activities include skiing, snowmobile and snow trekking at Hveradalir.
There are so many options for skiing at Kerlingarfjöll, ranging from easy to crazy. If you can think it, it probably can be done. 
You can find some information on skiing options here. If you don't find what you want, simply contact Highland Base at Kerlingarfjöll and you will probably get what you want.
If skiing is not your thing, you can opt for the snowmobile tours. You will get to glide across sprawling snowscapes, ascend Fannborg mountain, and motor through icy plains towards the mammoth Hofsjökull glacier. 
The Icelandic highlands have many breathtaking hidden landscapes you can discover after a challenging but beautiful hike. If you want to explore this untouched part of Icelandic nature, check our website for tours that will take you to another world.
Akranes lighthouse and Dolphin shipwreck
Akranes lighthouse and Dolphin shipwreck
The leitmotifs of Icelandic photographs are lighthouses
Experiencing Iceland in a Motorhome
Experiencing Iceland in a Motorhome
Experiencing Iceland in a Motorhome, pros and cons, and recommendations
Kirkjufell-"the arrowhead mountain"
Kirkjufell-"the arrowhead mountain"
Kirkjufell Mountain the most photographed place in Iceland
Skógafoss-the mighty waterfall in South Iceland
Skógafoss-the mighty waterfall in South Iceland
Skógafoss-the majestic waterfall in South Iceland