Goðafoss-waterfall of Gods
The Waterfall of Gods
Goðafoss waterfall is another majestic waterfall you will found in Iceland. Located almost near the Dettifoss waterfall, Goðafoss is located on the fourth largest river in Iceland, Skjálfandafljót. It is considered one of the most spectacular waterfalls in Iceland with a height of 12 meters (39 feet) and a width of 30 meters (98 feet).
The name of the waterfall means "waterfall of Gods" or the "waterfall of Priest" and its history is centered around the Old Norse religion. History says that back in time, in the 9th and 10th centuries the majority of the settlers of Iceland were Norwegians who followed the Old Norse religion. After the Commonwealth was established in 930 AD, the pressure of converting to Christianism that came from Europe was felt also by the settlers.
To prevent the Norwegians from occupying the whole country, the Icelanders wanted to decide about the religion they will accept for their country. At Þingvellir were held once a year meeting for discussing the problems of the country, there was founded the first parliament in Iceland in 930 AD. For solving this issue, the responsibility of taking the decision was given to the Ásatrú priest (or goði) Þorgeir Ljósvetningagoði.
The legend says that he laid under a fur blanket for a day and a night and prayed to his Old Gods for taking the right decision. After that, he came and decided that for the good of the people, Christianity will be the official religion of the country but the pagans can practice their religion in private.
After his decision, he returned to his home in North Iceland, and to symbolize that he will continue to believe in his Old Gods, he threw idols of the Old Gods into the beautiful waterfall that is named today Goðafoss waterfall.
Like Dettifoss, Goðafoss waterfall is also located on the Diamond Circle, in North Iceland on the Ring Road route. Both waterfalls mentioned are located close to each other.
Goðafoss waterfall can be reached throughout the year, but during the wintertime, you will need a four-wheel-drive vehicle.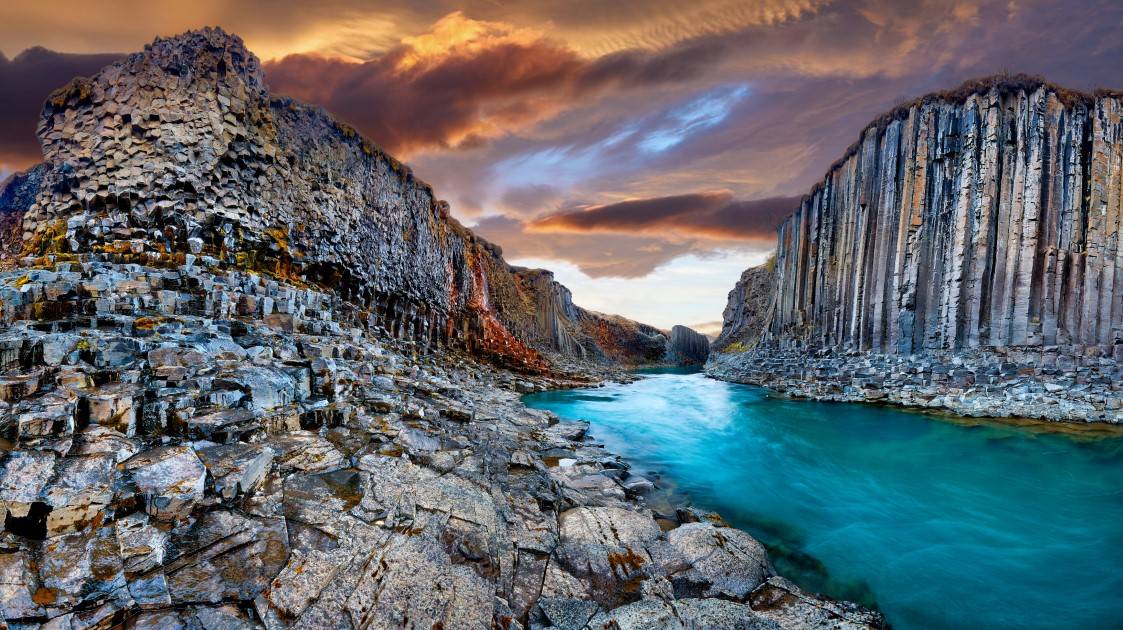 Photographer's paradise
The most famous places for photographers
Stuðlagil Canyon
A beautiful canyon in East Iceland
Weather in Iceland
Everything you need to know
about the weather in Iceland