Experiencing a whale watching tour from Húsavík
Go on a whale watching tour in Húsavík "Where the whales can live 'cause they're gentle people"
The summer season is great for whale watching, as the wildlife in the bay is at its highest peak. This is the time when the minke whales are at their most abundant, along with the white-beaked dolphins, harbor porpoises, and humpback whales, giving us the chance to enjoy and understand them in their natural environment. And where else to go on a whale watching tour if not in the "whale watching capital of Iceland" the town of Húsavík- "Where the whales can live 'cause they're gentle people".
The difference between the whale watching tours from Reykjavik and the ones from Húsavík is that in Húsavík is a bigger chance to see whales during every tour and that's because the area in north Iceland is less populated by people and animals are not disturbed by human presence.
Note that all prices were correct at the moment of writing and we highly recommend you to check our website for any updates.
There are two tour operators that we recommend as they offer amazing whale watching tours in Húsavík: North Sailing and Gentle Giants.
North Sailing has some adventurous tours as they offer also combo tours. All their tours include Warm Overalls; Raincoats, hats, gloves, and blankets; Hot chocolate and cinnamon buns (this may be excluded because of the Covid-19 rules); Professional guide; English guidance.
The meeting point for their tours is the harbor in Húsavík. The Ticket Centre is located above the harbor across the street from the church. The address is Whale Watching Centre, Hafnarstétt 9, Húsavík, 640. 
Take notice that you must follow the Covid-19 rules before, during, and after the tour in order to keep everyone safe. Also, because of the pandemic rules, no refreshments will be served on board in order to protect the crew, but you are more than welcome to bring your own snack.
Húsavík Original Whale Watching
This tour is one of the most recommended by travelers. Experience the Original Húsavík Whale Watching tour that has built a reputation for the town of Húsavík as the capital of whale watching in Iceland. Discover the magnificent nature of Skjálfandi bay observing whales, dolphins, and sea birds in their natural habitat. Enjoy the smooth, safe sailing of a traditional Icelandic oak boat.
The tour is 3-hour long and the price can be checked here.
Silent Whale Watching (Carbon-Neutral)
As its name says, this tour will take you around Skjálfandi Bay for a silent whale watching experience on board to an electric boat that is animal- and environmentally friendly. Andvari is the name of the electric boat that glides through the sea, giving you the opportunity to quietly approach the whales in their natural habitat causing them minimum disturbance.
It is very important to be able to observe the marine life in their natural environment without causing any discomfort or damaging their natural environment in any way. The Húsavík Original Silent Whale Watching tour is a once-in-a-lifetime opportunity to go whale watching while reducing your carbon footprint down to zero and also to watch the whales without disturbing them.
The tour is 3-hour long and the price can be checked here.
Húsavík Original Whale Watching and Puffins
Add more adventure to the classic whale watching tour with a Puffin watching tour. Go on an adventure in Skjálfandi bay and Puffin Island. This is a 3,5-hour tour on one of the traditional oak boats where you can discover the magnificent nature of Skjálfandi bay observing whales, dolphins, and puffins along with other sea birds in their natural habitat. This is also an ideal choice for families as this combo tour is also educational.
The prices for this tour can be checked here.
Húsavík Original Whale Watching and Sails
Living on an island, Icelandic people have had a tradition of sailing since forever. You can ask them everything you want to know about sailing and you won't be disappointed. Most of the towns and villages along the Icelandic coastline are or have been fishing villages. Live an authentic experience by boarding a traditional Icelandic schooner and enjoy the wild nature while getting to know old ways of sailing and discovering the sailor in you.
This tour is about 3 hours long and the prices can be checked here.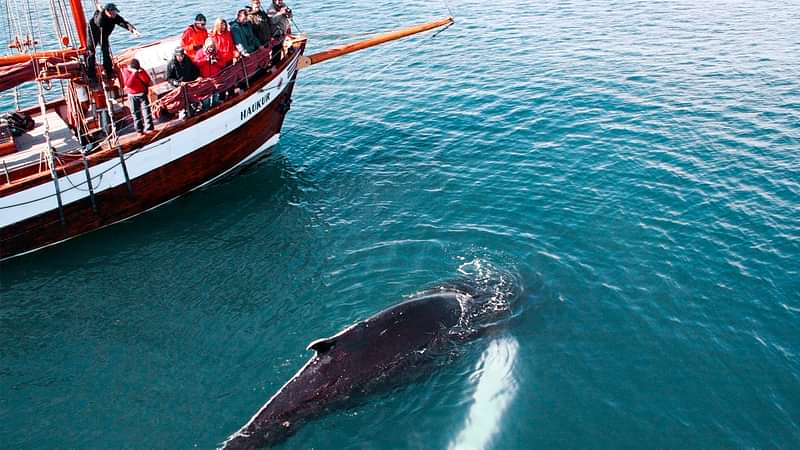 Gentle Giants is also offering some unforgettable whale watching tours in Skjálfandi Bay. The tours we recommend are their best sellers and people had some of the most beautiful experiences while on those tours.
A specialized guide, warm overalls, and raincoats are included in their tours. The meeting point is Gentle Giants Ticket Center, Hafnarstétt, Húsavík.
is a unique 3-hour adventure at sea – watching the wonders of nature in the beautiful surroundings of Skjálfandi Bay, sheltered by the stunning mountains of Vík. The prices for this tour can be checked here.
 Big Whale Safari and Puffin watching 
is a combo tour that uses speedboats for covering a bigger area on the sea. For the classic whale watching tour, you will not sail outside the Skjálfandi Bay but for this tour, the crew will take you a bit further to be able to see the big whales. Keep in mind that seeing the big whales can not be guaranteed but the chances are big.
This tour includes also a visit to the Puffin Island, where you can experience thousands of puffins, the "Clowns of the Ocean", during the nesting period (April 15th – August 20th). This combo tour is not available outside the puffin's nesting period for the reason that puffins come to Iceland only for nesting.
You also have to keep in mind that the tour on RIB speedboats is not allowed for passengers with heart- or back problems or pregnant women. Not recommended for children under 7 years or < 130 cm in height. Prices for this tour can be checked here.
As the town of  Húsavík became famous once the song 'Húsavík' from the Netflix movie "Eurovision Song Contest: The Story of Fire Saga" was nominated at Oscar, we invite you to experience the local atmosphere of Húsavík by going on a whale watching tour.
If this blog was helpful for you, you can visit our website to find more interesting subjects and travel guides.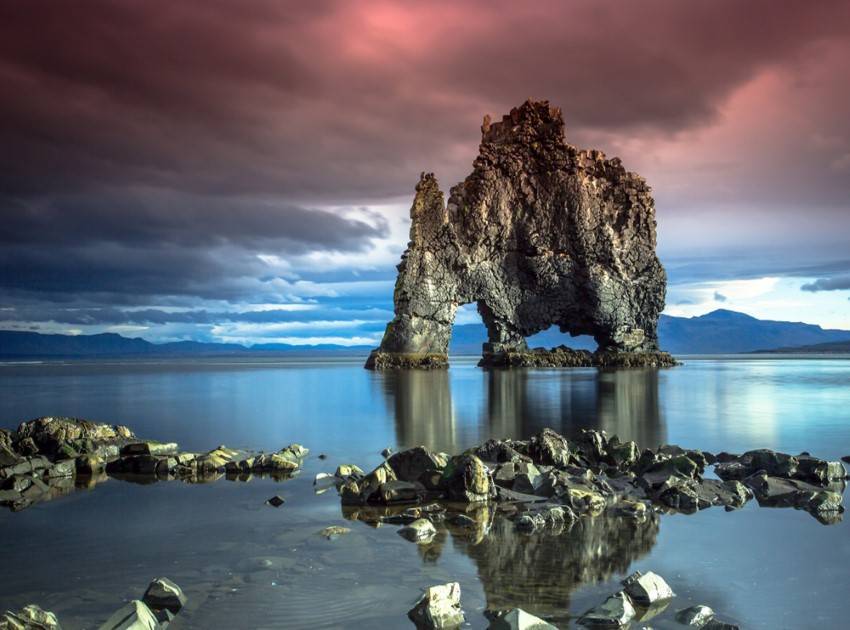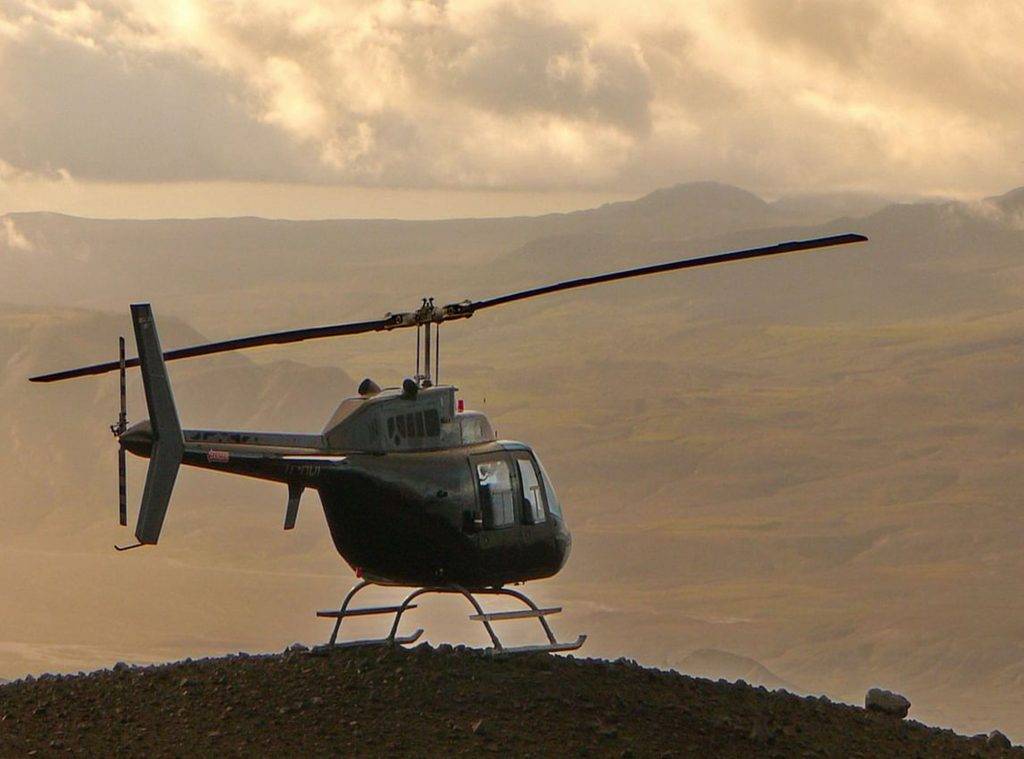 17 Days Experiencing Iceland in a Motorhome
17 Days Experiencing Iceland in a Motorhome
Itinerary, tips and recommendations
Djúpalónssandur-The beach full of volcanic pearls
The beach full of volcanic pearls
Iceland from above
See a different side of Iceland
Secret Glaciers of Vatnajökull
Secret Glaciers of Vatnajökull
Uncovering the secret glaciers of Vatnajökull