Best places to see Puffins in Iceland
Every summer we have some cute visitors here in Iceland and they are staying with us from mid-May to mid-August. I am talking about puffins. The little birds are unofficially the national bird of Iceland. 
According to National Geographic ", These birds live most of their lives at sea, resting on the waves when not swimming. They are excellent swimmers that use their wings to stroke underwater with a flying motion. They steer with rudder-like webbed feet and can dive to depths of 200 feet, though they usually stay underwater for only 20 or 30 seconds. Puffins typically hunt small fish like herring or sand eels. In the air, puffins are surprisingly fleet flyers. By flapping their wings up to 400 times per minute they can reach speeds of 55 miles an hour."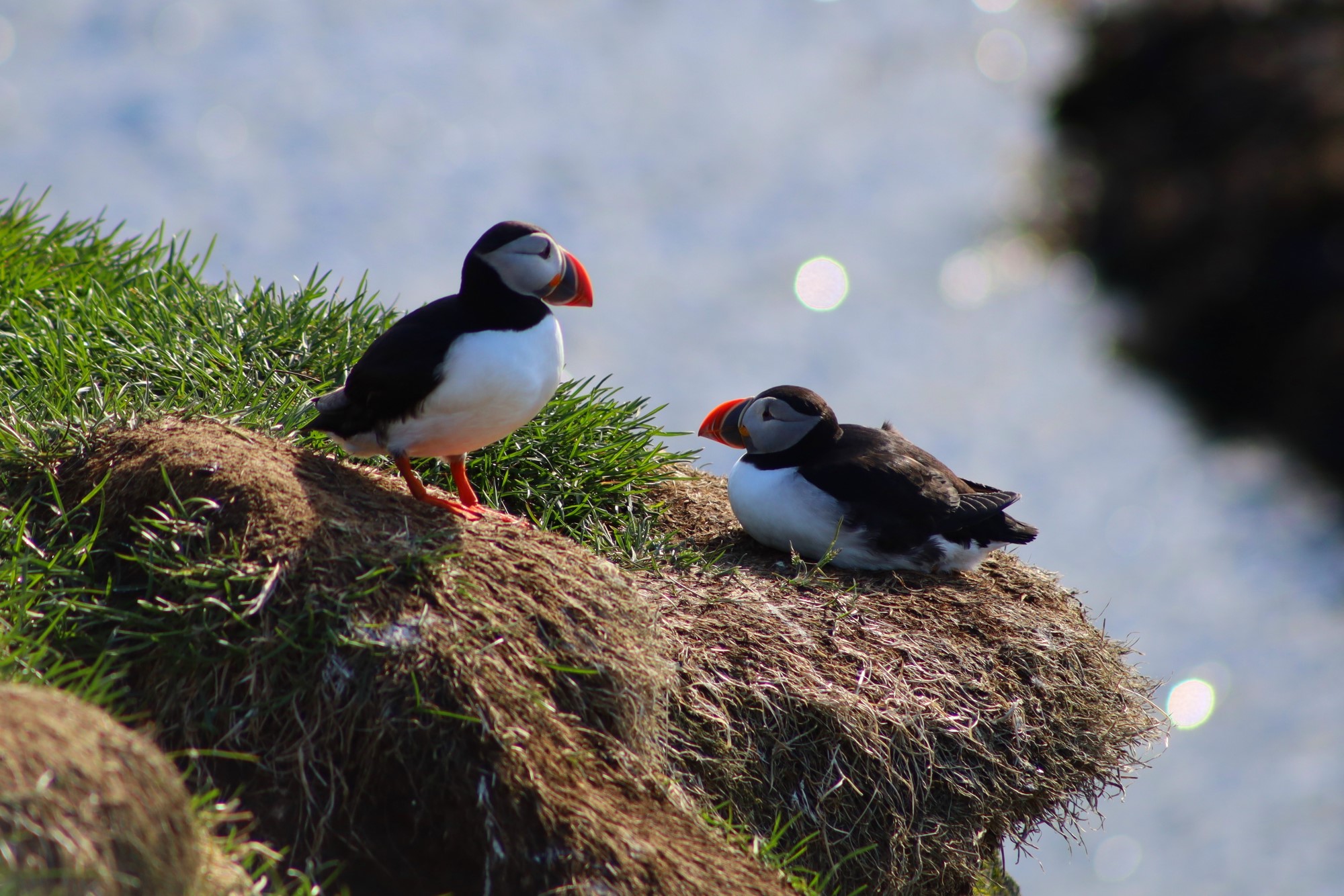 The puffins are also known as 'sea parrots' because of the colour of their beaks. But their beak is orange only during spring and summer and during the winter the colour fades to a drab grey. National Geographic explains about puffin breeding: "The birds often select precipitous, rocky cliff tops to build their nests, which they line with feathers or grass.
Females lay a single egg, and both parents take turns incubating it. When a chick hatches, its parents take turns feeding it by carrying small fish back to the nest in their relatively spacious bills. Puffin couples often reunite at the same burrow site each year. It is unclear how these birds navigate back to their home grounds. They may use visual reference points, smells, sounds, the Earth's magnetic fields—or perhaps even the stars."
Although the largest colony of puffins can be found in south Iceland in Westman Islands, there are also other places where you will see puffins during summer and those places are Látrabjarg, Ingólfshöfði, Flatey Island, Borgarfjörður Eystri, Breiðafjörður. They usually stay on the cliffs along the coast so you can see them also in other places such as Dyrholaey, Grimsey island or Akurey, Engey or Lundey islands, but the larger colonies can be found in the places mentioned above.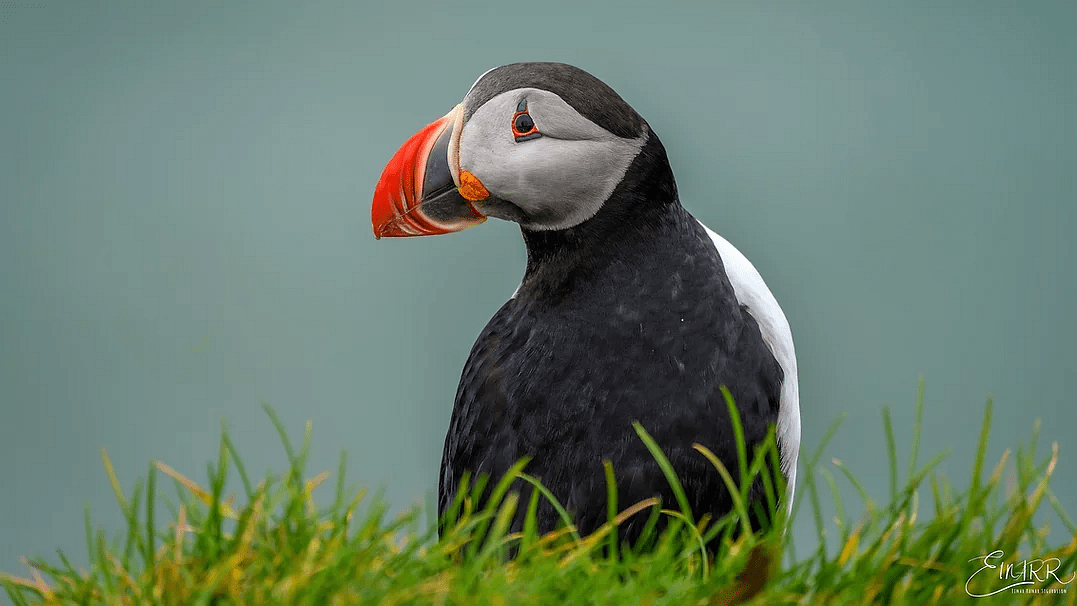 Vestmannaeyjar or Westman Islands
Vestmannaeyjar is an archipelago located in the South part of Iceland and consist of 15 islands and 30 rock stacks. It is the place with the largest population of Atlantic Puffins. Although, puffins are coming later there than in the rest of the country. During the month of August, when puffins are leaving, there is an interesting phenomenon that you might experience there. Puffins are guided by the light of the moon to fly from the islands to the ocean, but because of the lights in the Heymaey town, they got distracted and end up in the streets.
Every year, kids are taking the puffins found on the streets and took them to the vet to be checked before getting released on the cliffs. If you are lucky, you can participate in this action too, but keep in mind that nothing is guaranteed. There are also many other species of birds that are nesting on Westman islands.
You can visit Vestmannaeyjar on a boat tour and even get close to the cliffs where puffins can usually be seen.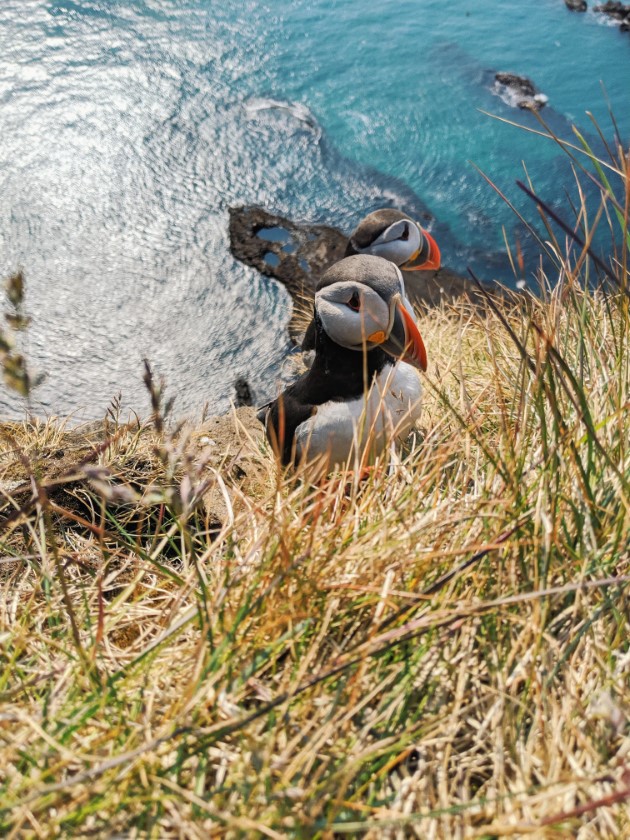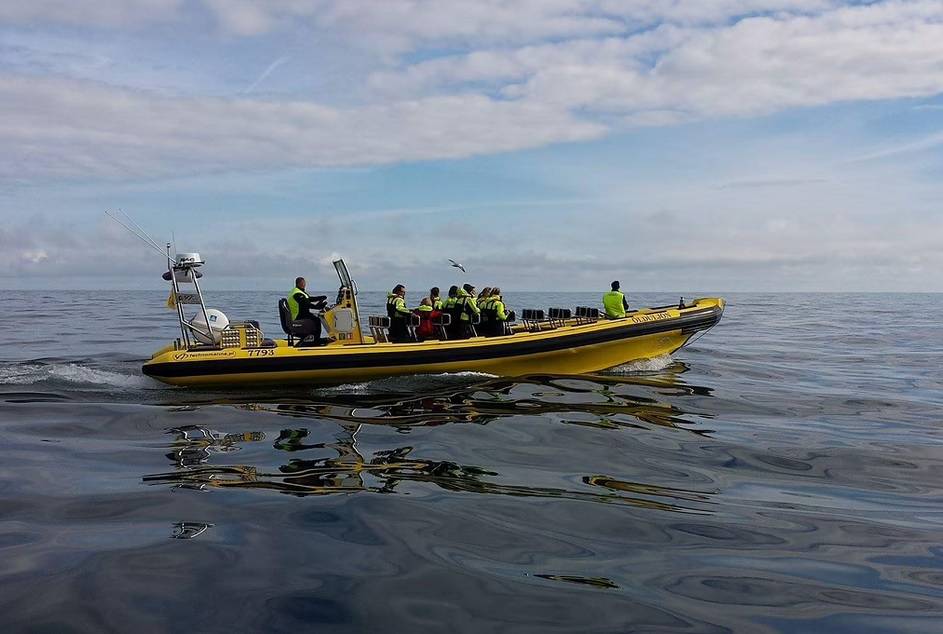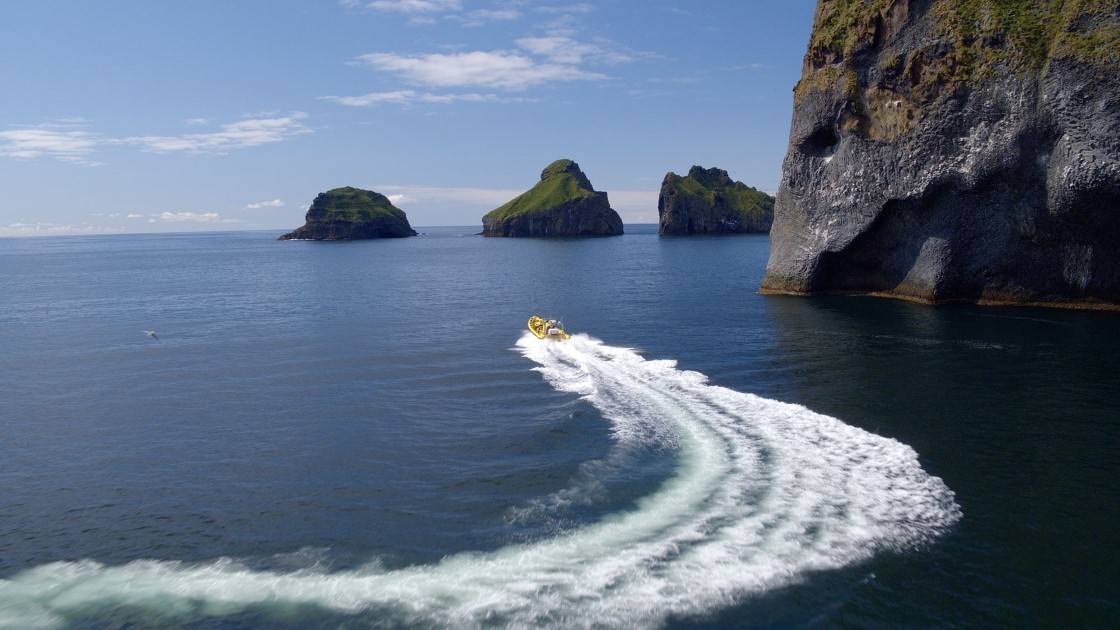 One Hour Small Islands Trip - 2021
One Hour Small Islands Trip - 2021
Explore the small Islands around Vestmannaeyjar
Two Hour Round Trip - 2021
Two Hour Round Trip - 2021
Sail in Vestmannaeyjar on a RIB speedboat
Vestmannaeyjar Boat Tour
Explore Vestmannaeyjar from a
different perspective
Látrabjarg
Látrabjarg is the largest bird cliff in west Iceland and one of Europe's largest bird cliffs as well. The cliff is 441 meters high and it has a length of 14 km. It is known as the best place to spot and photograph puffins and many other sea birds that are nesting there. It is also the westernmost point in Iceland and one of the westernmost points in Europe. The sea bird life there is as its most abundant point, lots of bird species are nesting there during the summertime and one of the most famous of them all is the Atlantic puffin.
Puffins are friendly and they may approach you without fear, even so, do not try to pet them. They have some natural oils on their tails that help them protect the feathers while they are swimming so if you will touch them you will take those oils on your hand. Also, the puffins can bite very hard so you better admire them without touching them.
Once on the cliffs in Látrabjarg follow the rules and do not cross the safety white line that is drawn on the grass. The purpose of the line is to keep you safe and to keep the puffin's nests safe as well. Puffins are not making nests like other birds we know, they are digging holes into the cliffs that are up to 1 meter long and lay there just one egg. So the edges of the cliffs are like traps because of the underground holes.  Follow the line and photograph the puffins from the designated place. You will see them very close so you can take amazing photos with your camera or even with your phone.
Látrabjarg is a remote place in West Iceland but it can be accessed as it is the most visited place in Westfjords. There is a proper road that will take you to the cliffs. There is no public transportation so you can visit Látrabjarg in a rented car.
Ingólfshöfði
Ingólfshöfði cape is a small, isolated island located between Skaftafell and Jökulsarlón, and during the summer it is home to a lot of seabird species (including Puffins) that come to Iceland for the breeding season. The species of birds for which Ingólfshöfði cape is home during summer are the common murre, razorbill, puffins, fulmar, and many other species.
The Ingólfshöfði cape is not reachable by car as the terrain is not stable and even a 4×4 car wouldn't reach it. To get there you can do it only on guided tours as for those tours you will be carried there with a tractor.
The tours are run by a local family. The drive from the meeting point is about 6km over waters, marshes, and sands then you have to hike about one hour and a half to get to the cape. The path is steep at the beginning and as you hike further you will get through rocky terrain, and at the top, you will hike through grass fields. If you are not used to hiking we do not recommend you to go on this tour.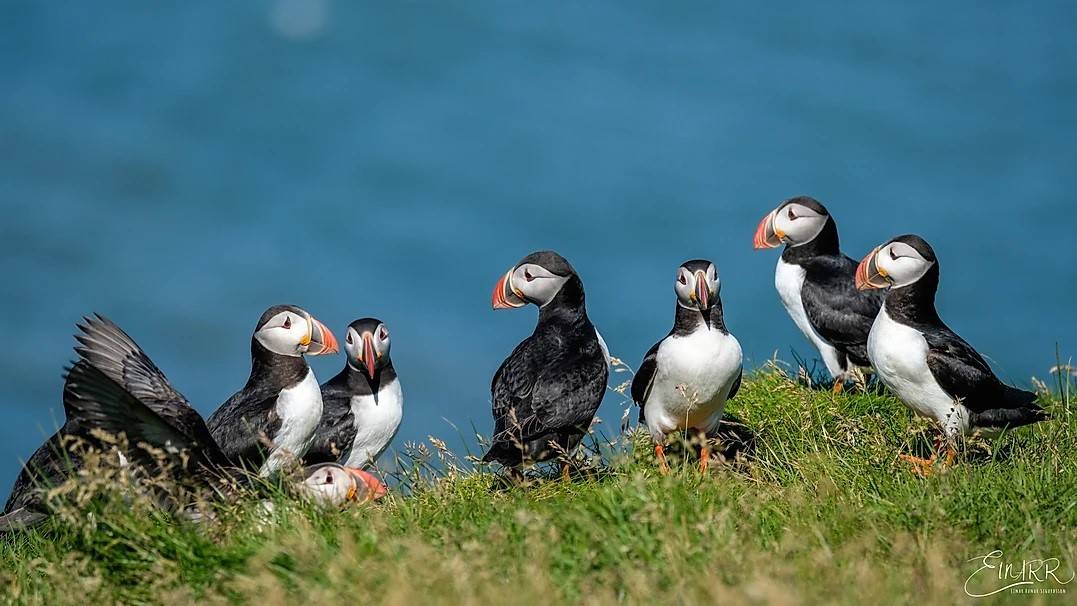 Ingólfshöfði Puffin Tour
Hay cart ride across Hofsnes Sand Flats
Ingólfshöfði Photo Tour
Special departure for serious photographers
Flatey Island
Located in the Breidafjordur bay, Flatey Island is a small island on the North-West of Iceland. The name of the Island means "flat island" and it describes the relief of the tiny island. Although the island is only two kilometres long and one kilometre wide, it is the largest island from a small archipelago in the northwestern part of Iceland. 
Being so small, there are no cars allowed on the island. You can take the ferry from Stykkishólmur or Brjánslækur and explore the island on foot. The remote location of the island, its size and the fact that is not very populated makes it a heavenly place for the birds and especially puffins to come here for the breeding season. 
You have the option to go on a puffin watching tour on Flatey Island from Húsavík.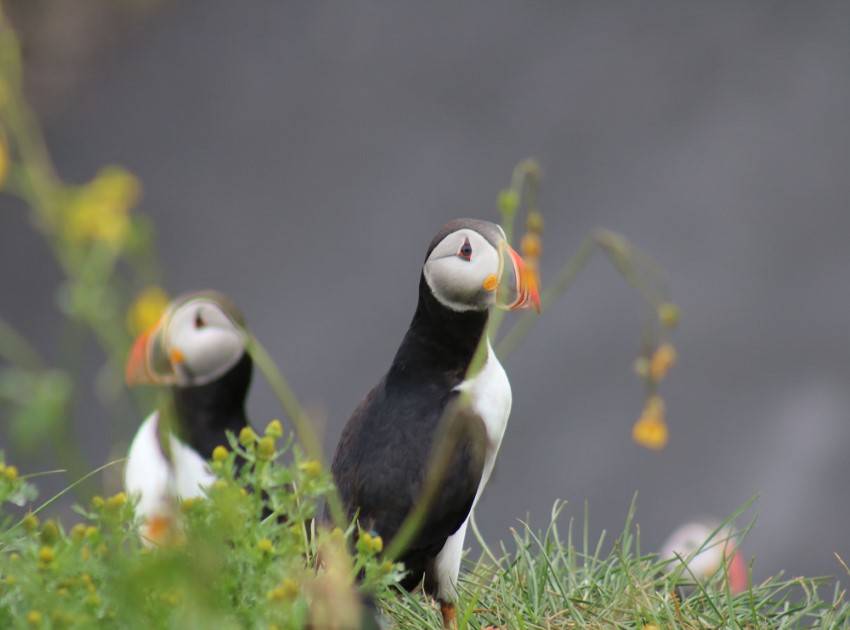 GG4 Flatey Island
Experience the beautiful surroundings
of Skjálfandi Bay
GG2 Big Whale Safari & Puffins
GG2 Big Whale Safari & Puffins
Best combo tour on a RIB boat
GG7 Puffins Exclusive
Best experience to Lundey Island
Borgarfjörður Eystri
This little village in Eastern Iceland is the capital of elves, puffins and hiking. The Eastfjords are one of the remote areas of Iceland which makes it the perfect place for the local fauna to live. The village has around 100 inhabitants and despite its remote location, you will find there all you need, from accommodation to restaurants and activities. 
It is known as the best area in the East where you can observe puffins very close in their natural environment. Around 10 000 pairs of puffins are nesting there every summer, according to the official website of Borgarfjörður Eystri. 
If you decide to go to the Borgarfjörður Eystri you have to know that "the species breeding at Hafnarhólmi in Borgarfjörður Eystri have been well documented. All species are protected by law during the breeding season." (www.borgarfjordureystri.is)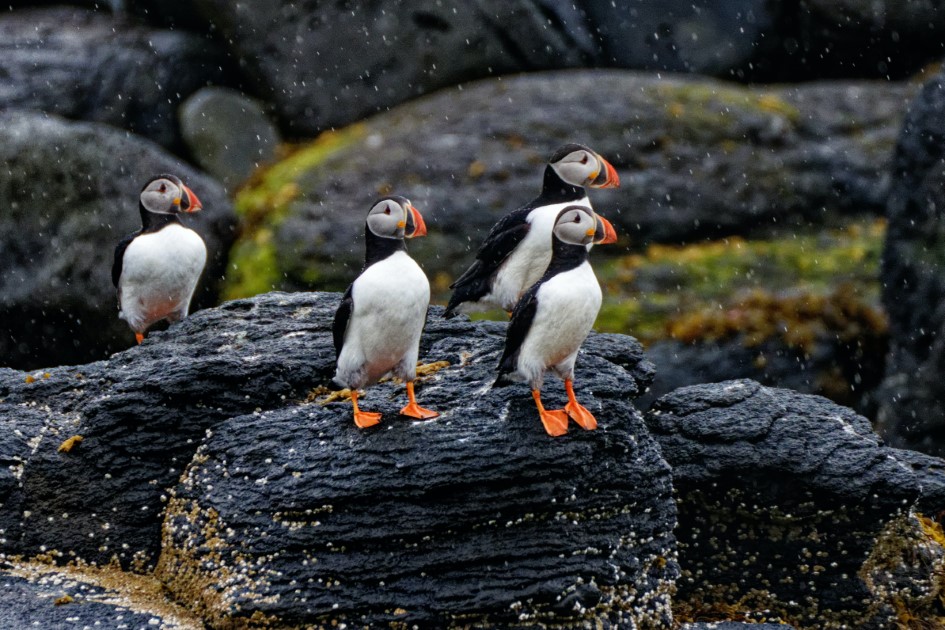 Breiðafjörður
Breiðafjörður is a fjord and in the same time a nature reserve that lies in the West part of Iceland between the Snæfellsnes Peninsula and the Westfjords. The fjord is about 125km long and around 50 km wide.
There are about 3000 islands as well as rock stacks that are not inhabited along the fjord, which makes it the best place for many bird species to come here for nesting. Between all the bird species, there is also the Atlantic Puffin and you will find them mostly on Flatey Island. But on a boat trip along the fjord, you will see puffins in many other places.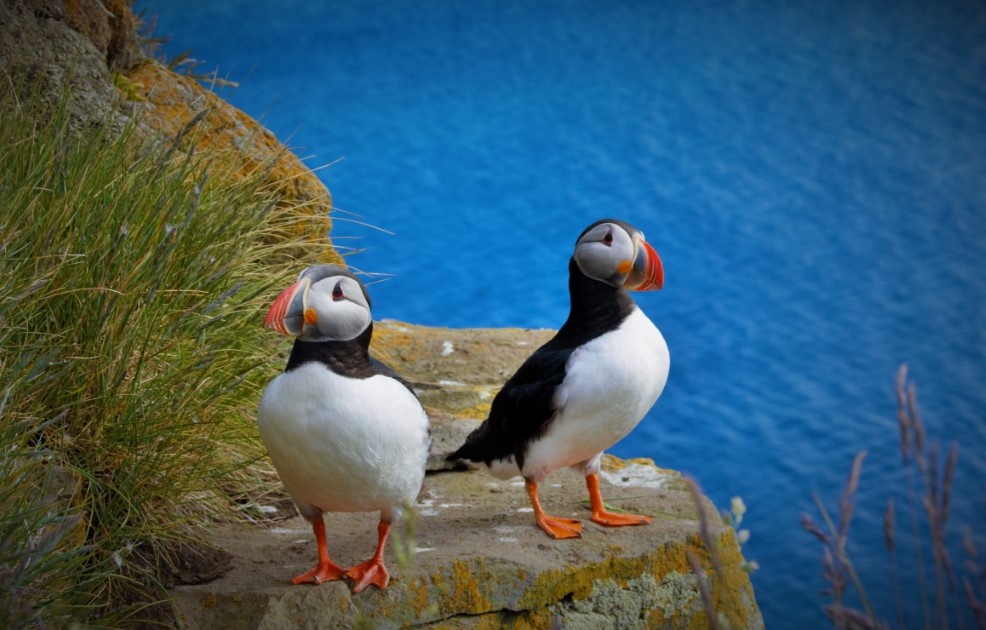 Akurey, Engey or Lundey islands
As I already mentioned, there are bigger areas in Iceland where you will find a bigger population of puffins and other small areas with a smaller population of puffins. Akurey, Engey or Lundey islands are such smaller areas close to Reykjavik city. 
You can go on puffin watching tours on those islands right from the capital city if you do not plan to go to other parts of the country. 
Reykjavík Classic Puffin Watching
Reykjavík Classic Puffin Watching
This is the most convenient way
to see the Atlantic Puffin
Reykjavík Premium Puffin Tour
Reykjavík Premium Puffin Tour
The ultimate puffin adventure tour
Reykjavík Whales & Puffins
Reykjavík Whales & Puffins
Best combo tour right from Reykjavik
Experiencing Iceland in a Motorhome
Experiencing Iceland in a Motorhome
Pros and cons, and recommendations
Arnarstapi fishing village
Arnarstapi fishing village
A traditional fishing village in Snæfellsness peninsula
Kvernufoss-little brother of Skogafoss
Little brother of Skogafoss
Snæfellsjökull- one of the most mystical places in the World
One of the most mystical places in the World