Best places to enjoy a geothermal bath in Iceland
The best places to enjoy a geothermal bath in Iceland, facilities, prices, opening hours
Did you know that there are around 45 hot springs and over 200 natural swimming pools in Iceland?
Known worldwide as the land of fire and ice, Iceland has many benefits of being an active volcanic island. The underground activity of magma does not contribute only to create spectacular volcanic eruptions but to heat the underground water and create steam and hot water.
Once heated, the water makes its way to the surface through cracks in the bedrock and if it has enough space it will form a hot spring or a geothermal spring. The heated water is going all the way up to the surface through the volcanic rocks that enrich the water with different minerals which are good for the body.
The geothermal water in Iceland is not only used for Spas and geothermal baths but also for energy production.
Enjoying a geothermal bath is an all-year activity in Iceland. Even though that might sound like an exclusive winter activity, the fact that Icelandic summer is not hotter than 20° C (68° F) is the reason why you have to include in your itinerary a stop to a geothermal bath no matter at what time of the year you visit Iceland.
Before heading to the best geothermal baths, here are some rules that must be respected when you go to a geothermal bath, spa, or swimming pool in Iceland (exception makes the natural swimming pools that are found in the wild and don't have shower facility or other facilities). So for almost all geothermal pools and public swimming pools that have shower facilities, you will need to shower before going into the pool/lagoon/geothermal bath. It is compulsory to shower and wash with soap. It is also recommended for Blue Lagoon that you leave some conditioner in your hair for protection as the water does not exactly agree with hair.
In this blog, you will find information about some of the most known geothermal baths in Iceland.
Note: At the moment of writing all prices, facilities and opening hours are in line with the official websites of the places presented.
6.Laugarvatn Fontana is the place of a geothermal bath located in the middle of one of the most popular tourist routes in Iceland, the Golden Circle. Laugarvatn Fontana is located near Lake Laugarvatn and you can enjoy your time in one of the steam baths, relaxing pools, sauna, or even in the lake. There are two mineral baths Lauga, Sæla, and a hot tub Viska.
Entrance fee: You can check the price updated here. For children 0-10 years old (max 2 per adult) and children 10-12 years old the entrance is free. A ticket for youth (13-16 years old) is 2 000 isk. For adults (+17 years old) the ticket is 3 950 isk and for seniors/disabled citizens the ticket is 2 000 isk. You can also rent a bathrobe for 1500 isk and a towel or a swimsuit for 800 isk. The ticket includes admission to the geothermal baths, natural steam baths, and the use of shower and changing rooms with a personal locker. Shampoo, conditioner, creams, and cotton pads are available in locker rooms free of charge.
If you want to learn how rye bread is made in a geothermal bakery you can book a tour at Laugarvatn Fontana for 1700 isk. Also, you can taste the rye bread and smoked trout for 2200 isk.
Facilities: You can enjoy two mineral baths, a hot tub, sauna, and also steam baths. For those who want a refresh, they can take a dip into the lake also. Because is a geothermal area you can experience the process of a geothermal bakery and see how is made by the well-known Icelandic rye bread.
Opening hours: Laugarvatn Fontana is open every day from 11:30 – 21:30. The geothermal bakery tour is every day at 11:30 and 14:30.
How to get there: Situated just a 50 minutes drive from Reykjavík, Iceland's capital. Laugarvatn Fontana Geothermal Baths Spa is located in the village of Laugarvatn. It is also in the middle of the Golden Circle route which makes an ideal break between Thingvellir National Park and the natural wonders of Geysir and the majestic waterfall Gullfoss.
5.Bjórböðin SPA is located in Árskógssandur in the north of Iceland.  There you will soak away the stress of modern life by relaxing in a bath of warm beer. Beer yeast is used in various ways, the most common is a tablet form where the effects of the yeast are very benefitting.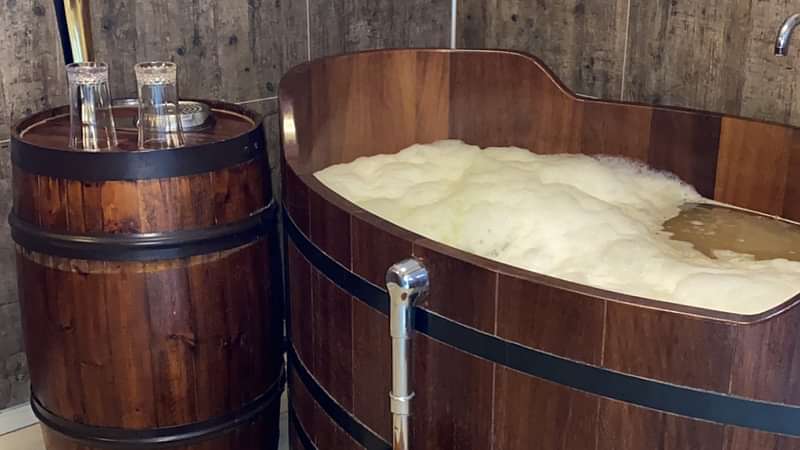 A beer bath, where you bathe in both young beer and live beer yeast, without showering it off until some hours later, has an extremely powerful effect on the body and skin. This treatment is both cleansings for the skin and has a very positive effect on health.
Entrance fee: You can check the price updates here. The fee for a single bath is 11 900 isk. For the couple bath, the fee is 19 900 isk. Children under 13 years old can go in the bath with their parents/guardians for free. Teenagers between 12-16 years old pay 1000 isk for outside hot tub and the beer bath teenagers over 13 years old pay the price for a single bath.
Facilities: At Bjórböðin SPA you can find accommodation, you can eat and have a drink at the restaurant and bar, some beer products may interest you if you want to recreate a spa at your home. You can also enjoy a hot tub outside the spa.
Opening hours: For SPA & outside tubs the opening hours are: Tuesdays to Saturdays: 12:00-21:00. The restaurant & bar is open Tuesdays to Saturdays: 12:00-22:00.
How to get there: Bjórböðin SPA is located in North Iceland. If you are in Reykjavik, you can drive north on ring road all the way to Akureyri but before arriving in Akureyri you have to turn left to Road 82 to Dalvik. Before arriving at Dalvik you turn right to a small road found on Maps as Road 808 from there will find the Bjórböðin SPA near the coast. Then all you have to do is to enjoy the beer bath.
4. Mývatn Nature Baths is a traditional and tastefully designed complex offering a completely natural experience that you can enjoy with your day admission ticket. The 2 steam baths are built on top of a geothermal area and the sulfur steam rises through holes in the floor. The water of the Mývatn Nature Baths is drawn from a borehole that goes 2,500 meters into the ground. The water has a high concentration of minerals, is basic in nature, and is well suited for bathing.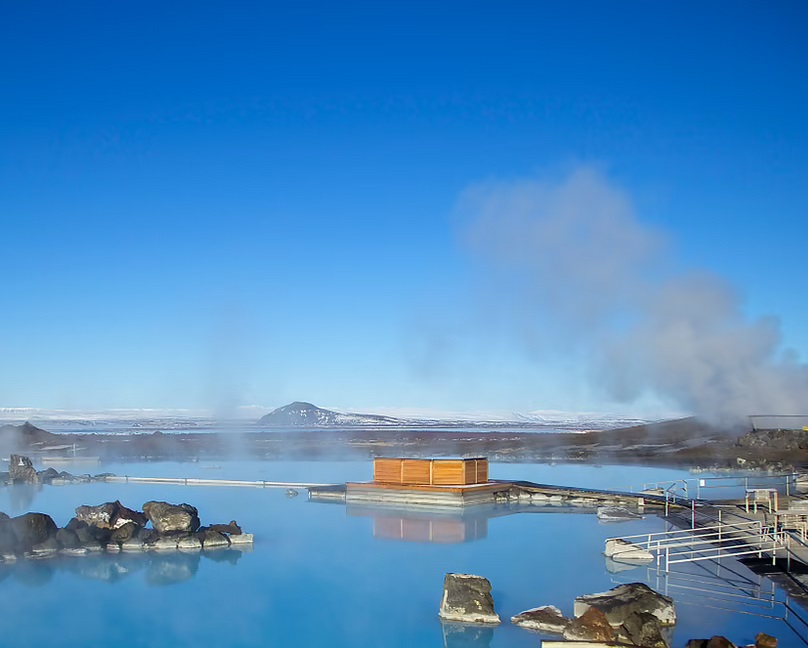 Entrance fee: Check the prices updates here. For 2021 the entrance fee for a single ticket is 5700 isk for adults; 2700 isk for teenagers 13-15 years; 3700 isk for handicapped, senior citizens, students. Rentals fee: swimsuit 850 isk, towel 850 isk, bathrobe 1800 isk.
Facilities: You will find changing rooms, lockers, and showers. You can also enjoy a meal at Café Kvika.
Opening hours: from May 25th, 2021 the spa is open every day from 12:00 – 22:00.Guests are welcome to enter the baths until 21:30. There are also special opening hours during Easter and Christmas.
How to get there: You can get to Mývatn Nature Baths on your way to North Iceland on Ringroad or Route 1. The closest town to Mývatn Nature Baths is Reykjahlid and if you don't have a car you can take the bus number 56 from Egilsstaðir or nearby Mývatn Nature Baths.
3. Experience nature from its core by bathing in the geothermal baths at Krauma. The hot water originates in Europe's most powerful hot spring Deildartunguhver, at a temperature of 100°C (212°F). To achieve the perfect bathing temperature, the hot water is mixed with cold water from Rauðsgil, which originates in the glacier Ok, the smallest glacier in Iceland.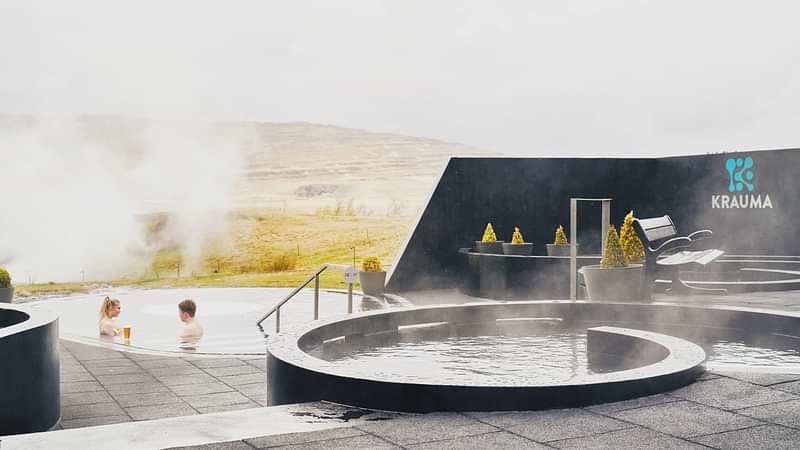 Entrance fee: Check for the prices updates here.  Prices for one entrance are 300 isk for children 0-12 years old, 2250 isk for teens 13-16 years old, 4500 isk for adults 17 years and older. You can also rent a bath towel for 900isk, swimwear for 900 isk, bathrobe for 1500 isk.
Facilities: At Krauma you will have to choose between five relaxing natural geothermal baths, a cold tub, two calming saunas, and a relaxation room. There are showers and lockers to put your things on. Also, you can enjoy Icelandic food at Krauma restaurant.
Opening hours: Krauma baths and restaurant is opening Monday to Sunday from 11:00 to 21:00.
How to get there: To get to the Krauma geothermal baths from Reykjavik you have to drive about one hour and 40 minutes on Route 1 to Borganes. Before crossing the main road that leads to Borganes turn right towards Húsafell on road 50. The total driving distance from Reykjavik to Krauma is about 130km.
2. Secret Lagoon natural hot springs are located in the small village called Flúðir and are in the Golden Circle area. The pool's natural surroundings and steam rising into the air gives the place a magical feeling. The warm water stays at 38-40 Celsius all year. In the whole area, there are several geothermal spots and a little Geysir which erupts every 5 minutes, showing off for the guests relaxing in the hot spring.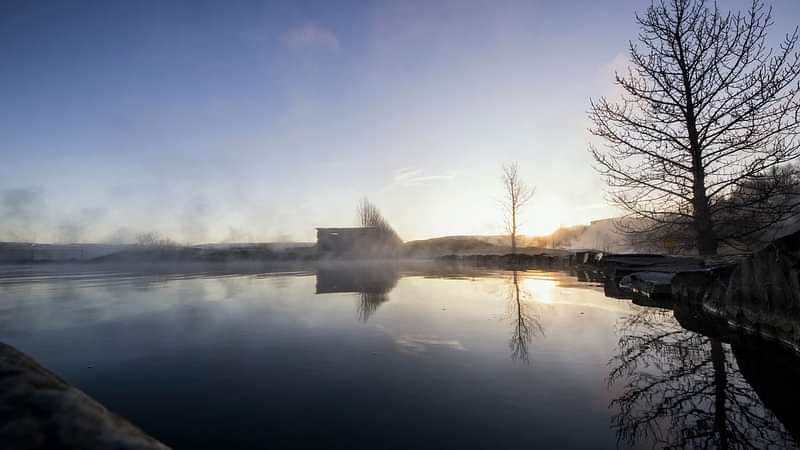 Entrance fee: Check for the prices updates here. Children under 14 years old have free entrance and adults 15 years and older have to pay 3000 isk for a ticket. For seniors (67+ years) and people with disabilities, the fee is 2200 isk. You can rent a swimsuit or a towel for 700 isk.
Facilities: You will find sowers in traditional Icelandic style, separate for men and women. Also, next to the swimming pool there is a Bistro where you can enjoy a snack.
Opening hours: Secret lagoon is open Monday to Sunday from 12:00-20:00.
How to get there: You will find Secret Lagoon on the Golden Circle route or if you start from Reykjavik you have to drive south on Route 1 until you get to the town of Selfoss, then turn left to Road 30 to Flúðir.
1.The Blue Lagoon is a popular spa destination featuring an outdoor lagoon with mineral-rich waters in a lava field. Let the warm and mineral-rich water warm you up and recharge you for your exciting trip in Iceland. The water in Blue Lagoon is salty as the geothermal water mixed with a small amount of seawater underground before surfacing. This actually adds extra minerals to the water, making it even better for the skin. Furthermore, the water is not really blue in color. It is actually cloudy water containing silica and algae and due to the refraction of sunlight, the water looks blue to the eye.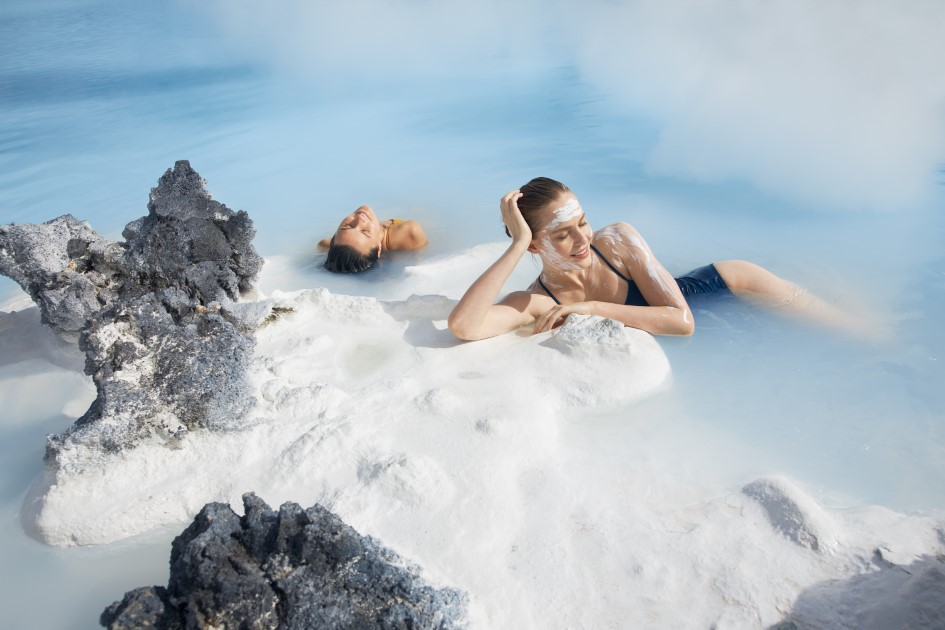 Entrance fee: Check for the prices updates here. At Blue Lagoon you can choose between three types of entrance tickets: Comfort from 7 700 isk (Entrance to the Blue Lagoon, Silica mud mask, Use of the towel, 1st drink of your choice), Premium from 9 990 isk (Entrance to the Blue Lagoon, Silica mud mask, Use of a towel, 1st drink of your choice, Second mask of choice, Slippers, Use of bathrobe, Table reservation at Lava Restaurant, 1 glass of sparkling wine if dining at Lava restaurant) and Luxury from 44 830 isk (Four luxurious hours at the Retreat Spa. Includes a private changing suite and unlimited access to both the Retreat Lagoon and the Blue Lagoon.).
Facilities: Mask bar, Sauna & Steam room, In-water bar, In-water massage, Lava restaurant, Moss restaurant, Spa restaurant, accommodation, changing room, lockers.
Opening hours: in June, Blue lagoon is open daily, from 10:00-21:00 July-December is open daily, from 09:00-20:00.
How to get there: If you are coming to Iceland or you are leaving from Iceland, Blue Lagoon is on your way. Blue Lagoon is just 20 minutes away from Keflavik Airport and 50 minutes away from Reykjavik.
As a bonus and also to introduce a new spa location, I am going to mention in this blog the newly open lagoon in Reykjavik, the Sky Lagoon. Located just some minutes away from downtown Reykjavik the Sky Lagoon is a new concept that honors the centuries-old bathing culture, embracing the warmth of a people tied closely to sea, sky, and the power locked deep within the land.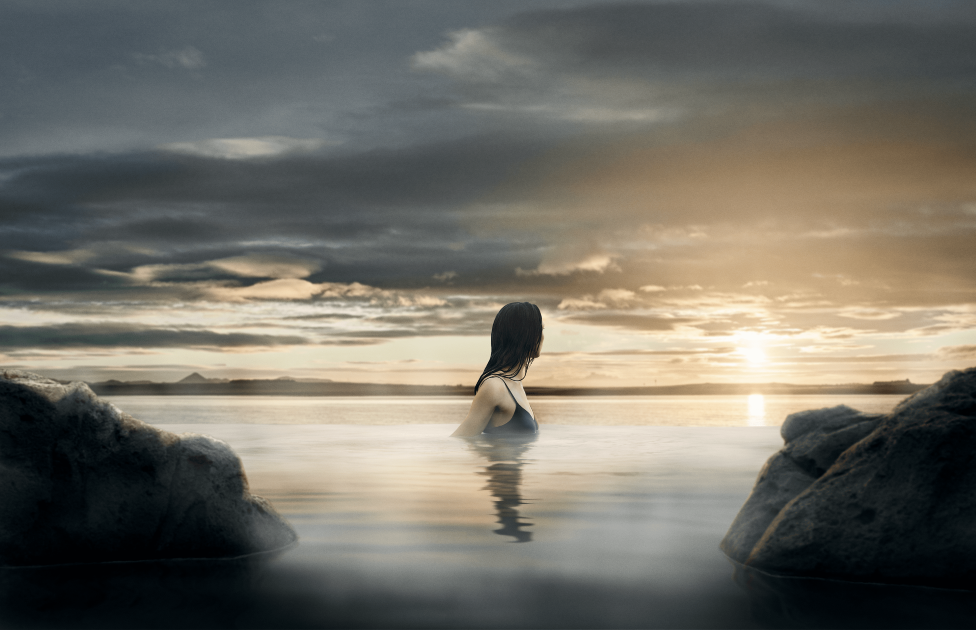 Sky Lagoon offers an entire experience as you get to discover the 7-Step Ritual therapy that will bring rejuvenation and relaxation. The design of the lagoon combines nature with the Scandinavian style and the view will give you the feeling that you are swimming in the ocean water.
Entrance fee: check for the prices updates here. There are different packages as an entrance ticket.
Pure Lite Pass: The package includes Sku Lagoon admission, public changing facilities, and a towel. The price is 6 990 isk for adults and 3 495 isk for children (12-14 years old).
Pure Pass Experience: The Ritual as part of the classic Pure Pass, the basic Sky Lagoon option. Package includes Sky Lagoon Admission, Complete seven-step Ritual, Public changing facilities, Towel at the price of 9 990 isk for adults and 4 995 isk for children (12-14 years old).
Sky Pass: Take your experience further with the Sky Pass. Our signature option includes The Ritual and focuses on privacy and vitality. Package includes Sky Lagoon Admission, Complete seven-step Ritual, Private changing facilities with signature Sky Lagoon amenities, Towel at the price of 13 900 isk for adults and 6 950 isk for children (12-14 years old).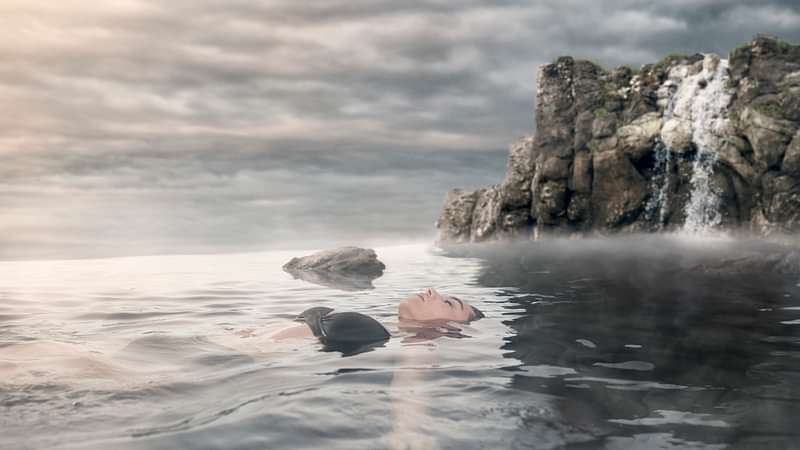 Facilities: At Sky Lagoon you will find: Lagoon Bar, Sky Café, Smakk Bar. For the 7-Step ritual, you will find the lagoon, a cold pool, sauna, cold mist, sky scrub, steam room, shower.
Opening hours:  Every day from 9:00 to 20:30.
How to get there: Driving from central Reykjavík: From Hlemmur square take Kringlumýrabraut (route 40). Continue to Kársnesbraut and head to Vesturvör.
Walking/biking from central Reykjavík: From Hlemmur square take Rauðarárstígur for 5.9km. Then take Suðurhlíð and head to Vesturvör. Total of 6km /1h15min.
Bus from central Reykjavík: From Hlemmur square, take bus 4 to Hamraborg (15min). From there take nr. 35 to Kópavogsbraut (4min). Walk for few minutes and follow the Wayfinder (signs). You will be at Sky Lagoon before you know it. Visit straeto.is for more information.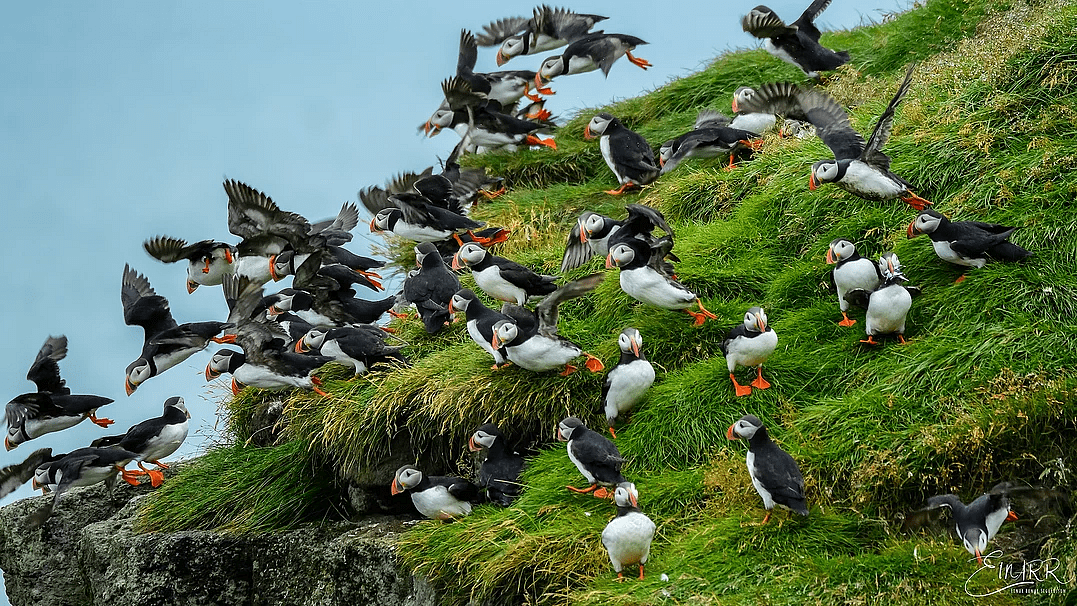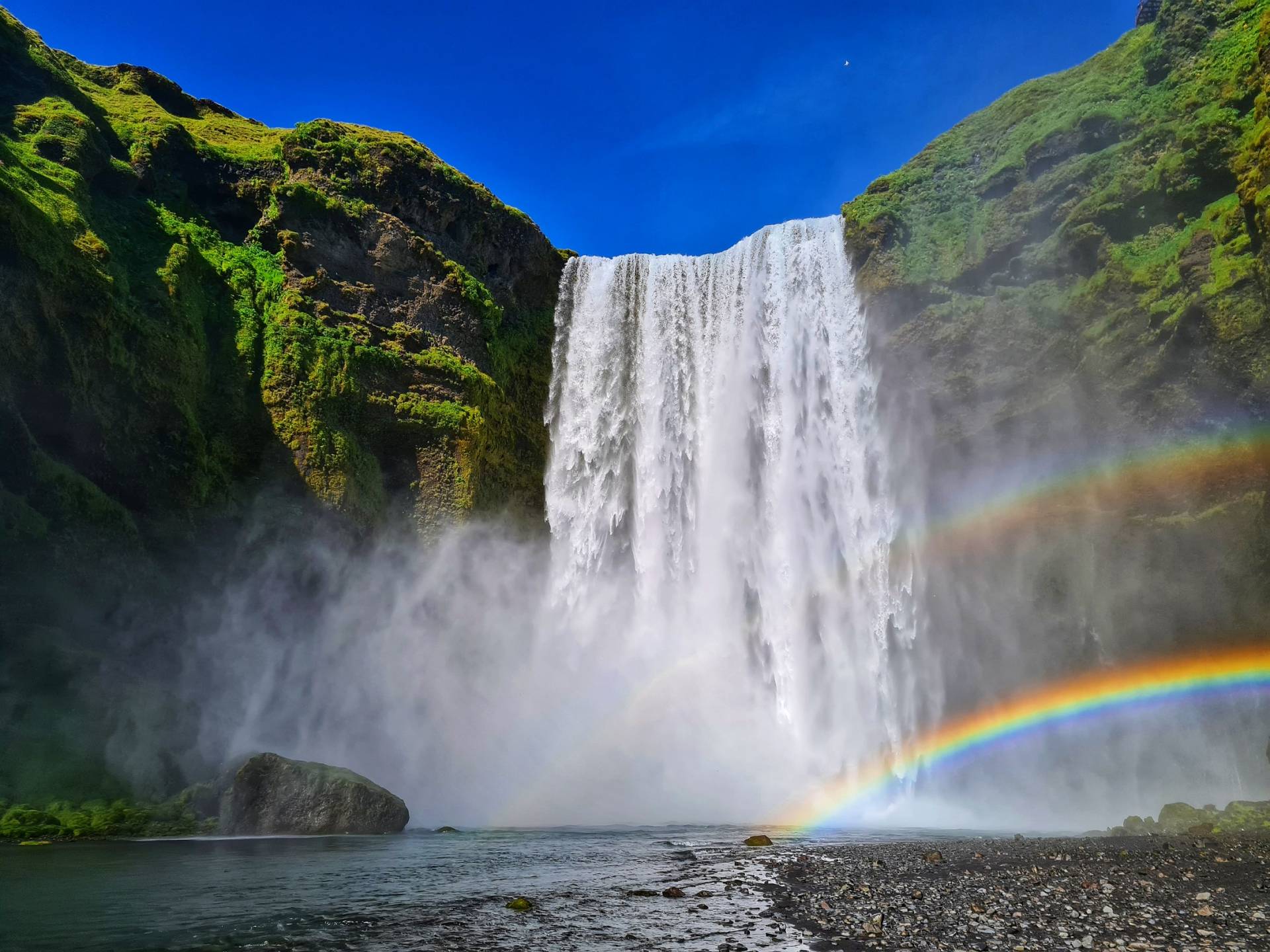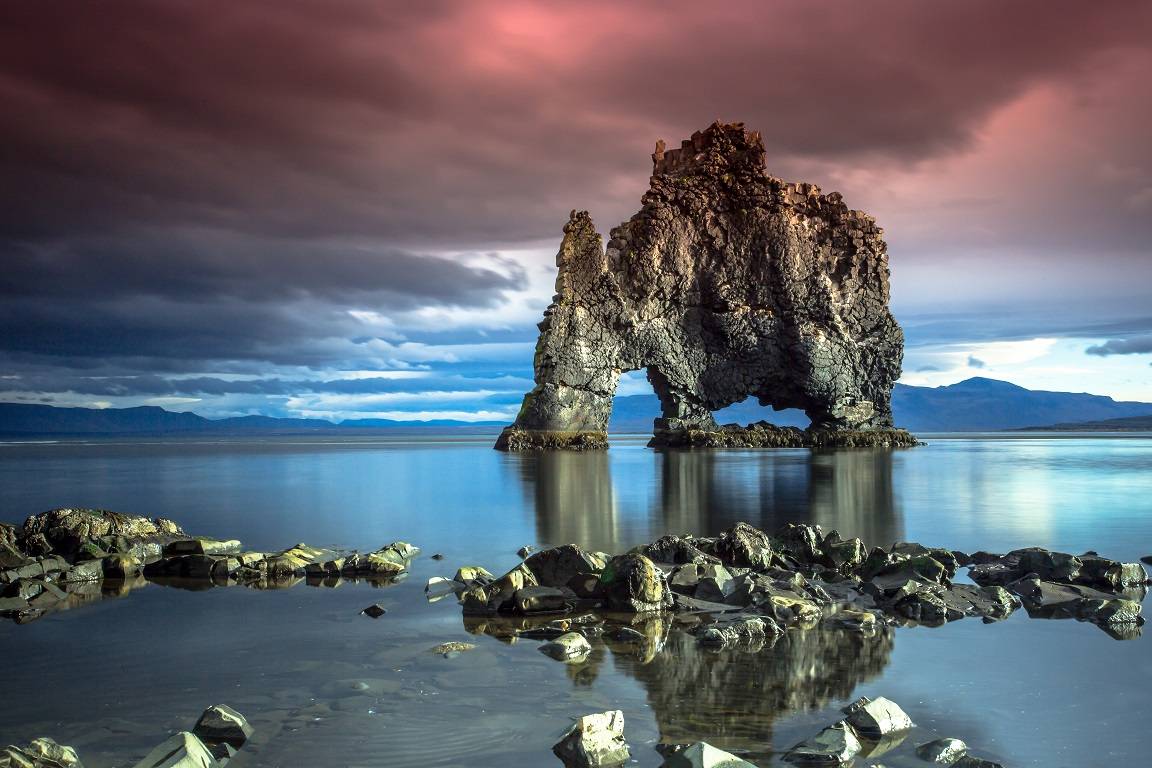 Puffin watching from Húsavík
Puffin watching from Húsavík
The unofficial national bird of Iceland
Skógafoss-the mighty waterfall in South Iceland
Skógafoss-the mighty waterfall in South Iceland
Skógafoss-the majestic waterfall in South Iceland
Akranes lighthouse and Dolphin shipwreck
Akranes lighthouse and Dolphin shipwreck
Leitmotifs of Icelandic photographs are lighthouses
17 Days Experiencing Iceland in a Motorhome
17 Days Experiencing Iceland in a Motorhome
Driving around and exploring Iceland at your own pace is really quite an experience