Shorter days, lower temperatures, moody weather, northern lights and a lot of fun. Winter is coming! Even if winter is coming with moody and sometimes extreme weather in Iceland that doesn't mean there are no chances to enjoy the winter while doing some exciting activities. 
Following the old Norse calendar, the first day of winter in Iceland starts at the end of October and it ends on 18th April. This year, in 2021 the first day of winter is on the 23rd of October. 
The old Norse calendar had only two seasons winter and summer. The winter season is also called the short days months "Skammdegi ("Short days")". 
Those six months of winter have different names and meanings as follows: 
Gormánuður

(mid-October – mid-November, "slaughter month" or "Gór's month")

Ýlir

(mid-November – mid-December, "

Yule

month")

Mörsugur

(mid-December – mid-January, "fat sucking month")

Þorri

(mid-January – mid-February, "frozen snow month")

Góa

(mid-February – mid-March, "Góa's month")

Einmánuður

(mid-March – mid-April, "lone" or "single month"). (Source:

Wikipedia)
Which month would you choose for your trip?
The Winter season in Iceland is really beautiful and exciting as you can do some of the coolest activities there. Keep reading to find the best activities you can do in Iceland during winter. 
---
Iceland is known as the land of Fire and Ice and we have a lot of ice here. There are many glaciers in Iceland and one of the most famous is Vatnajökull which is also the largest glacier in Europe and the most interesting part is that you can climb and walk on them. Also, one of the most popular glaciers for hiking is the Sólheimajökull glacier in south Iceland. It is a tongue of the Mýrdalsjökull glacier that covers the Katla volcano.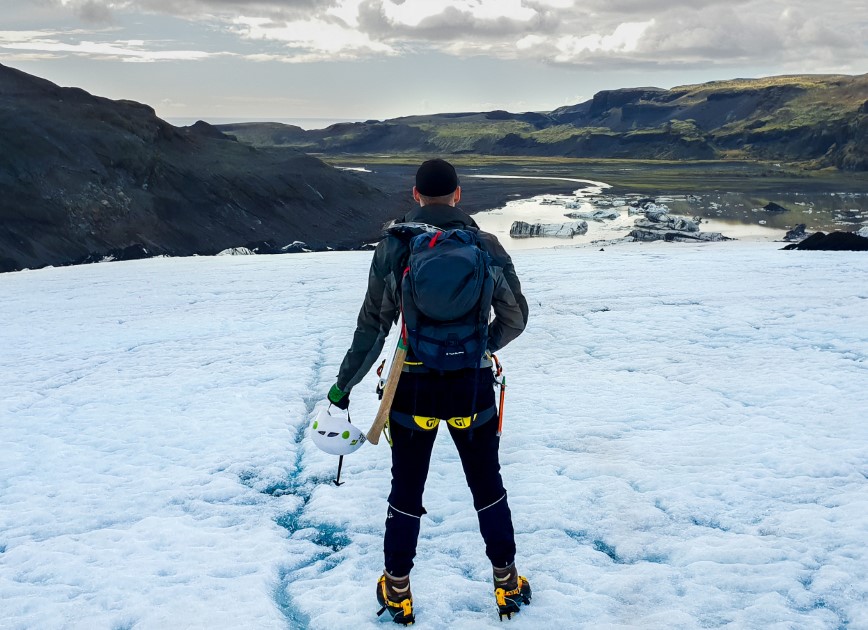 Glacier hiking is one of the most famous activities to do all year round but during winter the adrenaline is even higher as there are tours that are taking you to a glacier walk and northern lights watching.  
For most of those glacier hiking tours, you are provided with safety equipment and the only things you have to bring are warm clothing, sturdy boots and your adventurous spirit. 
---
A true nordic adventure has to include dogsledding and our furry friends are waiting for you to join them on a one hour tour. Dogsledding is an exciting family activity and kids are the most welcome.
Find more details about dogsledding tours here.
---
Iceland is known for its numerous geothermal baths. Bathing in hot springs and geothermal baths is a Viking tradition that is still followed by Icelanders and tourists as well. You can't say you visited Iceland without enjoying a geothermal bath.
There are many places all around Iceland where you can enjoy a warm bath and you can find the best one in our blog dedicated to this subject. 
---
On top of your winter bucketlist for Iceland should be an ice cave exploration tour. The glaciers in Iceland are offering so many opportunities to be explored and ice caving is one of the most interesting as you can go inside the glacier. 
The most popular ice cave is the Blue Ice Cave at Breidamekurjökull glacier tongue near Jökulsárlón Glacier Lagoon. The ice cave is available only during the winter season and the fun fact about it is that the ice inside it is blue in colour and every year the cave has a different form. 
There is also an ice cave at Katla that is available all year round but during winter is much more beautiful.  
You can explore a man-made ice cave also at Langjokull. There are ice tunnels and some rooms for you to discover. This is a good choice if you can not get to the natural ice caves. 
---
The top reason people are visiting Iceland during winter is seeing the northern lights. The landscape in Iceland is stunningly beautiful with the northern lights dancing on the night sky and it is a show that you don't have to miss. There are a lot of options to go on an aurora hunting tour where you will get the best views of the green lady. 
If you are planning to come to Iceland this winter then put at least two of those activities on your bucketlist and you will have an unforgettable experience in the Land of Fire and Ice. 
Let us know in the comments what activity you like more or share with us your experience on Facebook and Instagram.