A 17 Days itinerary to experience Iceland in a Motorhome, driving through Snæfellsnes Peninsula, the Westfjords, Troll Peninsula, North Iceland, Diamond Circle, East Iceland, the Eastfjords, Vatnajokull National Park, Jokulsarlon Glacier Lagoon, Skaftafell National Park, South Coast, Golden Circle, and Reykjavik.
Driving around and exploring Iceland at your own pace is really quite an experience. Having driven around Iceland many times, here is one of my itineraries if you need some ideas and tips for your trip. I apologize if this blog is quite lengthy as I wanted to be as detailed as possible so that anyone who might be coming to Iceland for the first time can have as much information as needed. I have also included links to Google Maps for each location.
For this trip, we drove around in a motorhome, spending the nights at campsites. We made our own breakfast, packed lunch, and made dinner most of the days. This trip was done during the summer and this itinerary might not be suitable during the winter. Some days are quite long as we were trying to make full use of the daylight.
Also, we arrived very early in the morning which allowed us to do a little more on the first day. If your flight is an afternoon flight, you will need to change the itinerary a little.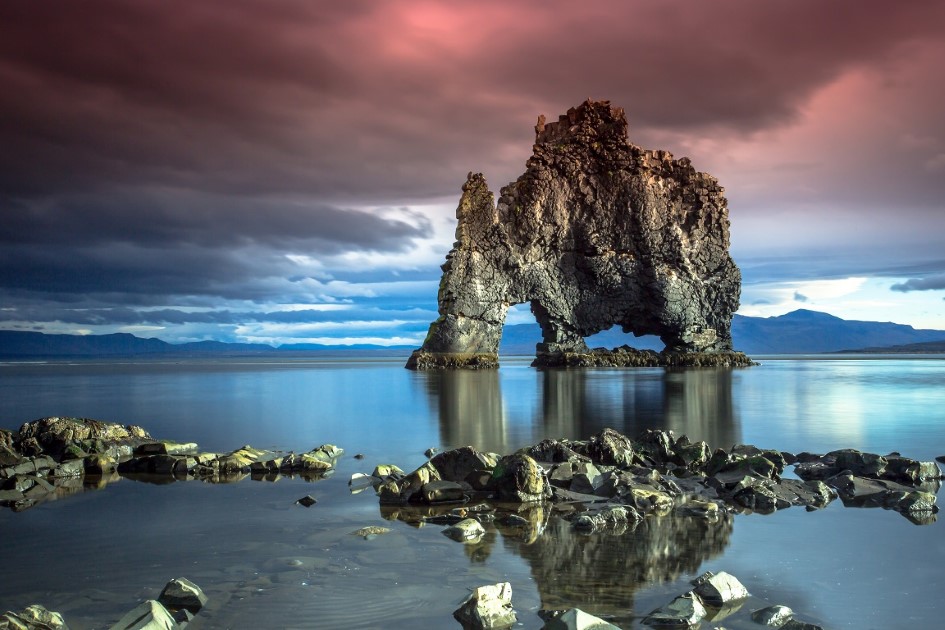 In this blog, I will be sharing our day-by-day itinerary.
---
17-day itinerary
Day 1 Arrival
Day 2 Snæfellsnes Peninsula
Day 3 Into the Westfjords
Day 4 Westernmost Iceland
Day 5 Dynjandi
Day 6 Endless fjords
Day 7 Hot tub hopping
Day 8 Troll Peninsula
Day 9 North Iceland
Day 10 East Iceland
Day 11 The Eastfjords
Day 12 Jökulsárlón Glacier Lagoon
Day 13 Vatnajökull National Park
Day 14 South Coast
Day 15 The Golden Circle
Day 16 Reykjavik
Day 17 Departure
Expenses Breakdown
---
Day 1 Arrival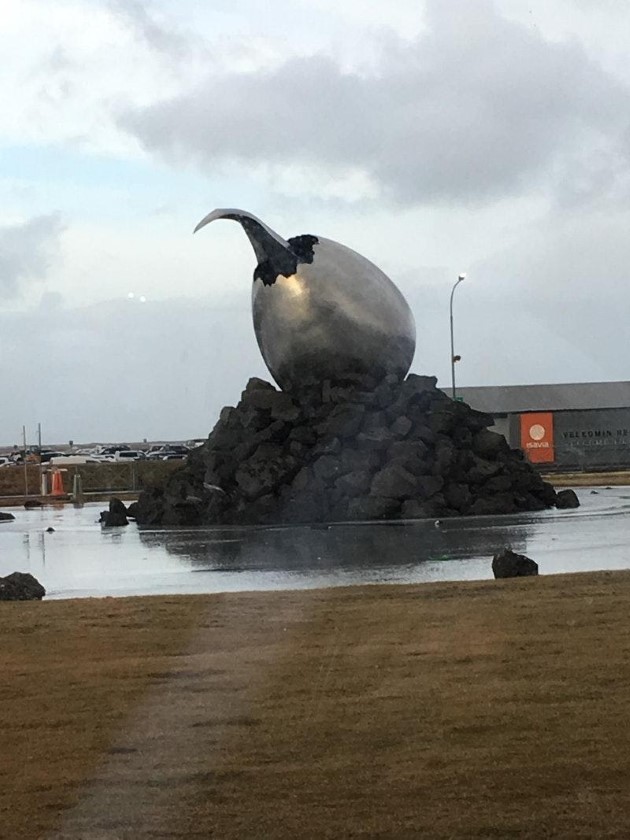 Keflavik International airport is not a big airport so finding your way around is very easy. Just look for the sign that says "Exit to Iceland", go down the escalator and you are in. There is a duty-free shop right beside the baggage collection where you can get some last-minute supplies.
After collecting your luggage(s), just follow the signs or the crowd (there is only one way out) to the arrival hall. The moment you step out into the arrival hall, the real adrenaline starts.
On the right side of the arrival hall is a small convenience store where you can get some light meals, snacks, and stuff. You can also get the local sim cards in the store.
At the front of the arrival hall are two booths for FlyBus and Airport Express. There are people who are taking the airport transfers to Reykjavik. FlyBus is more expensive than Airport Express if you need hotel drop-off. Some accommodations do not allow for drop-off at the property due to space constraints so the bus will drop you off at the nearest bus stop. You can check www.busstop.is for more information.
On the left side of the arrival hall is a row of booths for the car rental companies. Depending on which company you are renting with, they might or might not have a booth at the arrival hall. If the booth of the rental company that you are using is in the arrival hall, very good, just head over and have your journey started. If not, you will need to go out of the arrival hall, follow the signs that say "shuttle bus for car rental" and the shuttle bus will take you to the car rental company. For motorhome rental, you still have to go take the shuttle bus to collect your vehicle, just that the people at the booth will give you these instructions.
For more information about what you need to know when driving in Iceland, check out 40 things that you need to know about driving in Iceland.
After you have sorted out your vehicle, your road trip to Iceland officially begins.
Driving away from the airport, you will very soon get drawn into the out-of-the-world landscape. The first thing that struck me was that there are lava rocks everywhere. Really cool though.
If you are driving towards Reykjavik, you will be going onto road 41 and the first town that you will pass is Keflavik. There are grocery stores (Bonus, Kronan, and Netto) where you can stock up on food and supplies. Vínbúðin is a liquor store (don't drink and drive, it is illegal). There are also restaurants like Kaffi Duus and Olsen Olsen where you can enjoy some local cuisines. There is an interesting museum called Viking World in this town. It is a Viking history museum whose star attraction is a climb-aboard replica of a 9th-century ship.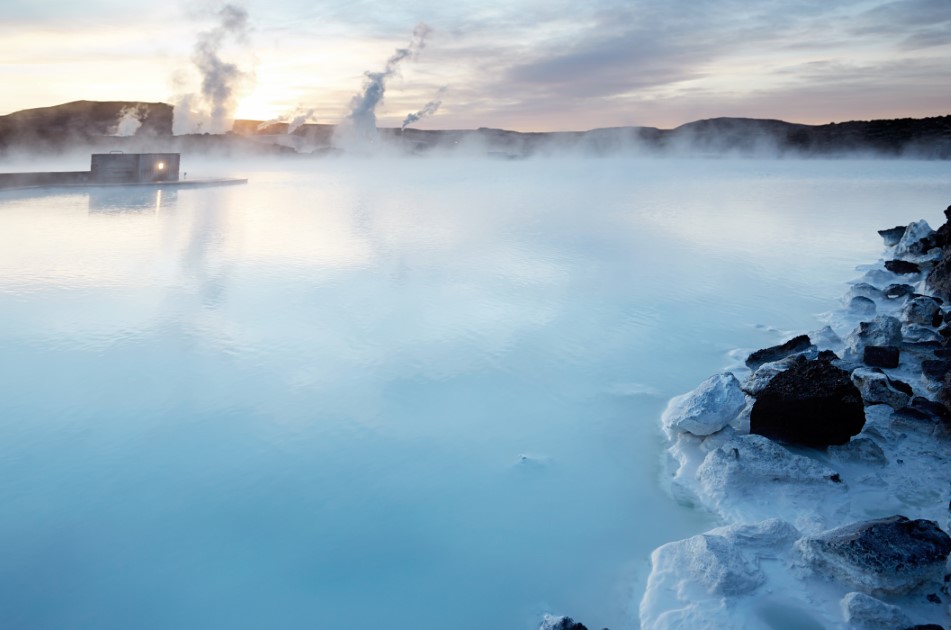 Not far out of town, you will find road 43 which takes you to the Blue Lagoon of Iceland. I have been to the Blue Lagoon like 20 times so I am biased. The Blue Lagoon is amazing. Especially after a long flight, it is so relaxing to just soak in the warm water and let the body enjoy itself. My skin totally appreciates the pampering.
You can read more on the Blue Lagoon experience at Visiting the Blue Lagoon.
Depending on your flight arrival time and how much time you spend at the Blue Lagoon, I would highly recommend giving Lava Restaurant a try. Though a little on the pricy side, the food is really good. Local ingredients with a modern twist.
After relaxing at the Blue Lagoon, it is time to head to the campsite. For the first night, I chose a campsite in Borganes.
There is much sightseeing to do all the way there. You will definitely pass by Hafnarfjordur, the town of the elves and Vikings. If you are into the Viking stuff, there is a Viking Village in this town with a Viking restaurant serving traditional Viking dinner. Worth a try for the experience. If you are interested in elves, you can head to Hellisgerði park where the elves are said to live in the rocks.
After driving through two other towns, Gardabaer and Kópavogur, you will head onto road 1 which is the ring road of Iceland. After passing Mosfellsbær, this is when the scenery starts. You will be driving alongside mountains and fjords. The first fjord not far after Mosfellsbær is Kollafjörður. At the next fjord, you will drive under it in a tunnel and that is Hvalfjörður, the famous "Whale Fjord". During the summer, you can choose to drive around the fjord instead of under. It is quite a long drive but it is very beautiful. There is a very pretty waterfall, Fossarétt, which makes a very good photo stop.
Passing Hvalfjörður, there comes the small town of Akranes. The main attraction in this town is the old lighthouse of Akranes.
You will need to pay 300 isk to go up the new lighthouse but the view up there is really quite spectacular.
The next stop is a little drive away. Deildartunguhver is Europe's most powerful hot spring where boiling water is bubbling from the ground.
Driving past Reykholt, one of the most important historical locations in Iceland and home of Snorri Sturluson, who was one of the most significant figures of the Middle Ages, you will arrive at Hraunfossar and Barnafoss. Hraunfossar is a series of rivulets that stream through the dark lava field. Barnafoss waterfall is a light blue waterfall that rushes through a narrow gorge. There are a series of small hiking trails in the area.
For the first night, we stayed at Borgarnes Camping. A pretty campsite by the waters. 1200isk per person, 900isk for electricity. There are separate areas for tents and campers. No shower and kitchen at this campsite.
---
Day 2 Snæfellsnes Peninsula
After breakfast, you will be heading to Snæfellsnes Peninsula or what they call "the hidden gem of the west".
You will drive past Borganes. There is a Bonus here where you can stock up on your grocery. If you have time, drive into the town and all the way to the end where The Settlement Center is, there is quite a nice view from there and you can check out the museum at The Settlement Center too.
After driving out of Borganes, you will turn from road 1 onto road 54, into Snæfellsnes Peninsula. The landscape is slightly different here. The first stop will be Gerðuberg Cliffs, the "North Wall" in Game of Thrones.
Seeing this cliff up-close is really quite impressive. They are much bigger and taller than I imagined them to be.
Leaving from here, a short drive will bring you to the junction of road 54 and road 56. From here, you can either go clockwise or anti-clockwise. The main time consideration will be when the low tide will be as two of the attractions in Snæfellsnes Peninsula are nicer during low tide. During the time when we were here, the low tide was in the afternoon so we went anti-clockwise, starting with Ytri Tunga, a stretch of beach where you can often spot a seal colony.
Our next stop was Búðakirkja, the black church of Búdir. It is quite a pretty little church with an interesting story. We did not spend very much time here though.
We headed to Arnarstapi next. Take a stroll along the coast where you can take in all the views and see Gatklettur, a famous, naturally formed stone arch. Drive to the end of Arnarstapi where the port is. The view of the cliff from the deck is really quite amazing.
After Arnarstapi, we head to Londrangar.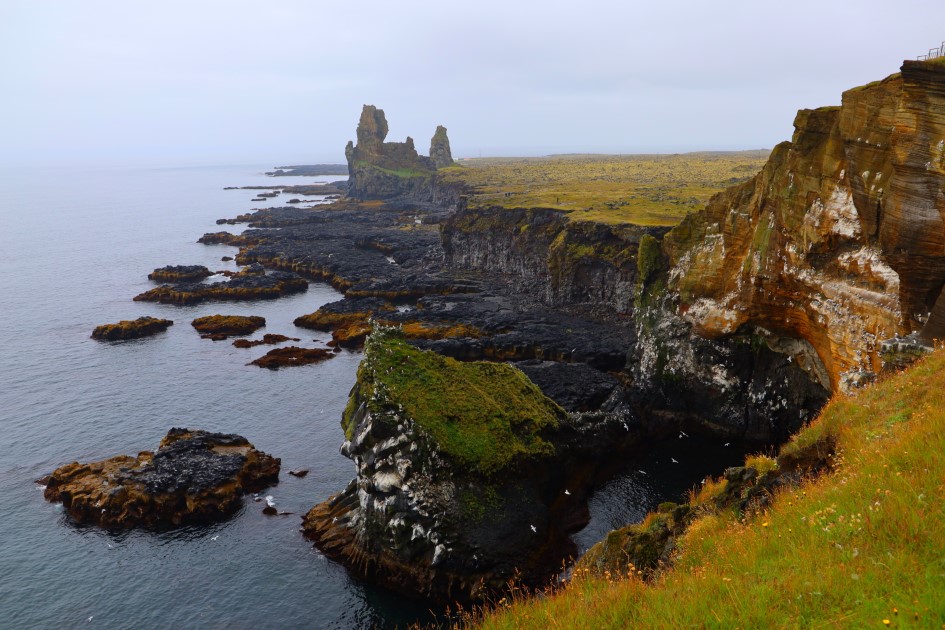 This place is simply beautiful. It is a little walk from the parking lot to the viewing platform. We packed some sandwiches for lunch so we had our picnic on the benches by the parking lot.
Not far from here, there is a Vatnshellir Cave where you can join a local tour to go into an ancient lava tube.
Next, we went to Djúpalónssandur, a black pebble and sand beach. You will walk through a beautiful lava field to get to this beach. This beach is especially amazing during low tide.
All these that you see in the picture above are usually underwater during high tide and can only be seen during low tide.
This beach is also where I have found 3 heart-shaped pebbles on 3 separate occasions.
There are some remains of a shipwreck on the beach and some history about it.
Driving along this outer circle of Snæfellsnes Peninsula, you will be driving alongside Snæfellsjökull National Park almost the whole time and get to see Snæfellsjökull from some places. There are some hiking trails in this National Park but that will be for next time.
The next stop will be Saxhóll Crater. From the parking lot, you can climb up a spiral staircase to the top of the crater. Very easy, 5 minutes climb. The view from the top is really great.
From here, you will be driving past a few small villages and waterfalls like Svöðufoss, Kerlingarfoss, and Bæjarfoss. Different kinds of waterfalls and each is pretty in its own way. If you have time, no harm stopping.
The next stop is the highlight of the Snæfellsnes Peninsula. Kirkjufell, "The Arrowhead Mountain" in Game of Thrones, and Kirkjufellfoss waterfall.
This mountain is almost like the icon of Iceland. Although I have been here many times, I still love this place. It is always beautiful, rain or shine or snow.
There is a small grocery store, Samkaup, in the adjacent town, Grundarfjörður, where you can get some food and stuff.
From here, you will drive to the campsite for the night. For the second night, we stayed in Stykkishólmur. 1650isk per person. Small kitchen, outdoor shower without a roof, washing machine, and dryer available.
---
Day 3 Into the Westfjords
You start the day driving into the Westfjords of Iceland. The Westfjords is a very special part of Iceland. There are not many "attractions" per se that you can map on google but everywhere is beautiful. We were stopping so much to see the no-name attractions.
We started by doing some sightseeing in Stykkishólmur before leaving. The Súgandisey Island Lighthouse and Súgandisey Cliff by the harbor are quite pretty.
There are two ways to get to the west fjords. One is to drive it, the other is by ferry from Stykkishólmur. There is a ferry twice a day from 15 June to 24 August. You can drive your vehicle onto the ferry. It goes from Stykkishólmur to Flatey then to Brjánslækur (in the westfjords). From Stykkishólmur to Brjánslækur, it will cost 5760isk per adult 2880isk per youth and free for children. It will cost 8340isk for the motorhome. You can find more information here.
It is quite an experience to go by ferry. Flatey is a really pretty island and you can even spend half a day exploring the island before heading into the west fjords. This island has been the movie set for many movies such as The Honour of the House and White Night Wedding.
For this trip, we chose to drive as there are some interesting places along the way that we wanted to stop at.
Not far out of Stykkishólmur, we visited the Erpsstaðir Creamery. They are a farm that produces cheese, ice cream, and other dairy products. A really great place to get some supplies for the trip. There is also a farm tour where you get to see how they milk the cows. There are other animals like rabbits, pigs, and ducks on the farm. Highly recommended stop if you are traveling with kids. Try the ice cream, they are really good.
There is another farm along the way to the west fjords – Hólar farm. This farm is different. It is more like a sanctuary and rehab center for rescued animals. There are so many animals on this farm. You get to learn a lot about animals here.
About 5km from Hólar farm, you will find Guðrúnarlaug hot spring. It is an outdoor natural bath. Near to a campsite, can be quite crowded at times. The water in the hot spring is not always clear. There is some algae kind of thing floating in the water.
The drive into the west fjords is amazing. The scenery along the way is really beautiful. You cannot really drive too fast in the west fjords as there are many bends to the roads so you will have more than enough reason to drive slowly and enjoy the scenery. If you need to stop for pictures, please find a safe place to stop. You can also find a parking spot with a nice view to stop for lunch.
Next, we went to Vascofoss. Not a huge or famous waterfall but unique, I would say.
From here, we stop at Lambagilseyrar. A small hiking trail that leads to a pretty waterfall. The hike is not very long. Good for stretching the legs.
About 2 minutes drive from Lambagilseyrar, you will find Hellulaug, another natural outdoor hot spring. It has a nice view of the fjord. Many people know about this place so can be quite crowded at times.
We decided to spend the night at Tjaldsvæðið Flókalundi campsite. 1400isk per person, shower included, 1000isk for electricity. Small kitchen and basic facilities. This campsite belongs to the hotel. You can either go to the hotel to pay for the campsite or wait for someone to come and collect the payment from you. There is a swimming pool nearby Sundlaug orlofsbyggðar í Flókalundi.
---
Day 4 Western-most Iceland
On this day, you will be heading to the western-most part of Iceland. Along the way, you will pass by two beaches, Barðastrandarsandur & Rauðisandur Beach, both with golden sand (very rare in Iceland since most beaches are with black sand).
You might also like to check out Birkimelur Swimming Pool. It is an outdoor lap pool with a natural hot tub by the side. Beautiful place for some exercise.
The highlight of the day is Látrabjarg, the western-most point of Iceland. Following road 612 all the way to the end will get you to Látrabjarg. This road is not easy to drive. You do not need a 4×4 to drive this road but you might get into some trouble if you are in a very low vehicle. Also, it is kinda tricky to drive this road in a big vehicle (like a motorhome). The road is very narrow, along a steep cliff and with lots of tight bends. Half the time we were just praying that we will not meet any vehicle coming in the other direction. If you are up for the challenge, no problem. But, it is totally worth the sweat. Látrabjarg is beautiful. The stretch of ocean cliff is gorgeous and there are puffins (and other birds) here during summer.
On the way to the campsite, you will pass by Patreksfjörður, a small fjord town with a bakery and a mini-mart. You can choose to camp in this town but we decided to go a little further to Tálknafjörður. There is a self-service fish stall in this town. This place is very interesting. You choose what you want from the fridge, write down what you are getting on a clipboard, and put the money into the box. Really cool.
As for the campsite, 1700isk per person, there is a small kitchen, washing machine, and dryer. There is a swimming pool next to the campsite.
---
Day 5 Dynjandi
I would call this the waterfall-hopping day. After leaving the campsite, the first stop was at Fossa Waterfall, a very small waterfall along the road. Not far from here is an abandoned barn that makes quite good pictures for Instagram.
From here, you will drive for about an hour to the parking place for the hike to Dynjandi.
The hike to Dynjandi is very easy, maybe 600m, but there are so many waterfalls along the way you can easily spend half a day here if you are really into photography.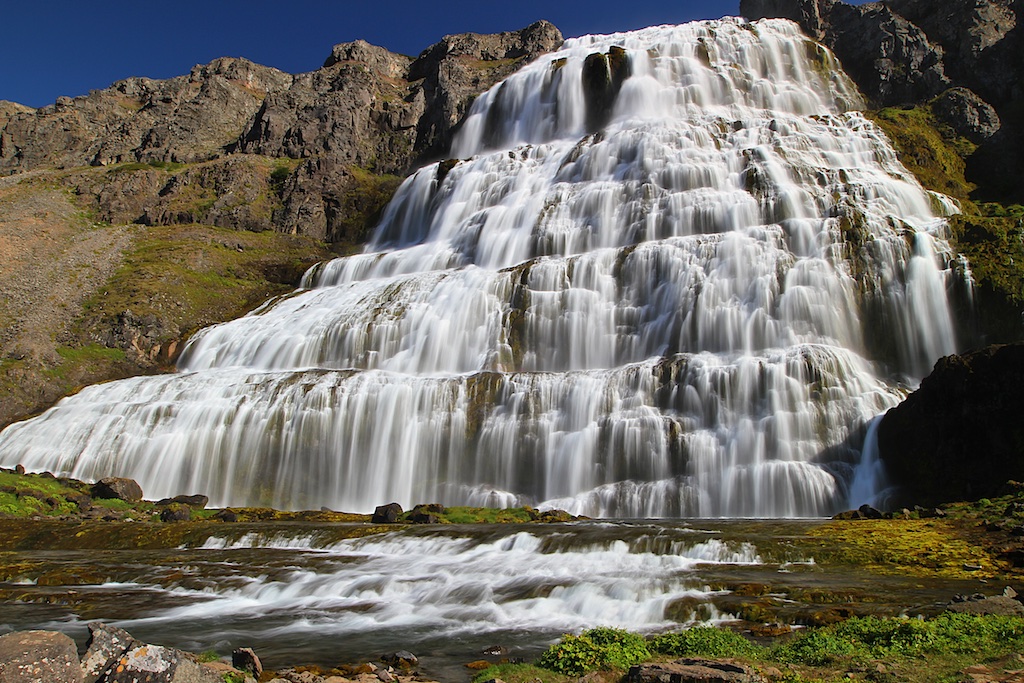 We chose to camp at Tunguskogur for the night. One of the best campsites in Iceland. 1800isk per person, 1200isk for electricity. There is a kitchen, shower, laundry facilities, and internet. Very large campsite with a view.
---
Day 6 Endless fjords
You can start the day by exploring the town of Ísafjörður. There are a couple of museums in town, grocery stores, cáfes, and a swimming pool.
We took a little detour and headed north of Ísafjörður to Bolungarvik Lighthouse and Bolafjall. Bolungarvik Lighthouse is a small orange lighthouse with very beautiful scenery. Bolafjall is the mountain peak where Latrar Air Station is located. Perfect location for a great view.
After passing Ísafjörður again, near the end of Ísafjörður airport, you will find a small hiking trail, Naustahvilft. You can get a very good view of Ísafjörður from up there. Very pretty.
The next stop was at Valagil Waterfall. It is a 2km hike along a muddy trail. The view of the fjord is quite nice from above.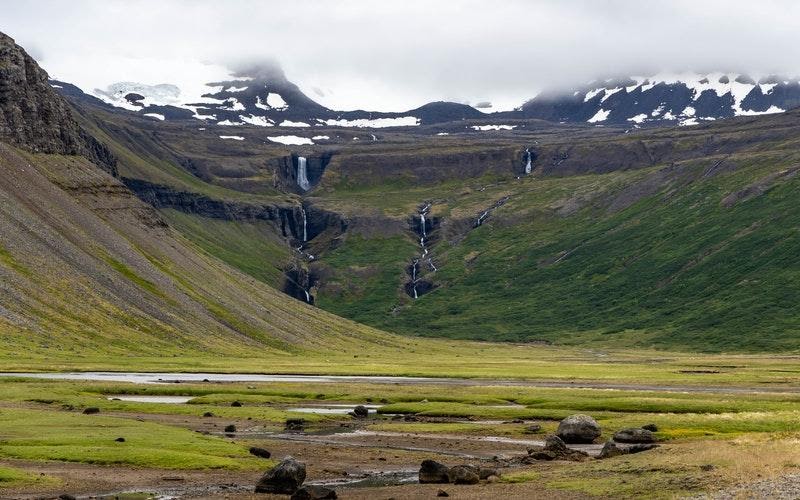 About 10 minutes drive from Valagil Waterfall, you will come to the tip of the land between Álftafjörður and Seyðisfjörður. There is a parking spot there where you can get an awesome view of the fjords and the town of Súðavík across the fjord.
As you drive along the endless fjords enjoying the beautiful scenery, you will come to a place near Litlibær where you can stop for some seal-watching. You can park your vehicle here and walk across the road to the waters. If you are really quiet and moving slowly, you can get really close to the seals.
We spent the night at Heydalur. The guesthouse runs the campsite. 1500isk per person, 1000isk for electricity. Free shower, swimming pool, and two natural hot springs. No kitchen but there is a restaurant.
---
Day 7 Hot tub hopping
This will be the last day in the west fjords and since the west fjords are famous for the outdoor natural hot springs, that will be the main agenda for today.
Just across the fjord from Heydalur, you will find Hörgshliðarlaug, one of the most highly rated hot tubs in the west fjords.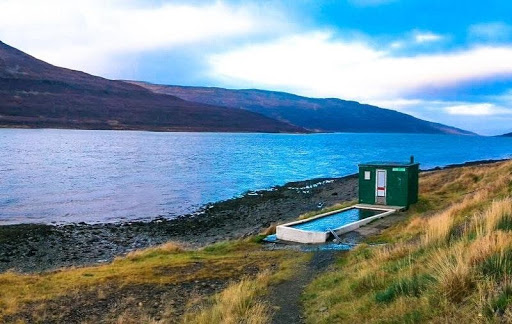 About 10 minutes drive from Hörgshliðarlaug, you will come to Gervidalsá falls. A small waterfall not far from the road. You can take a dip at the bottom of the waterfall if it is not too cold for you.
From here, if you have time, you can take a detour to take a look at Drangajökull. It is a scenic drive along the fjord. Along the way, you can visit Nauteyrarlaug's hot spring.
Moving on, there is a hot tub by the road in Drangsnes but I personally don't prefer it as it is literally by the road. North of Drangsnes, there are two remote and more hidden hot springs, Hákarlavogur and Krossneslaug. Hákarlavogur is a hidden natural hot spring that not many people go to. Krossneslaug is more like a swimming pool by the beach, pretty though.
We decided to spend the night at Hólmavík. The sports center runs the campsite. 1630isk per person, 1405isk for electricity. Shower available in the swimming pool, there is also washing machine and dryer.
---
Day 8 Troll Peninsula
You will start the day driving out of the west fjords and back onto road 1. Glanni Waterfall is definitely worth stopping. From the parking lot, you will need to following the trail to get to the viewing platform. There are other smaller trails in the area to get to the side of the waterfall.
The drive north will bring you into a different landscape once again. In the next one and a half hour's drive, you will experience a little of the "nothingness" of Iceland. Where you will drive on and on with only nature around you. No buildings, no people, just nature. You will get to enjoy the rolling hills and flowing streams.
Your next stop will be at Hvitserkur, a 15-meter-tall basalt island that resembles a dragon or rhino. (This place might be a little tricky to go to during the winter if you are in a small car without 4×4).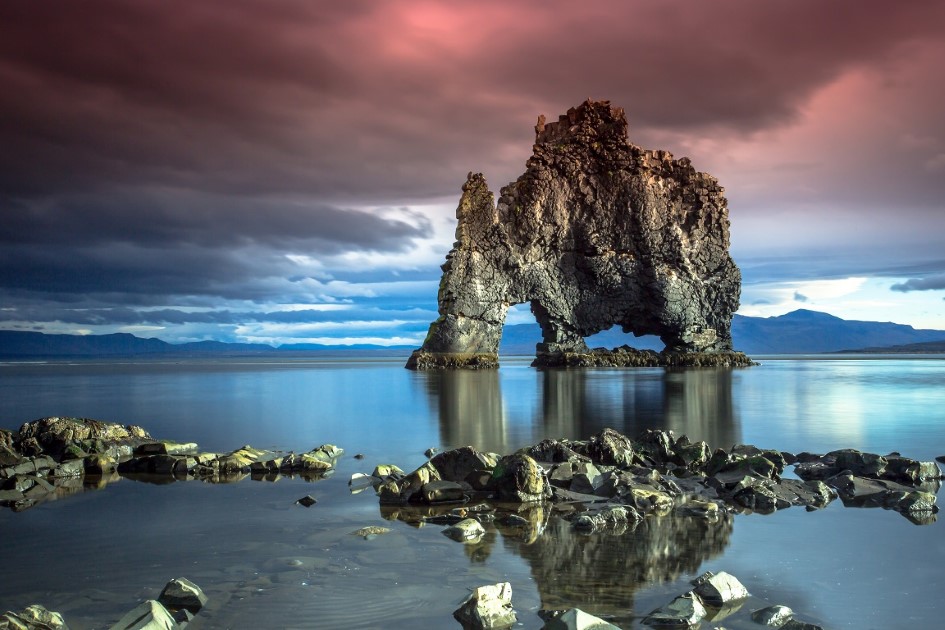 From here, you can explore an island in an island, Hrútey í Blöndu which is a small island ideal for short hikes before heading into the Troll Peninsula.
The Troll Peninsula (Tröllaskagi), is one of the most extraordinary mountain scenarios in Iceland. It lies in North Iceland between the fjord of Skagafjörður and the fjord of Eyjafjorður. The peninsula is mountainous with several peaks reaching over 1200m above sea level, some over 1400m, the tallest one is Kerling (1538m). It is the part of Iceland with the highest elevation outside the central highlands. There are many outdoor activities in this area including hiking trails, heli-skiing, etc. The peninsula also comprises many areas of "untouched nature". Nature that has not been disturbed by mankind.
Driving along the coast, you will be driving through several picturesque little towns like Hofsós, Siglufjörður, Ólafsfjörður, and Dalvik.
A coffee house, Gisli Eirikur Helgi Kaffihûs Bakkabrædra, in Dalvik left a particularly deep impression. It is a very small place filled with a lot of stories. The owners are so friendly, they shared so many stories with us.
The Troll Peninsula is also the one and only Beer Spa in Iceland. You get to soak in a tub filled with warm beer and drink free-flow cold draft beer at the same time. For all the beer lovers, this might be very close to heaven.
Not far from here, in the town of Hauganes, you can go whale-watching in Eyjafjörður. By far, this is one of the best places for whale-watching in Iceland. The waters are calm, with hardly any waves and when the boat is approaching the whales, they turn off the engines altogether so that the whales will not be spooked.
By the beach, you can find Hauganes Hot Pot, some outdoor hot tubs by the ocean, and one of the hot tub is in a boat. You can get the entrance bracelet from Baccalá bar and the entrance is 12000 isk per person (at the time of writing).
From here, you will go to the campsite. I suggest staying outside of Akureyri. The campsite at Dalvik is quite nice. 1250isk per person, 1000isk for electricity. There is a kitchen, washing machine, dryer, and wifi. A swimming pool is by the side.
Alternatively, you can camp at Hauganes. Basic campsite but near to hot tub. 1500isk per person, 1500isk for electricity, 1000isk per person for hot tub.
---
Day 9 North Iceland
We started the day exploring the town of Akureyri, the town of love. Even the traffic lights are heart-shaped. The Akureyri church, Akureyrarkirkja, is quite spectacular with its long flight of stairs. There is this giant Viking beer can that can be interesting to see.
And the Botanical Gardens of Akureyri is especially beautiful during the summer, where flowers of all kinds are blooming everywhere.
The Icelandic Aviation Museum is also in Akureyri. It showcases planes from the very first kind and evolution over time. Quite interesting.
The one place that I always visit when in Akureyri is the Christmas House. It is really a store that sells Christmas-related stuff like decorations and candies and they have really interesting ones.
Moving out of Akureyri, the first stop will be Goðafoss, the waterfall of the Gods. This is one of the most beautiful waterfalls in Iceland. You can access it from both sides and the view is quite different.
From here, you will explore the Mývatn area. If you are here during the summer, I would suggest that you take road 848 as there are more things to see along this road but during the winter, this road is not so nice to drive so better to take road 1.
So, driving onto road 848, there are several places where you can stop to take in the views of Lake Mývatn. One of the places that are more interesting is Höfði. There are some small hiking trails in this park and you can get some interesting sights of the lake. One thing that you might like to note is that there will be a lot of flies in Mývatn during the summer. If they bother you, you can get a headset from the gas station.
If you have time and don't mind hiking a little, you should visit Dimmuborgir. It is a lava field and the area is like a movie set.
Grjótagjá cave is also highly recommended to visit. It is an ancient lava cave that houses a geothermal spring once used for bathing. We used to soak our feet in the waters but its temperature seems to be increasing so I think it is too hot now, you can always try.
Shortly after you turn back onto road 1, you will arrive at Mývatn Nature Baths. The water here is also blue like the Blue Lagoon, the only difference is that it is not salty.
The next stop, Hverir, is out-of-the-world. It is a geothermal area with orange soil and boiling mud pools. Do not be deceived by this amazingly beautiful look. The smell is really quite terrible. It is actually the smell of sulfur but it is quite similar to the smell of rotten eggs. If you can tolerate the smell, this place is beyond imagination but I have seen people puking the moment they step out of the car so this place might not be for everyone.
During the summer, you can take a detour to Dettifoss, the most powerful waterfall in all of Europe. I would suggest taking road 864 instead of road 862. Although they both go to Dettifoss and road 862 is kind of shorter, road 864 brings you to a point closer to Dettifoss and the angle of view of the waterfall is a little different.
Both the roads to Dettifoss are not so good to drive during the winter.
The next stop, Stuðlagil Canyon, is only doable during the summer. It is very dangerous to go there during the winter so I would suggest not to try.
From the first parking spot, it will be a 4.5km hike to go down to the canyon. This is not possible to do if it has been raining as the water level of the canyon will be very high. There is a second parking spot further down the road where you can view the canyon from above. Also, the water in this canyon is not always blue. If it has been raining, the water will likely be brown.
Spend the night in Egilsstaðir, a town by Lagarfljót, the lake where the lake monster is said to live. I at Atlavik, by the lake, and I stayed here for two nights. 1600isk per person. There is a separate area for the motorhome. A public bbq pit is available.
---
Day 10 East Iceland
You will be exploring east Iceland on this day.
The first stop will be Hallormsstaður Forest. Very good for some light hiking.
Road 931 also drives along Lagarfljót, so you can try and see if you can spot the lake monster.
The next stop is Hengifoss, a waterfall falling over a striated rock. It takes about 1 hour to hike up to the waterfall but the view up there is worth it. There are also several smaller waterfalls along the way.
From here, you can visit Skriduklaustur, a museum and historical site.
If you are up for more hiking, a little further at Laugarfell, you can go on an 8km hike around the waterfall circle where you can see five waterfalls and one canyon. There is also an outdoor hot tub at Laugarfell at 1500 isk per person.
Go back to spend the night at the campsite.
---
Day 11 The Eastfjords
You will be driving mostly along the east fjords on this day but I decided to start the day with a detour to Borgarfjarðarhöfn because we were at the right time for the puffin season so no reason to miss it. The puffins are in Iceland from mid-May to mid-August.
After you are done with the detour, it is time to go back to the planned route. During the summer, you have 2 options. One is to follow road 1 and drive along the fjords, two is to take road 95 and drive through the mountains. Both are beautiful, different kinds of beautiful. Road 95 is mostly closed during the winter or it is super dangerous to drive it during the winter so no choice in the winter, only road 1.
There are many beautiful sceneries on both routes. Waterfalls, mountains. If you drive along road 1, you will pass a couple of small fjord villages. No particular attractions in this part of Iceland, just you and nature.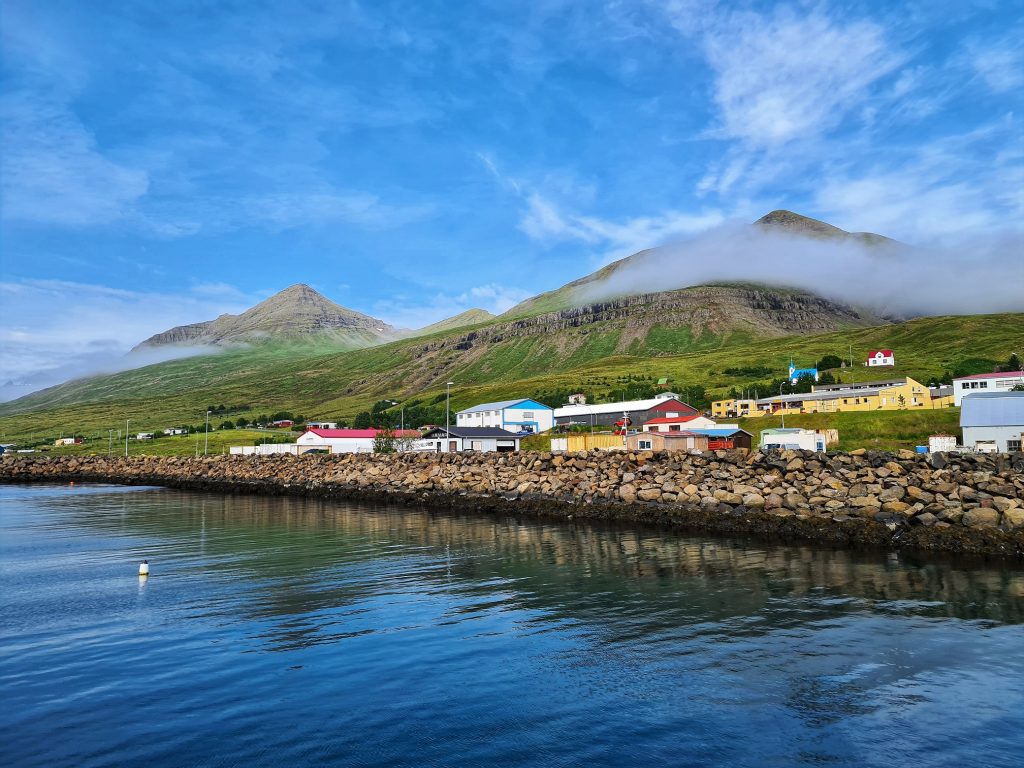 When you eventually arrive at Djúpivogur, be sure to make a quick stop at Eggin í Gleðivík, a sculpture of 34 replicas of eggs from as many nesting birds in Djúpivogur.
Right outside of Djúpivogur, you will find Halsaskogur, a little enchanted forest. Ideal for a picnic or a little hike.
The highlight for the day will be Stokksnes. Stokksnes is one of the photographers' paradise in Iceland. From here, you can view the famous Vestrahorn, black sand-dunes, and Viking village props for the movie.
The entrance to Stokksnes is 900isk per person and can be purchased at the cafe.
Spend the night in Höfn, the Lobster Capital of Iceland. We used Camping Höfn. 1700isk per person. Swimming pool nearby.
---
Day 12 Jökulsárlón Glacier Lagoon
The moment you drive out of Höfn, you will realize that the landscape starts to change. In fact, for most of the day, you will be driving alongside Vatnajökull, the largest glacier in Europe.
To get close enough to the glacier tongues, for most of them, you will need a 4×4 and many of these roads are not driveable when it snows. There are two that you can walk it, I will talk about them later.
The first accessible glacier tongue out of Höfn is Hoffellsjökull. The road to this glacier tongue is not quite obvious, especially after rain. It is not actually a proper road, just tracks left behind by other cars. So if you cannot find the tracks, better not to risk it if you are not absolutely sure where to go.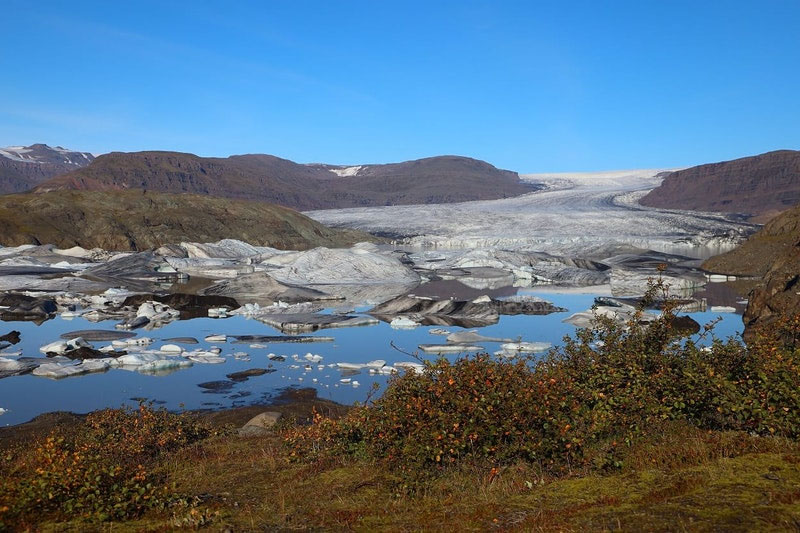 There is some outdoor hot tub at Hoffell that are quite nice though. 1000 isk per person.
The next glacier tongue that you can visit is Heinabergsjokull. The drive there is quite tricky and absolutely not possible when it snows. You don't need a 4×4 to drive this but very small cars might get into some trouble. After you have driven about 3km past the farmhouses at Flatey, you will see a small road off the right and a sign that says "Heinabergsjokull". You need to follow this road into a very interesting terrain. Follow the road in red below.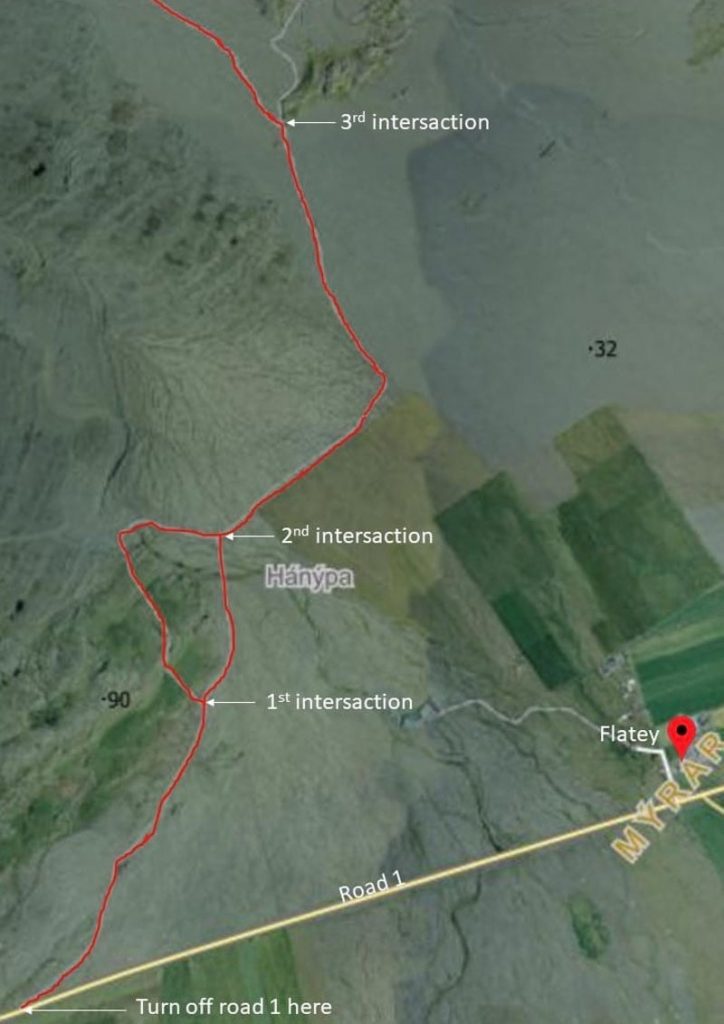 Drive till the road ends, you will find a parking spot and a hiking trail right beside it. Follow the hiking trail and you will end up at Heinabergsjokull.
If you took a wrong turn, don't worry, all the other roads lead to dead-ends so just turn around.
The next stop will be Jökulsárlón Glacier Lagoon and Diamond Beach.
Jökulsárlón Glacier Lagoon is a must-see in Iceland. It is beautiful beyond description.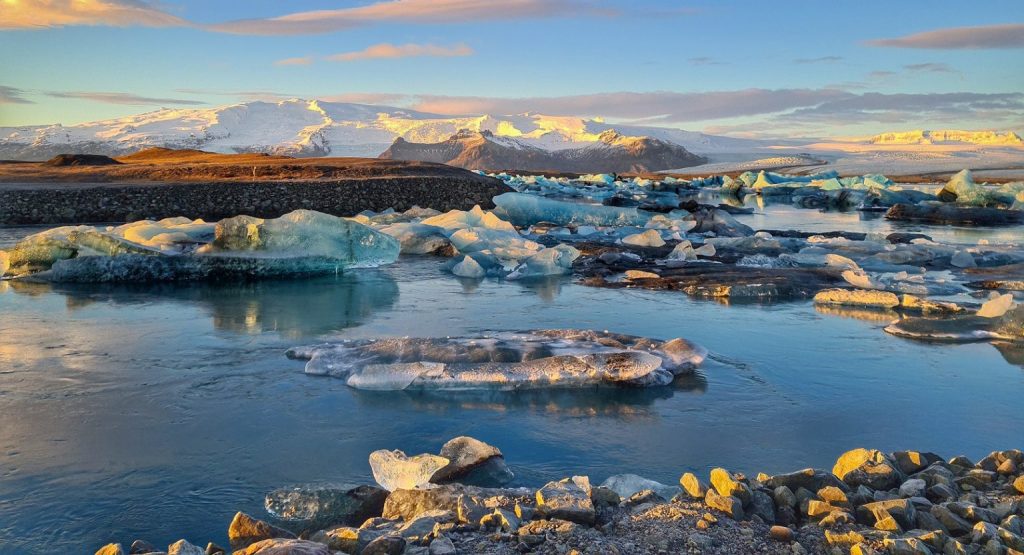 During the summer, there are options of Amphibian Boat Tour and Zodiac Tour that can bring you into the lagoon and get some up-close encounters with the icebergs.
During the winter, you can go on a Blue Ice Cave Exploration to Breiðamerkurjökull, the glacier tongue that feeds Jökulsárlón.
On the other side of the road, the icebergs from the Jökulsárlón glacier lagoon float into the Atlantic Ocean where they are quickly thrown back to shore by the tide and winds. This black sand beach is full of smaller ice rocks in all shapes and sizes, sparkling like diamonds in the daylight and therefore the name "Diamond Beach".
The correct name of Diamond Beach is actually Breiðamerkursandur.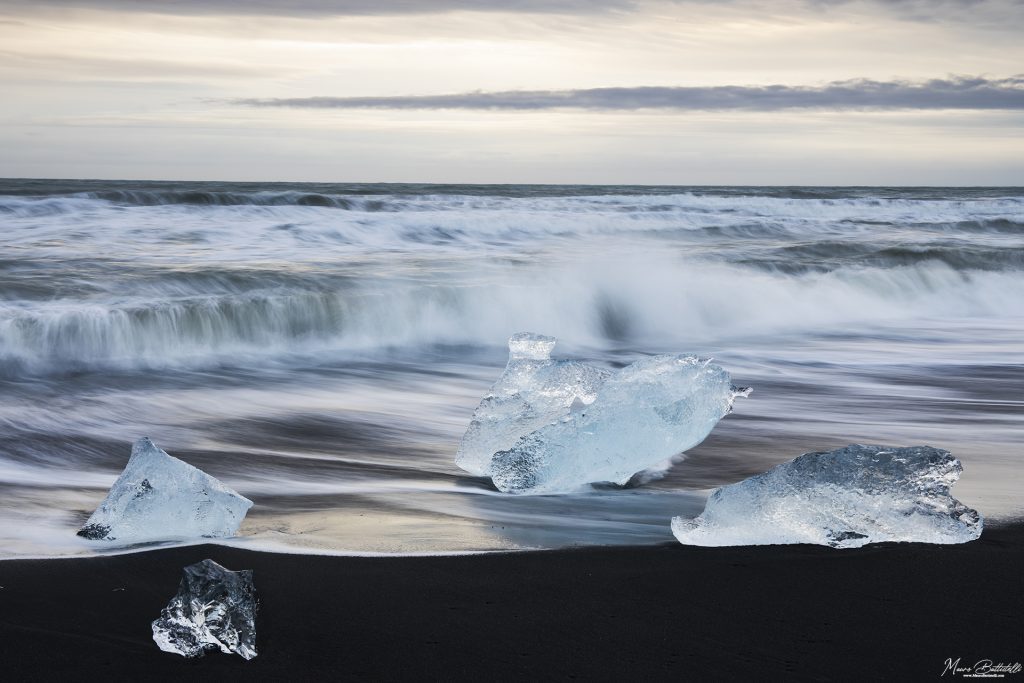 For those without 4×4, here comes the glacier tongue that is reachable on foot. The name is Kvíárjökull.
After leaving Jökulsárlón, about 20km, you will come to a bridge over Vestari-Kvíá. Right after the bridge, there is a road to the right. It is a very short road that ends at a parking spot for Clyne Castle. There is some history there if you are interested to read about it. Behind the parking lot, there is a short hiking trail that leads you to the glacier tongue of Kvíárjökull.
You will spend the night in Skaftafell National Park. 2000isk per person, 1000isk for electricity. Shower and use of washing machine and dryer are included in price.
---
Day 13 Vatnajökull National Park
Start the day with a hike into the mountains to Svartifoss, known as the black waterfall, where waterfalls are between basalt columns.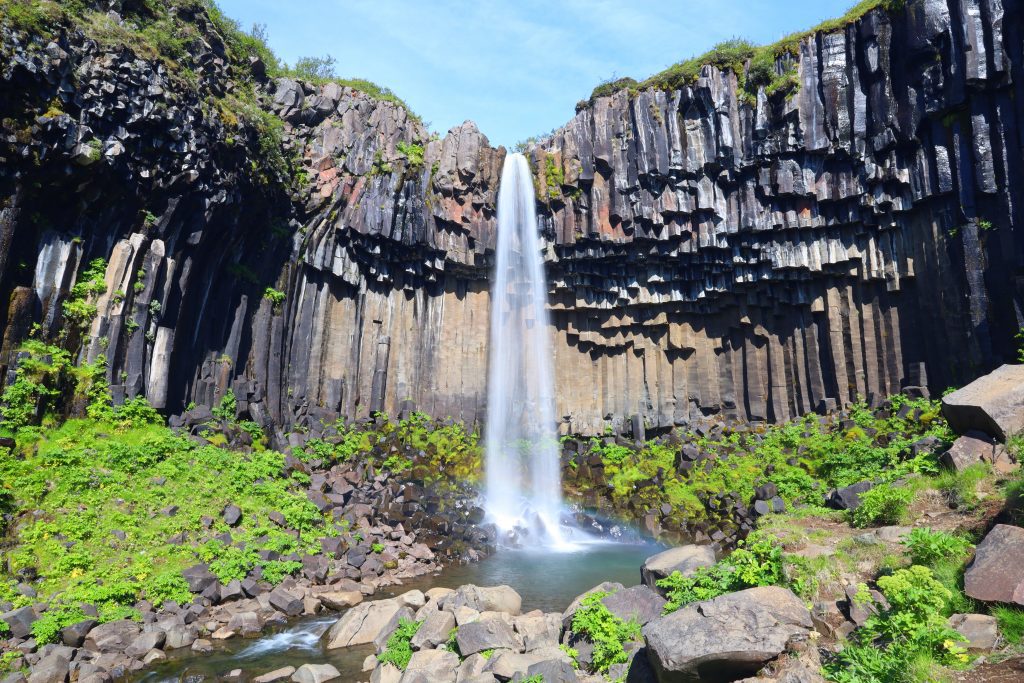 Along the way, you can see the highest peak in Iceland, Hvannadalshnúkur. There are several hiking trails in this national park. If time permits, you can also explore them.
From the Skaftafell National Park visitor center, there is a hiking trail that leads to Skaftafellsjökull. It is a 5km hike. Worth the trip if you have the time.
You can also go on a glacier hike on Falljökull, departure is from Skaftafell National Park meeting point.
If you have an extra day, Skaftafell National Park itself can make a full day itinerary on its own as there are so many places to see and explore. There are many hiking trails in this area that lead to amazing and beautiful places.
After leaving Skaftafell National Park, you can make a quick photo-stop at Eldhraun lava field, the largest lava field in the world and which event disrupted lives all around the world.
Next, you will arrive at the town of Vik, the southernmost town of Iceland. There is a picturesque little church at the top of the hill.
The Icelandic Lava Show is something not to miss. I think this is the only place on earth where you can get an up-close experience with real molten lava.
From Vik, there is also an Ice Cave tour to an ice cave by Katla Volcano. The view inside the Ice Cave is truly spectacular the combination of the colors of the ice, you will get the chance to see some amazing black ice as well as some blue ice features.
The last stop for the day will be Reynisfjara, the Black Sand Beach.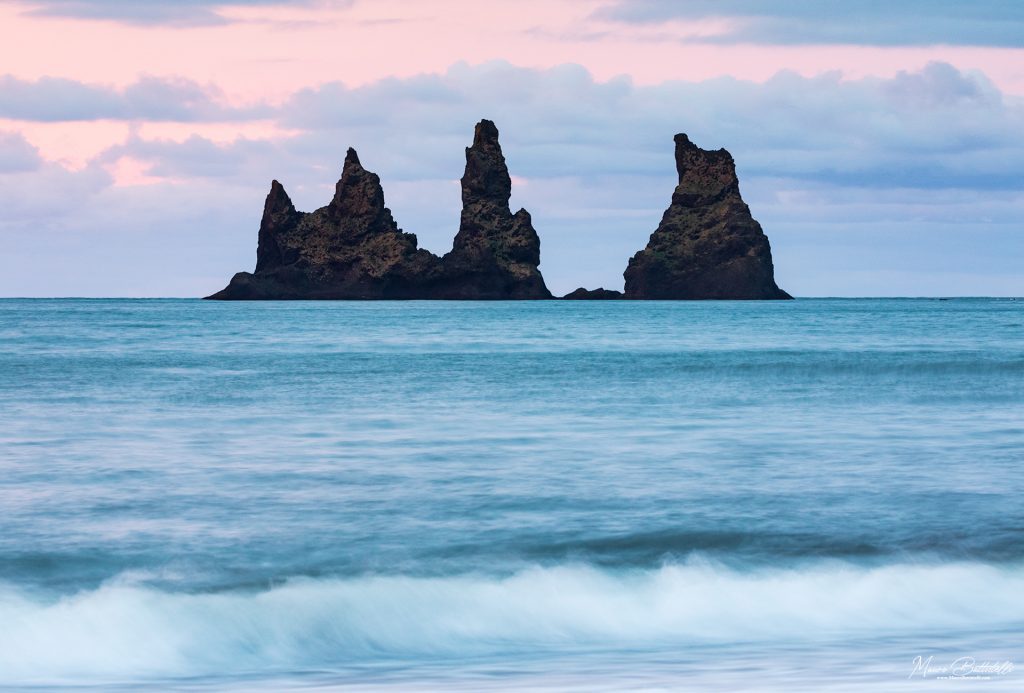 This beach is spectacular. The waves, the basalt columns, everything comes together like an art. Be extra careful with the waves though.
You can spend the night in Vik. 1500isk per person, 800isk for electricity.
---
Day 14 South Coast
Start the day by heading to Dyrhólaey. The drive up to the lighthouse requires a 4×4 and very good driving skills. Otherwise, you can stop at the parking place and do a small hike up to the lighthouse. The scenery from the top is amazing.
From here, you can visit the DC3 plane wreck on Solheimasandur. From the parking lot, you can take a shuttle bus to the plane wreck, or you can walk the 4km.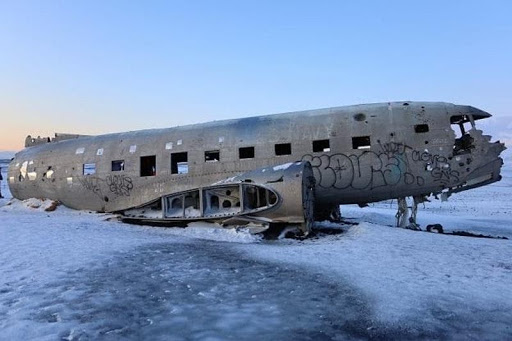 If you want to do more glacier hiking or did not get the chance to do it at Skaftafell, the next stop will be Sólheimajökull, a part of Mýrdalsjökull.
Otherwise, you can move on to Skógafoss, one of the most beautiful waterfalls in Iceland. There is a flight of stairs beside the waterfall which you can go up to the top of the waterfall. It is very common to see a rainbow at Skógafoss when it is sunny.
There is a Skogar Museum nearby if you are interested in the history of this area.
A short drive from here will bring you to Eyjafjallajökull Info Point which is just by road 1. Here, you can find information about the eruption in 2010 which disrupted the air traffic in the whole of Europe, and see the volcano itself when it is not cloudy.
The next stop will be Seljalandsfoss. You can walk behind this waterfall during the summer.
There is a walking path along the mountain which will bring you to a hidden waterfall, Gljufrabui. You will need to go into the cave to get to the waterfall. The water in the stream can be quite cold at times. It will be handy if you have a pair of waterproof shoe cover that goes all the way up to the calves which will allow you to walk in the water to the waterfall.
As you drive further along road 1, you will come to a town named Hvolsvöllur. In this town, you will find a restaurant, Eldstó Art Cafe, where they serve really good local food and handmade products.
Also in this town is the Lava Centre, an interactive, high-tech educational exhibition depicting volcanic activity, earthquakes, and the creation of Iceland over millions of years.
We spent the night in Hella. 1400isk per person, 800 for electricity. Has kitchen and dining area. Very windy though, okay for a motorhome but maybe not so good for tents.
---
Day 15 The Golden Circle
Right outside the town of Hella, you will find the Caves of Hella. This tour brings you to explore four ancient man-made caves dating back to the settlement of the Nordic Vikings.
You will be driving into the Golden Circle on this day. Go onto road 30 where you will drive through Flúðir. This is where the Secret Lagoon is. You can take a dip in the oldest pool in Iceland.
From here, you will head to Gullfoss, the golden waterfall. There are two carparks to Gullfoss. The first one that you will arrive at will bring you straight down to the waterfall. The second car park will bring you to the visitors' center and cafe.
From the visitors' center, you can go on a snowmobile tour if you like. This snowmobile tour is available all year round.
The next stop is the Geysir geothermal area, where Strokkur, one of the geysers, erupts every 5 minutes up to 40 meters. Take note of the wind direction if you don't want a shower in the middle of the day.
After leaving Geysir, you should head to road 35 where you will find Faxi waterfall, Friðheimar greenhouse that serves a really good lunch, and Kerið Volcano Crater.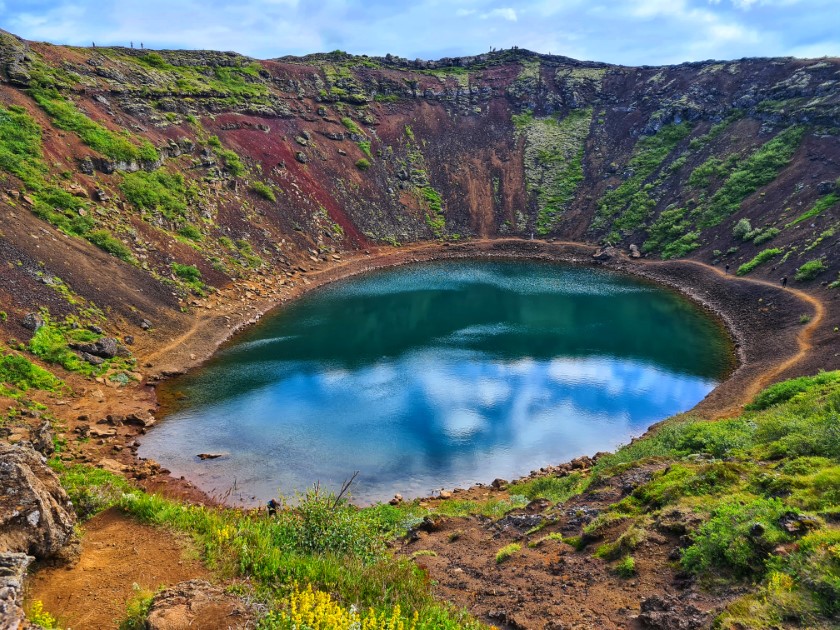 There is a path where you can walk down to the crater lake during the summer.
From here, you will head to road 36, which will bring you around Þingvallavatn, the highest lake in Iceland, to Þingvellir National Park. There are several places to stop along the lake.
Instead of heading to the main car park of Þingvellir, I would suggest that you head onto road 361 and stop at Þingvellir car park P2. From here, you can explore Öxarárfoss, follow the path to Þingvallakirkja, and walk up the continental crack due to the shifting of tectonic plates.
If you are interested in dog-sledding, the one and only dog-sledding in Iceland is not far from Þingvellir.
You will head to Reykjavík for the night. 2400isk per person, 1000isk for electricity. This campsite is a little expensive but it is close to many things. We stayed here for two nights.
---
Day 16 Reykjavik
We decided to spend a day exploring and visit some places in Reykjavík. Reykjavík is not a big city. It is not far to get from one place to another. The only thing is that you have to pay for parking everywhere and that can be quite costly. The parking system in Reykjavík is by zone. In each zone, you can pay once and park at a different location within the zone within the time frame which you have paid for. So, it is either you check out the zones and all the locations that you want to visit in each zone to save on parking or just pay everywhere you go. There are some free parking zones but they are full most of the time.
One other thing to take note of is that not all streets in Reykjavík are driveable. A section of Laugavegur and Skólavörðustígur are not driveable so if you choose an accommodation that is on those parts of the street, you will have to park somewhere else and walk to the accommodation.
We decided to drive Reykjavík in a round, starting with The Sun Voyager.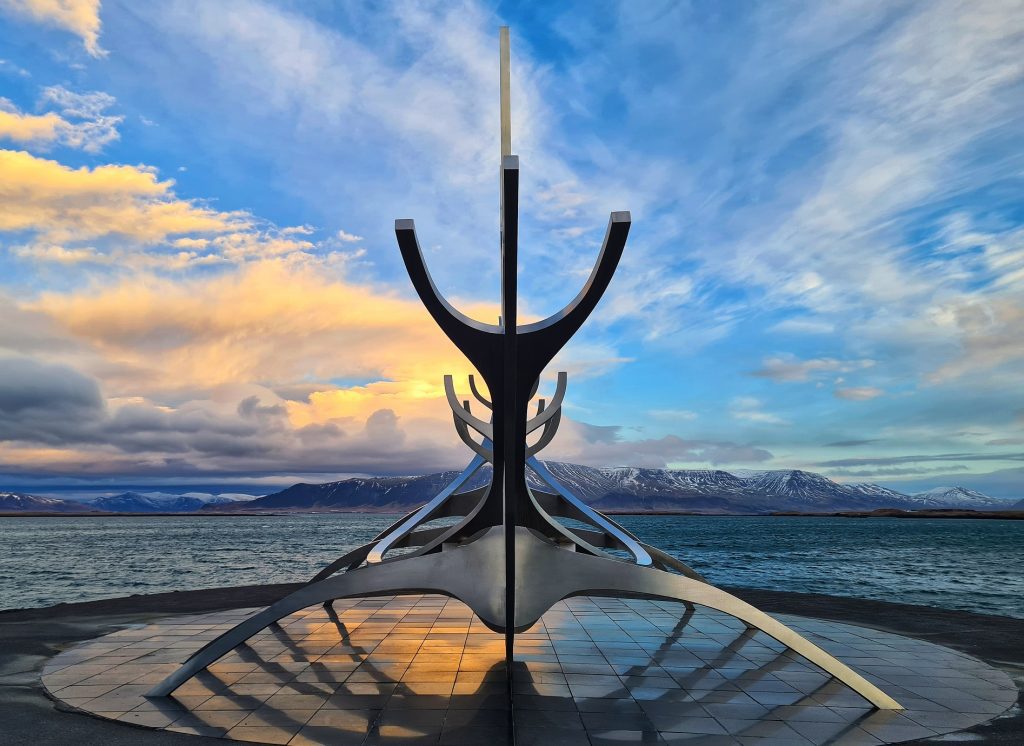 Followed by Harpa Concert Hall, driving along the old harbor of Reykjavík, if you there over the weekend, you can stop at Kolaportið, a weekend flea market. The old harbor is also where you can go on a Northern Light Cruise during the winter. If you really want to see the northern lights during the summer, you can head to Aurora Reykjavik, an aurora museum.
Along the harbor, you will also find Valdis, the famous Icelandic ice cream. Whales of Iceland museum and FlyOver Iceland are also in the area.
Driving slightly towards the end of the town, you will find Grótta Island Lighthouse. This place is very pretty during the summer but is also very popular during the winter to watch northern lights.
Next, we went to Nauthólsvík Geothermal Beach. There are hot tubs by the beach. You can swim in the lagoon during the summer. This beach can be super crowded during the summer.
From here, you can go to Perlan, where there are some really interesting exhibits and an aurora planetarium.
Afterwhich, you can go to Kringlan if you need to do some shopping. Kringlan is the largest shopping mall in Iceland. Not the best place for souvenirs and local products though. You can find more of them at the shopping street which I will talk more about later.
Since our accommodation is quite close to downtown, we decided to park our car at the accommodation and explore downtown on foot.
We went first to Hallgrimskirkja, the iconic landmark of Reykjavík.
You can go up the church tower for a panoramic view of Reykjavík. This church also houses a very large pipe organ and on some days, there are performances that are open to the public.
We walked down Skólavörðustígur from here. There are many boutiques and cafes along the street. Almost at the end of this road, there is a rainbow painted on the street.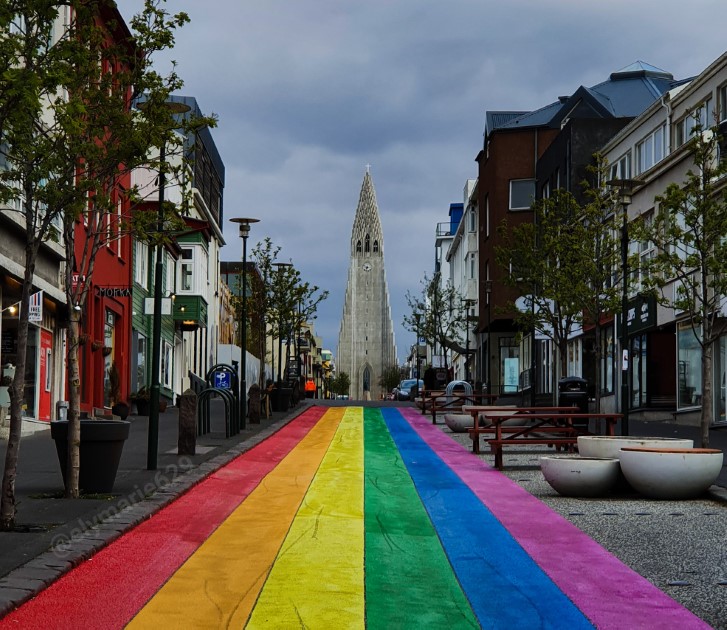 Skólavörðustígur meets with Laugavegur, the main shopping street of Iceland. Here you will find many shops selling souvenirs, local products, handmade products, and famous local brands. There are also shops that sell flavored salts and chocolates. In this area, you will also find many street arts, paintings on walls of buildings.
There is a famous restaurant, The Lobster House, which serves really good Icelandic lobster dishes. If you want to try some local food, you can check out Icelandic Street Food.
Further down the street, you will find Lake Tjörnin, where you can feed the swans, geese, and ducks with bread.
Not far from Tjörnin, is the Althingi Parliament House with a beautiful square in front of it. Several interesting sculptures in this area.
If you are curious about the famous Icelandic Hotdog, you can head to BBP and try it. It is really good if I may say.
We spent part of the evening packing as we had an early flight the next day. We did not go pub hopping or anything like that since we had a child with us on this trip.
---
Day 17 Departure
We did not get to do much on this day as we had an early flight so we simply drove to the airport, return the car, and check-in for our flight.
Try to give some time allowance for the return of the car. Some car rental companies tend to take their own sweet time to check every single part of the car for damages and some will even try to make you pay for some nonsensical things. We have seen and heard so many stories that we only stick to one rental company and always get full insurance with zero excess so that we will not need to worry when we return the car.
Hope you enjoyed this itinerary and get to try it someday.
You can find more information on a self-drive tour, where you can find pre-made packages and customization options. You can also make an appointment to speak with a local travel designer in Iceland who can tailor-make an itinerary just for you. You can also check out Motorhome Rental.
---
Expenses Breakdown
For this trip, we spent about EUR8000
Motorhome Rental – EUR5900 (including zero excess platinum insurance)
Gas – EUR850
Campsite fees – EUR450
Food – EUR800