The ultimate Instagrammers guide in South and East Iceland, places, recommendations, bonus places
You cannot come to visit Iceland without taking some pictures. Even if you have a camera or just your phone, take an extra SD card with you because Iceland is such a 'photogenic' country.
We make memories everywhere we go on a trip and always take at least one picture to remember that moment.  Also, we like to share our experiences with other people. We have to admit that nowadays social media is a part of our lives and for some, it is the way of living. We share our moments with others and we inspire each other or learn something new from other people's experiences. In other words, we are all little Instagrammers or facebookers.
In the past years, Iceland has become famous on Instagram as the platform developed and became a social media platform, especially for photos.  You can find on Instagram some of the best photos of Iceland. Almost all of them are taken by professional photographers and recently there are a lot of pictures and videos taken with a drone. Not everyone has such professional photography gear. But do not worry, you will find in this blog what you can do with only your phone.
Iceland is not a metropolitan destination, you will not find skyscrapers or European architecture but Iceland has its own style and beauty. As a Nordic country, you will find Scandinavian architecture especially in Reykjavik and in small towns. Also, let's not forget about black Icelandic houses and unique churches. But what you see the most on social media is the natural beauty of Iceland. Now, where are the most instagrammable places in Iceland?  Let's find out!
---
Starting near Keflavík, your first stop would probably be Iceland's best-known place on Instagram: The Blue Lagoon.
While you will hunt for the best spot for a photo, let your skin be nourished with natural silica minerals in the water. Enjoy your spa moment and share your experience with your friends. If you want to know more about visiting the Blue Lagoon check our blog.
Information about tickets and admission can be found here.
---
After you charge your batteries at the spa, your next stop should be Reykjavík. You will find a lot of instagammable places there.
Rainbow Street in downtown Reykjavík is one of the most instagrammable places in the city. It is also a must-visit place in Iceland. In the background stands tall the Hallgrímskirkja and by the side of the street, there are a lot of cute cafes where you can stop and enjoy a delicious beverage.
A landmark for Iceland and Reykjavík, Hallgrímskirkja impresses many, young and old, with its unique architecture and history. Also, inside the church, you will be amazed by the Nordic architecture and you can even have a panoramic view of the city from the church's tower.
---
Following the Golden Circle route, you will find so many instagrammable places that you will have content to post for a whole year. The first stop should be Þingvellir National Park. You may wonder what can be so instagrammable at a national park? Well, the Þingvellir area is part of a fissure zone running through Iceland, being situated on the tectonic plate boundaries of the Mid-Atlantic Ridge.
Besides that, you can go diving and snorkelling between the tectonic plates in Silfra which is considered to be a unique place where you can do that. But be careful, there are some strict regulations that must be followed and not anyone can dive there. You can find more information here about diving and snorkelling tours at Silfra.
---
Kerid Crater is a 3000 years old volcanic crater that houses also a lake. Its water has a vivid aquamarine shade of blue that makes it look more special. Kerid Crater is always included in the Golden Circle route and you can get there by taking an easy hike. The rest is just your imagination working for the best Instagram shot.
---
As you head further south, on the south coast, you will find two of the most beautiful waterfalls. Seljalandsfoss and Gljúfrafoss can both be found next to each other in south Iceland. Those two waterfalls are pretty unique. You will impress your friends with your photos taken there.
Seljalandsfoss is one of the fewer waterfalls where you can go behind the water. But bear in mind that you can do this only in the summertime. In the winter, the area is closed because is too dangerous to walk behind the waterfall as everything is frozen there. Please do not try to sneak behind the signs, some people almost died there.
Gljúfrafoss is one of my favourite waterfalls in Iceland. You can see in the photo why. The view of running water down to the rocky walls is absolutely stunning. This waterfall is hidden in a canyon. To get there you need waterproof shoes and clothes as you will get wet going inside the canyon. Check if your photo gear is waterproof, if not be careful, it gets really wet and your gears can be damaged.
Also, be careful in wintertime, everything may be frozen and it can be dangerous to get inside there. And I am saying this from my own experience, I slipped and fell down at the entrance of the canyon and my back hurt for like two weeks, so be really, really careful, as I said before, you do not want to put your life in danger for an Instagram photo.
---
Skógafoss is another landmark in Iceland. You can take some stunning photos there. Due to the sunlight and the spray that water produces, there are almost rainbows that can be seen on the wall created by the water falling down. But also respect the signs and do not get too close to the waterfall.
As a bonus tip, near Skógafoss there is a campsite where you can camp overnight. So try to install your tent in the right spot so you will see the waterfall right from the tent. Grab a thermos can with your favourite drink, a good book and start shooting. You can relax after you have the perfect shot.
---
Dyrhólaey is also one of my favourite places. You can take some really beautiful photos there. Located near the famous Black Sand Beach, Dyrhólaey is also a bidding place for Instagrammers. Hike all the way up to the lighthouse and enjoy the view.
I know I have repeated it already, but as beautiful as it is, Iceland can be dangerous, so do not sneak over the protective chains to go to the edge of the cliff for a photo. It is really dangerous. You can take a lot of stunning photos in a safe area.
---
The Black Sand Beach is one of the most dangerous beaches in Iceland yet one of the most beautiful.
Do not ignore the signs on this beach, some people have died here because they were too close to the water and the waves pulled them away in the ocean. Also, do not climb too high on the basalt columns. Stay in the safe area and let your imagination work for the best photo.
You can find guided tours in south Iceland here.
---
Diamond Beach is another jewel of Iceland. The black beach woven with hundreds of pieces of ice will take your breath away. Find a safe spot and start shooting your photos.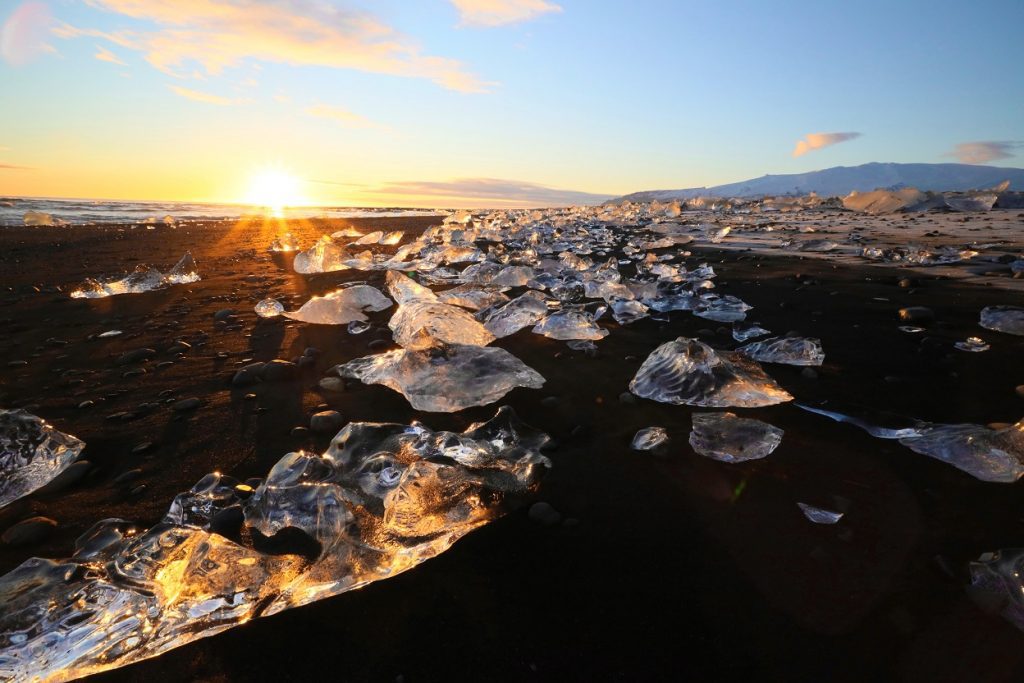 ---
For sure you have seen this place all over the internet. Stokksnes peninsula and Vestrahorn mountains. Stokksnes beach area is private so you will have to pay a small entrance fee.
The Stokksnes peninsula has its own charm and interesting history. Back in the period of World War Two, it was a vital location for the British army. This area is amazing. Believe me, you will take a lot of photos there.
---
As you go east, you will find Hvalnes Nature Reserve Beach. Eystrahorn mountains guard the whole area, and the landscape is lovely.
---
Bonus places
Near Skógafoss there is the Skógasafn museum where you can find some beautiful Icelandic black houses in a little village. You pay a small entrance fee and walk through the houses. You will take some cool shots there.
---
Also, near Skógafoss you will find another beautiful but less known waterfall. Kvernufoss is a waterfall where you can walk behind the water so if Seljalandsfoss is too crowded you have another beautiful option.
---
If you are travelling during aurora season, check the aurora forecast, find a good spot without light pollution and keep your eyes on the sky. Lady aurora might surprise you. Also, if you do not have a tripod, place your camera or your phone in a stable place so that it cannot move and take some photos. But honestly, if you are not prepared for photographing aurora do not struggle. Just enjoy it!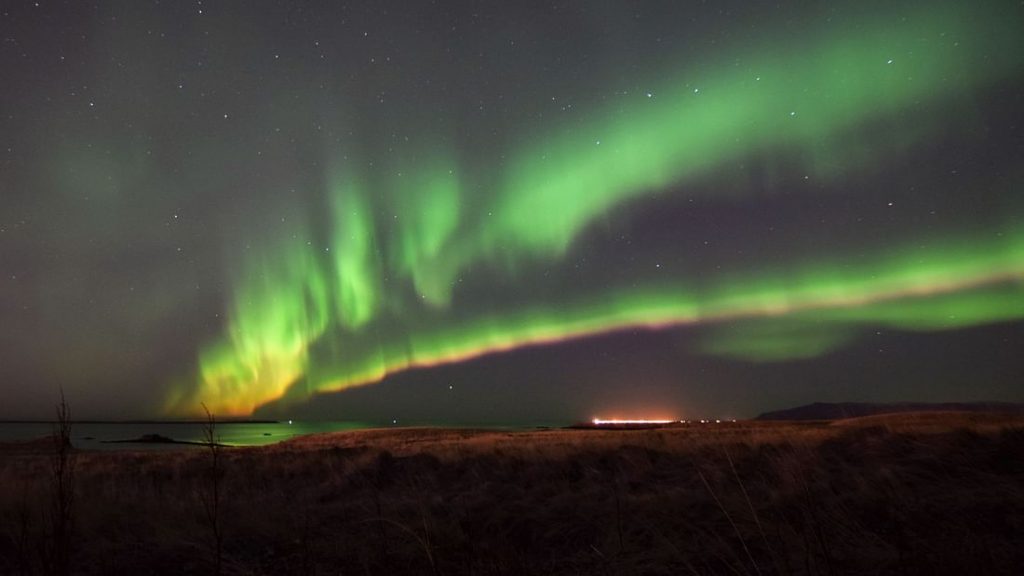 ​​​​​Now that you have found some of the best instagrammable places plan your trip to Iceland to have an unforgettable experience and impress your friends with your photos!
Follow us on Instagram to see more places and add them to your list!